Sorting chimeras from fata morganas
Whether in mythology or oncology, where they are also known as fusion proteins, chimeras are bad news. In oncology, chimeras from Bcr-abl to ALK-EML drive several tumors. Chimeras can result from genomic rearrangements, but also from aberrant RNA splicing processes. However, RNA chimeras identified from RNA can also result as artefacts of the methods used to prepare complementary DNA from RNA, making it challenging to evaluate the true extent and function of chimeric transcripts. The authors had previously developed a database of chimeric transcripts, and have now updated it with expanded experimental evidence for the chimeric transcripts they identified, as well as included data from eight species, including humans and several laboratory stalwarts such as mice, rats, drosophila and zebrafish, as well as human cancer breakpoints. Their updated database contains 29,000 chimeras and "extends our understanding of the evolution of chimeric transcripts in eukaryotes as well as their functional role in carcinogenic processes." They reported their findings in the Nov. 20, 2019, issue of Nucleic Acids Research.
Microbiome ineffective at remyelination support
The microbiome plays a key role in the central nervous system immune response, and there is a correspondingly large interest in manipulating the microbiome for CNS therapeutic purposes. In multiple sclerosis (MS) animal models, there has been some success at reducing brain inflammation by manipulating the microbiome. Now, researchers at Queen's University Belfast and Cambridge University have reported that the microbiome is unlikely to be a successful target to induce remyelination. The team used antibiotics to manipulate the microbiome, and showed that while antibiotic treatment modulated inflammatory responses of brain microglia during remyelination, oligodendrocytes, which are the cells that form the actual myelin sheath, were affected only by very high levels of antibiotics, making clinical translation unlikely. "Our results suggest that endogenous CNS remyelination is largely resilient to interventions that modify the microbiota." They reported their results in the Nov. 18, 2019, online issue of the Proceedings of the National Academy of Sciences.
'Membrane-anchored molecular adjuvant' improves rabies vaccine
Researchers from Thomas Jefferson University have demonstrated that incorporating B-cell activating factor into a rabies vaccine improved antibody responses to vaccination in animal models. While a rabies vaccine exists, it is not effective enough to induce long-lasting immunity, and it is used for postexposure prophylaxis only in the U.S. The global death toll from rabies is roughly 60,000 annually. The authors hypothesized that by using BAFF, which is expressed mainly on cells of the innate immune system, as a molecular adjuvant, they could improve antibody response to vaccination. They showed that a particle incorporating both the rabies virus antigen and BAFF increased B-cell survival and activation in cell culture, and induced a stronger response with a more rapid onset in mice. "Together, this model stands as a potential foundation for exploring other virus membrane-anchored molecular adjuvants to make safer, more effective inactivated RABV-based vaccines," the authors wrote. They reported their results in the Nov. 14, 2019, issue of PLoS Neglected Tropical Diseases.
Leptin affects T-cell metabolism
Investigators at the City of Hope Comprehensive Cancer Center have gained new insights into how leptin produced by fat cells blocked the actions of CD8-expressing T cells, contributing to the progression of breast cancer in mouse models. Obesity increases the risk of multiple cancers, but the molecular mechanisms linking obesity to cancer remain largely unclear. In their experiments, the City of Hope team looked at the metabolism of CD8 T cells, which are engaged in antitumor surveillance, and found that leptin secreted by fat cells increased T-cell level of fatty acid oxidation (FAO) by affecting the transcription factor STAT3. The authors concluded that their work "provides a mechanistic link between obesity and breast cancer through leptin and increased oxidation of fatty acids in T effector cells. These findings may lead to novel therapeutics to reactivate T cells to facilitate their control of obesity-associated breast cancer progression." They reported their findings in the Nov. 21, 2019, issue of Cell Metabolism.
NASH progression tied to redox state
Scientists at UC San Diego have shown that oxidized phospholipids set off a vicious cycle of mitochondrial damage, increased reactive oxygen species (ROS), and more oxidized phospholipids during the progression of nonalcoholic steatohepatitis (NASH). NASH is a liver disease characterized by fat accumulation and inflammation that can progress to cirrhosis and liver cancer, and is now among the most common reasons for liver transplantation. Oxidized lipids are present in many inflammatory diseases and generally contribute to disease progression, prompting the team to investigate their role in NASH. They showed that oxidized phospholipids accumulated in the liver and blood, where they contributed to NASH progression. Treatment with an antibody that neutralized the phospholipids reduced NASH symptoms and liver cancer incidence in a mouse model. The team published its results in the Nov. 21, 2019, issue of Cell Metabolism.
Less can be more for HIV vaccines, in several ways
Researchers at Emory University have shown that HIV vaccines need to be carefully tuned with respect to their effects on different T-cell subtypes. To be effective, HIV vaccines must induce a CD8-expressing "killer" T-cell response as well as antibody responses. But the virus itself infects CD4-expressing "helper" T cells, and if a vaccine activates CD4 T cells too strongly, it creates more targets for the virus. In their work, the authors analyzed T-cell responses in a monkey model of the STEP HIV vaccine trial, which failed to show efficacy. They demonstrated that the vaccination regimen induced TH1-type T cells that migrated to mucosal tissues, where they would be a target for HIV during infection. Furthermore, the authors wrote, "strong vaccine protection was evident only in animals that had lower frequencies of vaccine-specific TH1 cells but not in animals that had higher frequencies of TH1 cells, despite comparable vaccine-induced humoral and CD8 T cell immunity in both groups." In a separate trial, scientists at the Fred Hutchinson Cancer research center have demonstrated that adding an antigen to a vaccine could reduce the breadth of T-cell responses through what is known as antigenic competition. The natural T-cell response to HIV is driven by one viral antigen, the Gag protein, while the antibody response occurs to Env proteins. For that reason, vaccines have mostly included both Gag and Env antigens. However, when the team compared the immune reactions to two vaccines, one containing only Gag/Pol antigens and one with added Env antigens, "CD4+ T cell responses to Gag/Pol measured 4 weeks after vaccination by cytokine expression were significantly higher in the group vaccinated without Env, whereas CD8+ T cell responses did not differ significantly between the two groups," the authors wrote. They concluded that "T cell–based vaccine strategies should aim at choosing a minimalist set of antigens to reduce interference of individual vaccine components with the induction of the maximally achievable immune response." Both groups reported their findings in back to back publications in the Nov. 20, 2019, issue of Science Translational Medicine.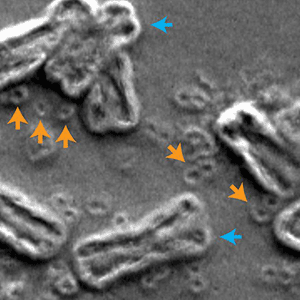 In cancer cells, beware the vicious circle
Investigators from UC San Diego and Stanford University have reported new insights into the function of extrachromosomal circular DNA (ecDNA) in cancer cells, and the structural features enabling those functions. ecDNA is a common feature of cancer cells. It differs from circular DNA in regular cells both because the circles are much larger, and because it lacks some chromatin structural features. Specifically, the authors found that "that although ecDNA is packaged into chromatin with intact domain structure, it lacks higher-order compaction that is typical of chromosomes and displays significantly enhanced chromatin accessibility." As a result, "oncogenes encoded on ecDNA are among the most highly expressed genes in the transcriptome of the tumors, linking increased copy number with high transcription levels." They published their study in the Nov. 21, 2019, issue of Nature.
Lipids and lupus
Investigators at the Medical University of South Carolina have identified differences in sphingolipid profiles in Caucasians and African Americans with systemic lupus erythematosus (lupus) that could lead to diagnostic improvements. African Americans are three times more likely than Caucasians to suffer from lupus, and are more likely to develop severe disease. Sphingolipids, a class of lipids with both structural and signaling roles, play a role in multiple inflammatory diseases, prompting the authors to look at a possible role in lupus. Studying archived plasma samples, they discovered that sphingolipid profiles differed between African Americans and Caucasians with lupus, and between African Americans who developed cardiovascular disease and those who did not. Specifically, levels of sphingomyelin (SM) were higher in African American lupus patients who developed cardiovascular disease than those who did not, while there was no such difference in the SM plasma levels in Caucasian-derived samples. The authors reported their results in the Nov. 20, 2019, issue of PLoS ONE.
Bingeing brains give themselves away
Scientists at The Salk Institute for Biological Studies and Vanderbilt University have identified that "a cortical-brainstem circuit predicts and governs compulsive alcohol drinking." Alcohol abuse is a serious problem, but the majority of adults who are exposed to alcohol do not develop alcohol use disorder. In their work, the authors recorded from individual rats who were first exposed to alcohol, and then allowed to binge drink, to look for differences between those who drank compulsively and those that did not. The authors reported that "distinct neural activity signatures of cortical neurons projecting to the brainstem before binge drinking predicted the ultimate emergence of compulsivity," and "mimicry of activity patterns that predicted drinking phenotypes was sufficient to bidirectionally modulate drinking." They concluded that "our results provide a mechanistic explanation for individual variance in vulnerability to compulsive alcohol drinking." Their work appeared in the Nov. 22, 2019, issue of Science.