There is no FDA-approved medication for Alzheimer's disease. But there is some hope that if the blood-brain barrier could be more easily penetrated by drug candidates they would prove more effective. That is the line of research being pursued by Israeli company Insightec Ltd. via its Exablate Neuro that provides low-intensity focused ultrasound treatment.
The device is already approved in the U.S. to treat two neurological indications: medication-refractory tremor from Parkinson's disease and medication-refractory essential tremor by ablating specific related targets in the brain without an incision. Temporarily lowering the blood-brain barrier is one area of clinical investigation for focused ultrasound; it's been tested on this front in patients with amyotrophic lateral sclerosis (ALS) and Alzheimer's disease.
The latest step forward on breaching the blood-brain barrier to better treat neurological conditions came with early data from an ongoing phase II trial in Alzheimer's disease using Exablate Neuro. The results were presented at the recent Radiological Society of North America (RSNA) meeting.
Establishing efficacy
"Previous findings in the Toronto study, published last year in Nature Communications, were drawn from a phase I study that evaluated safety and feasibility of focused ultrasound-induced blood-brain barrier opening in the dorsolateral prefrontal cortex. That study was not specifically designed to investigate efficacy or effects on eloquent cortex," explained Rashi Mehta, associate professor at West Virginia University and researcher at the West Virginia Clinical and Translational Science Institute.
"Our study, which is a phase II clinical trial, was designed to specifically assess safety and efficacy in the hippocampus and entorhinal cortex, specific regions of the brain that are critical to memory formation and that are involved early in the course of Alzheimer's disease," she added.
The study is slated to enroll about 10 patients, but these early results are based on data from three women aged 61, 72 and 73 who all have early stage Alzheimer's disease and evidence of amyloid plaques. Each patient received three successive treatments at two-week intervals.
After each treatment, the researchers used an MRI to confirm that the blood-brain barrier was indeed open. Subsequent imaging found that the blood-brain barrier then had closed within 24 hours. The study is expected to complete by December 2020.
"We confirm blood-brain barrier opening by visualization of gadolinium contrast enhancement on MRI at the treated areas, which indicates movement of tracer from the vascular compartment into brain tissue," said Mehta. "Blood-brain barrier closure is confirmed by lack of contrast enhancement on MRI at the same treatment areas following repeat imaging with gadolinium contrast agent 24 hours following completion of the procedure."
How it works
The low-intensity focused ultrasound (LIFU) treatment is guided via MRI to target opening the blood-brain barrier within the hippocampus and entorhinal cortex. The procedure involves the placement of a Exablate Neuro helmet on the patient's head within the MRI scanner. The helmet has more than 1,000 separate ultrasound transducers angled in different orientation; each one of these delivers sound waves targeted to a specific area of the brain.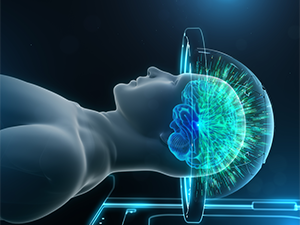 To facilitate the LIFU, patients are injected with a contrast agent comprised of microscopic bubbles. When the ultrasound is applied, the bubbles oscillate and change in size and shape. This has the mechanical effect in the capillaries of the targeted area of loosening the blood-brain barrier.
"The results are promising," said Mehta. "We were able to open the blood-brain barrier in a very precise manner and document closure of the barrier within 24 hours. The technique was reproduced successfully in the patients, with no adverse effects."
The previous research has primarily focused on safety, while this research is oriented toward ensuring that the blood-brain barrier is actually breached. But future research is expected to incorporate drug candidates to treat brain disorders, which will enable an assessment of potentially improved efficacy and patient outcomes.
Even without a drug component, focused ultrasound may have its own influence on improving brain dysfunction. In animals, opening the blood-brain barrier was found to have positive effects, possibly due to an increased flow of fluid to cleanse the brain of toxicity and/or from an immune response triggered by the opening of the blood-brain barrier.
"We'd like to treat more patients and study the long-term effects to see if there are improvements in memory and symptoms associated with Alzheimer's disease," said Mehta. "As safety is further clarified, the next step would be to use this approach to help deliver clinical drugs."
Exablate Neuro is the first focused ultrasound device approved by the FDA to noninvasively treat the brain. Beyond the blood-brain barrier, Insightec is also investigating the device in several indications including dyskinesia symptoms or motor fluctuations for medication-refractory, advanced idiopathic Parkinson's disease, benign pediatric brain tumors, neuropathic pain, and medication-refractory epilepsy.
Insightec has been around for 20 years. It most recently raised a $150 million series E round in early 2018 that was earmarked to support the commercialization of Exablate Neuro, as well as to continue investigating further applications across Parkinson's disease, Alzheimer's disease and cancer.
Koch Disruptive Technologies (KDT), a subsidiary of Koch Industries that invests in innovative and emerging companies, led the round with a $100 million investment. GE Healthcare was also an investor in the financing. Insightec has raised more than $290 million in total, according to SEC filings.
Med-tech investments are a rarity for the infamously deep-pocketed and influential Koch Industries. KDT only lists a few portfolio companies, with most of them being information technology companies. In November, KDT did lead a $109 million round for another Israeli startup Vayyar. It focuses on 4D radar imaging sensor technology that has medical imaging applications, in addition to being useful across automotive, robotics, smart home and retail sectors.