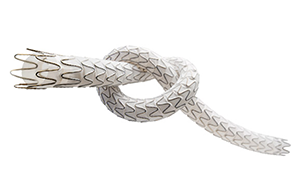 Pq Bypass Inc., of Milpitas, Calif., said that the Centers for Medicare and Medicaid Services (CMS) has agreed to cover its TORUS 2 investigational device exemption (IDE) clinical trial, which is evaluating the Torus stent graft in the treatment of peripheral artery disease (PAD) in the superficial femoral artery (SFA). The decision applies to all Medicare administrative regions. The U.S. FDA approved the IDE study in October, and the first patient was enrolled in early November.
The prospective, single-arm, global, multicenter trial will enroll up to 188 patients at up to 40 sites in the U.S. and Europe, with investigators following patients for a maximum of three years. The primary safety endpoint is no major adverse events 30 days following a procedure, which aims to treat obstructive atherosclerotic lesions of the superficial femoral or proximal popliteal arteries. The key efficacy endpoint is patency at 12 months.
Leading the trial are national co-principal investigators Peter Schneider, a professor of surgery in the division of vascular and endovascular surgery at the University of California San Francisco, and Ehrin Armstrong, director of interventional cardiology at Rocky Mountain Regional VA Hospital and a professor in the University of Colorado School of Medicine.
Two patients enrolled
To date, two patients have been enrolled in the TORUS 2 study. "We expect to complete enrollment by the end of 2020," Heather Simonsen, general manager of Pq Bypass, told BioWorld MedTech. The company previously said that it hopes to win premarket approval of the Torus stent graft around 2022.
PAD affects about 10% of Americans, and the risk increases with age. It occurs when blood vessels narrow, restricting blood flow to the legs and arms. If not treated, patients can develop blockages in their legs, causing pain and mobility problems. In the worst case scenario, PAD can lead to amputation of the affected limb or part of a limb. Very long blockages are especially challenging to treat using minimally invasive procedures and usually require open bypass surgery.
The Torus stent graft system comprises a self-expanding scaffolding made of nitinol wire covered with expanded polytetrafluoroethylene (ePTFE). As with other stents, it is designed to keep a blood vessel open, but its covering is specifically engineered to reduce restenosis, which leads again to restricted blood flow.
"The Torus stent graft system represents the first major graft advancement in more than a decade for patients with SFA lesions and is the vanguard for the next generation of medical devices," Simonsen said. "Currently, patients and physicians have only one stent graft option, which gained approval for the SFA in 2005, on the market in the United States." That device is W.L. Gore & Associates Inc.'s Viabahn, which scored an initial PMA approval by the FDA for the treatment of occlusive SFA in June 2005.
DETOUR 2
TORUS 2 is Pq Bypass' second IDE trial in the past two years. The FDA greenlighted the DETOUR 2 study in November 2017 to assess the company's Detour procedure, which treats lengthy blockages in leg arteries using Pq Bypass' stent graft technology to create a detour around the occlusion, restoring healthy blood flow to the lower leg and foot. The DETOUR 2 trial is focused on TASC II D lesions, those typically recommended for open surgery. Enrollment in the 292-patient study, which also has CMS coverage approval, is ongoing.
"We are working expeditiously to run two robust clinical programs, with some of the most renowned research centers in the world," Simonsen said. "We project both of our clinical programs will follow a similar regulatory timeline as other class III SFA devices."
Both the Torus stent graft and Detour procedure have been CE marked since March 2017, but Pq Bypass has yet to commercialize either product. Simonsen said the company sees itself as a clinical research-stage company and has "made a strategic decision to focus exclusively on our clinical programs."
Results from the DETOUR 1 study, presented in June 2018 at the Society for Vascular Surgery annual meeting, demonstrated primary and primary-assisted patency of 73% and 80%, respectively, at 12 months, and secondary patency in 94% of patients.
Pq Bypass raised $60 million a year ago in a series C financing led by Deerfield Capital Management, with funds earmarked for its IDE and regulatory programs. Simonsen said that capital infusion is expected to carry the company through its clinical phase, and no new financings are planned for 2020.
With more than 8 million individuals suffering from PAD and U.S. costs exceeding $21 billion a year, a growing number of companies are focused on the space. One of those, Micro Medical Solutions Inc., of Wilmington, Mass., is currently conducting an IDE trial of its Microstent system to reduce below-the-knee amputations in patients with critical limb ischemia due to PAD. The FDA approved the study of the self-expanding nitinol stent following a successful 15-patient study in which the device hit primary endpoints for both safety and efficacy.