PARIS – April 2020 was a milestone month for the key players in interventional cardiology in France. The reimbursement system in France is finally opening its doors to the drug-eluting balloon (DEB), following years in the wilderness. "Ten years after obtaining CE marking approval, Sequent Please NEO – our balloon coated with the mitotic inhibitor molecule paclitaxel – can finally be reimbursed by health care insurers in the treatment of intra-stent restenosis," Marc-Alexander Burmeister, president of B. Braun Melsungen AG in France, told BioWorld.
Restenosis – the Achilles heel of coronary angioplasty
According to data from records in France over the past ten years, 80,000 new cases of acute coronary syndrome are registered each year in France, responsible for 40,000 deaths of coronary origin, or one third of cardiovascular deaths and a fifth of deaths from all causes.
Stenting is one solution for these patients. However, restenosis has long been the Achilles heel of angioplasty. "Since 2004, active stents have considerably reduced restenosis, and therefore re-intervention, with a frequency of around 12% compared to 30% for stents in the bigger ranges," said Romain Cador, head of the Cardiology Department at Saint Joseph Hospital in Paris. There remains 5% restenosis which cannot be reduced using stents.
Inflatable pharmacologically active balloons have been around for 10 years. They dilate the coronary artery and deliver an anti-proliferative agent before being removed. This is an alternative to placement of a new stent in cases of restenosis.
All processes currently on the market come from the Paccocath patent. This combines the use of paclitaxel and iopromide, the contrast medium which gives the matrix complex thus formed very high solubility, allowing one shot release, and shorter than 24 hours of anti-mitotic, on the target proliferation cells.
Distribution held up in France
The efficacy and relationship between the dose and the cellular response of this Paccocath matrix was validated for the first time in 2003. And CE marking of active coronary balloons was achieved in 2009. For six years, European Society of Cardiology guidelines have recommended active balloons in the treatment of intra-stent restenosis (naked or active) at the same level as active stents, and with similar levels of evidence.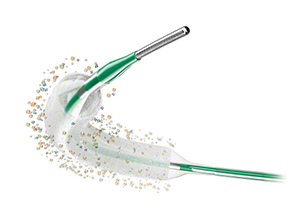 No fewer than seven manufacturers offer coronary dilatation balloons coated with active ingredients in Europe. These include B. Braun with Sequent Please NEO and Biotronik SE & Co. KG with Pantera Lux, both in Germany; Vascular Therapies Inc., from the U.S., with Primus; Ab Medica SPA from Italy, with Elutax; Minvasys SAS, subsidiary of Stentys SAS from France, with Danubio; and Hexacath SASU, also from France, with Zonda; and finally, Biosensors International Group, from Singapore, with Biostram.
However, use of active coronary balloons remains limited in France. Vascular surgeons at the 204 interventional cardiology centers in France are hampering the use of this technological intravascular medical device, because of its high price and especially its reimbursement status. The role of DEB in clinical strategy in France remains unclear.
Reimbursement in France comes a decade after CE mark
Opening up the French reimbursed market has been a long struggle. A story marked by twists and turns and legal proceedings. Technology pioneer B. Braun has first-hand experience with this. "We have been supporting French health care institutions since 2009 in their efforts to obtain funding within the framework of support for high-cost innovative technology (STIC) and for a hospital clinical research program (PHRC)," said Burmeister. These early applications met with little success.
Then, in 2012 and in 2013, the Coronary Atheroma and Interventional Cardiology group of the French Cardiology Association twice submitted applications to the High Authority for Health (HAS). It was hoped these would lead to reimbursement rates being set up for hospital admissions specifically for placing active coronary balloons. HAS decided not to consider these, due to the upcoming creation of a new reimbursement section, Section V, in the list of reimbursable products and services. Implants remaining in the human body for less than 30 days, which includes active balloons, now fall under this new section finally created in 2016.
French bureaucracy and legal confusion
B. Braun soon filed an application for registration under this new section, which finally opened the French reimbursed market to active coronary balloons. In 2016, the National Committee for the Evaluation of Medical Devices (CNEDIMTS), part of the HAS, voted in favor of listing Sequent Please NEO from B. Braun.
However, one year on, the French Ministry of Health refused to include active coronary balloons on the hospital reimbursement list. Two years ago, B. Braun and Biotronik, manufacturers of active balloons Sequent Please NEO and Pantera Lux respectively, appealed to the Council of State, the highest court in the French justice system. Both are asking for the ministerial refusal to be set aside, on grounds of "excessive use of power and error in law." In May, 2019, it overturned the ministerial decision to refuse to register the active coronary balloons from the two German manufacturers. The Ministry of Health had to pay financial damages to these manufacturers, for the costs incurred in this contentious procedure.
The Sequent Please NEO device from B. Braun and the Pantera Lux from Biotronik are the first active coronary balloons to enjoy reimbursement, at a unit price of $486 and $553 respectively. Their use is restricted to the treatment of primary naked and active intra-stent clinical restenosis.
A lucrative niche in the coronary angioplasty market
"The tale of the active coronary balloon along the way to reimbursement was exceptional in its duration, in the obstinacy which the B. Braun teams had to face, and in the need for legal recourse in the face of unusual circumstances," said Burmeister. This decision will make it possible to alter the position of active coronary balloons in the clinical strategy for aortic stenosis. It opens a multimillion-dollar market in France, a niche segment in a coronary stent market worth $7.5 billion globally this year.