Bolt Biotherapeutics Inc.'s $93.5 million series C round "takes us well into the back end of 2021 and into 2022," CEO Randall Schatzman told BioWorld, with enough money that the firm is "not impeded in terms of the creativity [we're] bringing to the table."
The Redwood City, Calif.-based company is developing its Boltbody Immune-Stimulating Antibody Conjugate (ISAC) platform in cancer, designed to activate myeloid cells and reprogram the tumor microenvironment. Lead candidate BDC-1001 is an ISAC therapy made up of Herceptin (trastuzumab, Roche Holding AG) conjugated to Bolt's TLR7/8 agonist payload, delivered systemically as a monotherapy for HER2-expressing cancers. A phase I/II study is underway. Findings in syngeneic mouse cancer models with BDC-1001 have shown complete, durable regression of established tumors resistant to Herceptin and immunological memory.
Bolt's method emerged from the lab of Edward Engleman, professor of pathology and medicine at Stanford University School of Medicine. "I drank the Kool-Aid on this when the team demonstrated that the recognition by the immune system is actually [of] a broad set of neoantigens across the surface of the treated tumor," Schatzman said. "That tumor can change its phenotype and lose some of the initially targeted antigens. Let's just say it's HER2. You can have no HER2, and the immune system will continue to recognize that tumor when it comes back and continue to eliminate it." Such educated shrewdness ought to mean "dramatically increased duration of response," he said. Herceptin and the TLR agonist each seemed somewhat interesting by themselves but "the magic came when you conjugated [them]. We saw two or three orders of magnitude of leftward shifts, in terms the level of potency of the agonism that one would see," thanks to what he called the "physical geometry" of the pairing.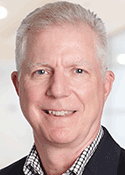 "What we are relying on is the tumor-targeting antibody to get this to the tumor – that's all the antibody really does," Schatzman said. "It's the other end of the molecule, the Fc domain, that interacts with the myeloid cell" and causes the immune biology to be "tickled up," kicking off a phagocytic event. "The secret sauce here is bringing the tumor cell into the proximity of the myeloid cell and retraining the immune system to very specifically recognize the tumor," he said.
The phase II component of the ongoing trial is expected to begin next year, Schatzman said. Bolt's approach lends itself to a broad set of tumor antigens and antibodies; the company is building a pipeline and is "expecting to have two additional clinical candidates named before 2020 is out," both involving TLRs, though he wouldn't say more. "If you saw some of these, it would become obvious very quickly. In part because it's such a competitive space, we're being a little bit close-lipped at this point in time." Partnerships are in the offing, too. ISAC could boost the limited efficacy of checkpoint inhibitors, which only work well in about a third of patients "despite the fact that maybe they've got some of the antigens that are important" but not expressed at the necessary levels, he said. The technology should work with "almost any antibody that a partner brings. To be frank, I don't know where the end of this is."
A new twist on ADCs
The Bolt roster has been strengthened lately by the addition of Chief Medical Officer Edith Perez, Schatzman said, and Chief Financial Officer William Quinn was brought aboard to "help us grow up into the clinical development company that we want to become," while getting pre-commercial ducks in a row. Before Bolt, Schatzman was president and CEO, co-founder and board member of Bothell, Wash.-based Alder Biopharmaceuticals Inc. from 2004 to 2018. He and his scientific experts co-founded Alder in 2004 and led the company through the discovery and patenting of two monoclonal antibody therapeutics. Calcitonin gene-related peptide blocker Vyepti (eptinezumab), was approved by the FDA in February 2020 for migraine prevention. Clazakizumab, described as a genetically engineered humanized IgG1 monoclonal antibody that binds to human IL-6 with low-picomolar affinity, is now in the hands of Vitaeris Inc., of Vancouver, British Columbia, for antibody-mediated kidney allograft failure.
Valby, Denmark-based H. Lundbeck A/S acquired Alder in September 2019 by way of a deal valued as high as $1.95 billion net of cash. In March, SVB Leerink analyst Marc Goodman lowered his price target for Lundbeck after the firm suffered a pair of phase II failures. He also pointed to "some adjustments to the base business for the impact from the coronavirus pandemic, mainly lowering sales for Vyepti, as we think the launch for this product, which needs to be administered in the physician's office, will struggle in this environment."
Redwood City, Calif.-based Bolt has raised more than $170 million since its founding in 2015. The latest financing, led by Sofinnova Investments, included participation from new investors RA Capital Management, Surveyor Capital, Rock Springs Capital, Samsara Biocapital and Pfizer Ventures, as well as existing investors Novo Holdings, Vivo Capital, Pivotal Bioventure Partners and others. In conjunction with the financing, Jason Pitts, principal at Sofinnova, will join Bolt's board.
Bolt's way represents a new twist on antibody-drug conjugates (ADCs) by using an agonist. Making headlines recently in the ADC space were Copenhagen, Denmark-based Genmab A/S and Seattle Genetics Inc. (Seagen), of Bothell, Wash., which rolled out favorable top-line results from a phase II single-arm trial evaluating tisotumab vedotin given every three weeks for the treatment of patients who have relapsed or progressed on or after prior treatment for recurrent or metastatic cervical cancer. Results from the trial showed a 24% confirmed objective response rate by independent central review (95% confidence interval: 15.9-33.3%) with a median duration of response of 8.3 months. SVB Leerink's Andrew Berens said in a report that the results "could support an accelerated pathway, given limited treatment options in these patients and the relatively low bar for efficacy." The drug might usefully be combined with Keytruda (pembrolizumab, Merck & Co. Inc.) "as a key strategy going forward, which would expand Keytruda's therapeutic reach beyond its currently approved label for PD-L1-positive cervical cancer patients," in his view.
Another ADC drawing attention is the recently approved Padcev (enfortumab vedotin), from Tokyo-based Astellas Pharma Inc. and Seagen. Late last year, U.S. regulators granted accelerated clearance of the compound for treatment of adult patients with locally advanced or metastatic urothelial cancer who have previously received a PD-1/L1 inhibitor and a platinum-containing chemotherapy before or after surgery or in a locally advanced or metastatic setting. Berens estimated peak sales of $1.8 billion.
ADC researchers continue to innovate. A team at the University of Southern California School of Pharmacy recently published work in Science Advances detailing a method whereby homogenous ADCs could be made through a single-step reaction in less than two hours. "We explore this new concept through design, generation, and characterization of an innovative class of site-specific ADCs, termed ADP-ribosyl cyclase-enabled ADCs," the authors wrote. Herceptin was used as the model antibody to create the new form.