LONDON – Mission Therapeutics Ltd. has sealed a discovery deal with Pfizer Inc. around its small-molecule protein degradation platform and raised $15 million as an extension to its series C, with Pfizer Ventures leading the round.
There are scant details of what the collaboration around Mission's deubiquitylating enzyme (DUB) inhibitors will involve, other than that Pfizer will test some of those compounds in phenotypic screens, with the aim of validating potential drug targets. If successful, Pfizer has an option to negotiate exclusive licenses.
Anker Lundemose, CEO of Mission, said the two companies are familiar with each other, not only because the venture capital arm of Pfizer has been an investor in Mission since 2013, but also because they previously have done joint research.
"We've had various agreements over the years, to look at specific targets, but not involving any rights," said Lundemose. "We've now moved onto a bigger deal."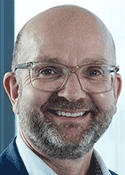 The new investment is significant in extending Cambridge, U.K.-based Mission's cash for another 18 months, enabling it to progress the lead in-house program into the clinic toward the end of next year. It also represents an opportunity to further test the capabilities of the proprietary chemistry platform, Lundemose said.
"It gives us another 1.5 years of runway and means we can explore another area of the platform and get funding into the company to take our lead into the clinic," he told BioWorld.
Pfizer previously demonstrated its interest in targeted protein degradation in a $830 million research collaboration, signed in November 2018 with Arvinas LLC, pioneer of proteolysis targeting chimera technology (Protac), which involves attaching E3 ligase tags to target proteins, lining them up for programmed degradation within the cell, through the ubiquitin-proteasome pathway.
That is but one of a string of high-value deals New Haven, Conn.-based Arvinas has sealed around its Protac platform. In July 2019, it received $100 million in cash, committed funding and an equity investment, when it signed an agreement to apply Protac to cardiovascular, oncology and gynecological targets nominated by Bayer AG.
Before that, Arvinas signed R&D collaboration deals worth $434 million with Merck & Co. Inc. and $650 million with Roche Holding AG.
Protac companies also have raised significant private rounds. In March, Kymera Inc., of Cambridge, Mass., closed a series C round of $102 million, while in April Amphista Ltd. raised $7.5 million in a series A. Monte Rosa Therapeutics Inc. announced the close of a $32.5 million series A in May, and, last month, C4 Therapeutics Inc. closed a $170 million financing.
"The background [to the deal with Pfizer] is that of course there has been a lot of interest, IPOs, private rounds and deals around activators of the ubiquitin system; a lot of companies are active in that space," Lundemose said. "We are at the opposite end; we are inhibiting the inhibitors. You can get the same outcome."
When Mission raised $86.3 million in its most recent round in February 2016, Lundemose expected to have completed phase I development of two programs by 2019. Now he said the lead program in acute kidney injury will enter clinical development toward the end of 2021.
The lag is a result of extra time spent honing the chemistry. "We had hoped to be sooner; the delay is simply because we further improved the chemistry platform, which is the heart of Mission," said Lundemose.
The lead compound targets ubiquitin specific peptidase 30, a DUB present on the outer membrane of mitochondria that regulates degradation of the organelle. Impairment of that process of mitophagy leads to the accumulation of dysfunctional mitochondria, inducing oxidative stress within a cell.
In addition to acute kidney injury, Mission has evidence that target is relevant to Parkinson's disease, idiopathic pulmonary fibrosis and mitochondrial myopathy.
The focus on honing the chemistry has led on to the discovery of CNS-penetrant small-molecule DUB inhibitors, which form the basis of Mission's other big pharma collaboration, with Abbvie Inc.
After starting the partnership in November 2018, in December 2019 they announced Abbvie has nominated a panel of DUBs for screening as potential targets in Alzheimer's and Parkinson's diseases, with the aim of modulating DUBs to promote degradation of accumulated toxic proteins.
DUBs are novel targets that have been hard to drug. "In the Abbvie deal, they said, 'We want to work with you because you can get into the brain.' Now Pfizer has realized the same," Lundemose said. "We are the only ones with the chemistry; people have to come to us."