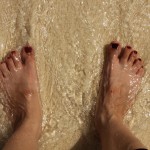 WASHINGTON ? If there's any universal experience of the BIO International Conference, it has to be foot fatigue. You hear about it in snatches in the hallway. "My feet are aching." "I have to get off my feet." "My blisters have blisters." At least two vendors in the exhibition hall were giving away Band-Aids in branded Band-Aid dispensers, much to the gratitude of attendees, who snatched them up eagerly.
Even when making maximum use of shuttle buses and taxis, a big convention like BIO is all about pounding the pavement. Both city sidewalks and convention center floors are constructed from the notorious enemy of the human foot ? concrete. Even when covered with carpet, the ultra-hard concrete floors sap life force through the souls of our feet with every step.
And what a lot of steps there are! Just walking the entire length of the exhibit hall, which stretches from Mt. Vernon Place to N St. will be a quarter mile. By the time you've visited the exhibit hall a couple of times, attended panels on opposite ends of the convention center, and walked some place "close" for lunch, you may have racked up a couple of miles.
And when you're not walking, you're doing something your feet hate almost as much. Standing. Standing talking to friends new and old, standing waiting in line for the keynote, standing waiting for the bus, standing at cocktail tables at various receptions ? there is not a lot of sitting at BIO.
Thus, this being my second BIO, I took a lesson from experience and made sensible shoes my top priority for the convention. I'm grateful because even in my most sensible of flat-soled dress shoes, at the end of the day my dogs were barkin'. I haven't had to dip into the Band-Aid swag – yet, but I'm keeping them in reserve.
By Catherine Shaffer, BioWorld Today Contributing Writer