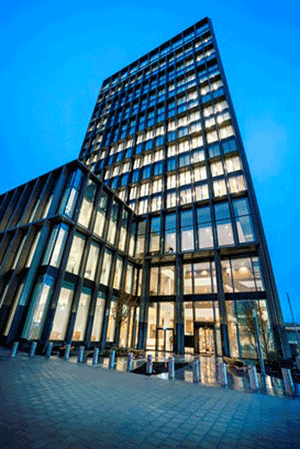 DUBLIN – Friday marked an important milestone for the EMA as its settles into its new home in Amsterdam. The Dutch authorities formally handed over to the agency the keys to its new building, which is located in the Zuidas district of the city. The EMA, which has been operating from temporary premises in the city since March, will commence immediate installation of technical equipment, followed by IT configuration and testing. The agency plans to start transferring its staff into its new headquarters from Jan. 13, 2020. Most EMA staff will work remotely from Dec. 9 to Jan. 10.
Meanwhile, its operational business continues. In all, the agency's Committee for Medicinal Products for Human Use (CHMP) voted through five marketing applications for new drugs during its November meeting last week. The official record shows that Novartis AG secured two of the positive opinions for Mayzent (siponimod), the first oral therapy for secondary progressive multiple sclerosis (SPMS), and for Isturisa (osilodrostat), a drug for treating Cushing's syndrome.
The latter drug has, however, recently become the property of Milan, Italy-based Recordati SpA, which acquired it along with two marketed endocrine drugs, Signifor and its long-acting stable mate Signifor-LAR (pasireotide), for $390 million. The deal closed late last month. Isturisa is still under FDA review, but the present decision will boost Recordati's prospects of getting a positive result. The drug prevents corticosteroid biosynthesis by inhibiting 11-beta-hydroxylase, which catalyzes the final step in the cortisol synthesis pathway. It is designed to combat the excessive production of cortisol that is the hallmark of Cushing's.
Mayzent, a sphingosine-1-phosphate (S1P) inhibitor that selectively targets the S1P1 and S1P5 receptors, was approved on the basis of the phase III Expand study in 1,652 patients, in which it led to a 21% reduction vs. placebo in confirmed disability progression over three months. The same drug received a broad label from the FDA earlier this year, encompassing clinically isolated syndromes, relapsing disease and active SPMS. (See BioWorld, March 28, 2019.)
Others in the winner's enclosure include Polivy (polatuzumab vedotin), a CD79b-directed antibody-drug conjugate Roche Holding AG has developed for treating diffuse large B-cell lymphoma (DLBCL); Jazz Pharmaceuticals plc's Sunosi (solriamfetol) for daytime sleepiness arising from narcolepsy or sleep apnea; and Tavlesse (fostamatinib), a spleen tyrosine kinase which Rigel Pharmaceuticals Inc. developed for primary immune thrombocytopenia. All of those have already gained FDA approval: Polivy gained accelerated approval in June; Sunosi, designated a Schedule IV controlled substance in the U.S., gained approval in March; and Tavlesse gained approval in April 2018.
The week's two biggest losers were Kiadis Pharma NV and Aradigm Corp., both of which withdrew applications in advance of a negative vote. Kiadis, of Amsterdam, failed to make a successful case for Luxceptar (ATIR-101), a T-cell therapy designed to reduce the risk of graft-vs.-host disease in patients with hematological malignancies undergoing haploidentical (partially matched) allogeneic bone marrow transplant. The company had filed an application on the basis of an open-label phase II trial in 23 patients who were followed for 12 months. For comparison purposes, it referenced three categories of historical control in the literature, but CHMP deemed the study to be too small and to be improperly designed to support any firm conclusions about the therapy's efficacy. (See BioWorld, April 27, 2017.)
As a result, Kiadis has slashed its workforce in half and terminated phase III development of ATIR-101. Recruitment onto the phase III study of ATIR-101 was hampered by a high dropout rate, and the company's assumptions about the safety and efficacy of the Baltimore protocol in bone marrow transplant – the active comparator for the study – were no longer correct. Compared with historical figures in the literature, current survival rates are higher and the risk of graft-vs.-host disease is lower. Kiadis now plans to focus solely on the natural killer cell therapy platform it gained ownership of earlier this year when it acquired Dallas-based Cytosen Therapeutics Inc. (See BioWorld, April 18, 2019.)
The decision on Newark, Calif.-based Aradigm's application for Linhaliq, an inhaled formulation of the fluoroquinolone antibiotic ciprofloxacin, was no great surprise. The drug, in development for treating and preventing flare-ups of bronchiectasis – airway injury and enlargement – in patients with persistent Pseudomonas aeruginosa infection, was the subject of an FDA complete response letter (CRL) back in January 2018. The EMA concluded that the evidence it presented, from two studies in 582 patients, failed to demonstrate "convincingly" that the drug was effective. It also raised concerns about the quality of the formulation. Aradigm filed for bankruptcy protection in February. The present decision will not help its prospects, as it attempts to grapple with the issues the FDA raised in its CRL.