According to an analysis conducted by BioWorld of the third-quarter 2019 financial reports filed by the top 100 public biopharmaceutical companies ranked by market cap, and excluding big pharma companies, the amount that was invested in research and development (R&D) in the period increased almost 70% compared to the same period in 2018. The elevated spending reflects the supportive financial environment and the relatively easy access to cash to support product development. Year-to-date, biopharma companies have had no difficulty in raising funds, with almost $21 billion generated from public offerings.
Approximately $34.1 billion has been spent so far on R&D in 2019, a total that has already surpassed the $33 billion that was invested during the whole of 2018. (See BioWorld Insight, April 1, 2019.)
Top spenders
Not unexpectedly, blue chip companies led the charge in terms of R&D investments. The top 20 companies, in fact, incurred 75% of the sector's total R&D expenses at $25.7 billion. (See Top 20 biopharmaceutical companies by R&D spending for first 9 months of 2019, below.)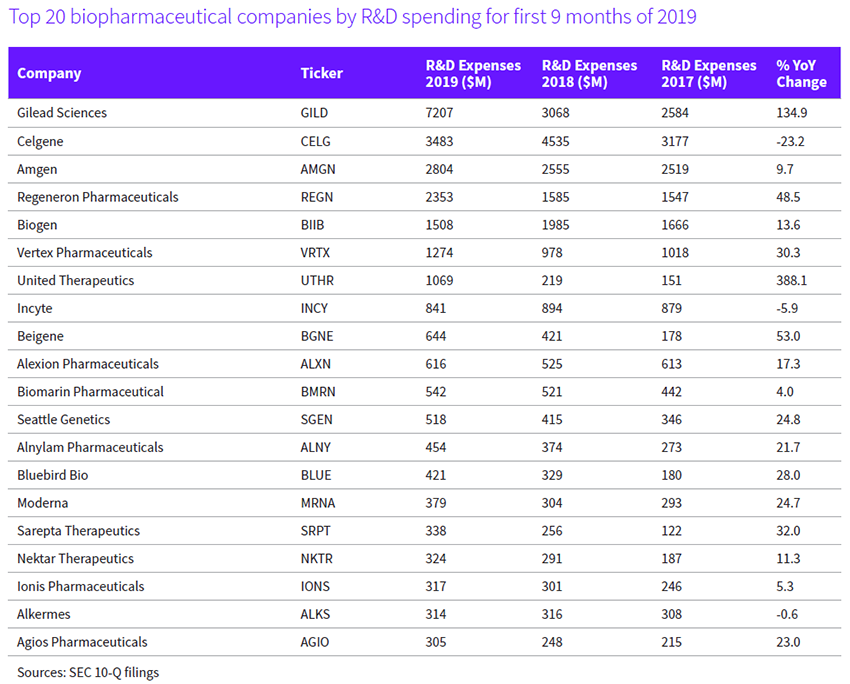 Two companies reported triple-digit surges in their R&D spending. Foster City-based Gilead Sciences Inc., for example, recorded, for the three months ended Sept. 30, an increase of $4.1 billion, up 431%, compared to the same period in 2018. That equated to a 135% increase for the nine-month period. The whopping change was as a result of $3.92 billion being paid up front to Galapagos NV in July.
The 10-year research and development alliance also included a $1.1 billion equity payment. In return, Gilead secures an option to ex-European rights on everything resulting from the Belgium firm's clinical and preclinical pipeline, including six clinical-stage programs, another 20 in preclinical research and the fruits of future Galapagos research. (See BioWorld, July 16, 2019.)
At the same time, the two companies said they revised the terms of the existing alliance on their partnered filgotinib candidate being advanced for rheumatoid arthritis and other inflammatory diseases, to provide a broader commercialization role for Galapagos in Europe.
In addition to the Galapagos deal, Gilead reported increased investment in the quarter in its oncology programs that were partially offset by the purchase of an FDA priority review voucher (PRV) that the company acquired from Duchenne muscular dystrophy specialist Sarepta Therapeutics Inc. for $125 million.
Gilead reported in April that it utilized the PRV when it submitted a supplemental new drug application for Descovy (emtricitabine 200 mg and tenofovir alafenamide 25 mg tablets) for pre-exposure prophylaxis (PrEP) to reduce the risk of sexually acquired HIV-1 infection among individuals who are HIV-negative and at risk for HIV. Descovy was approved in October. (See BioWorld, Oct. 7, 2019.)
Up-front expenses
An up-front payment of $800 million showed up in the research and development expenses of United Therapeutics Corp., which helped boost the company's spending 388% for the nine months ended Sept. 30. The payment was made to San Diego-based Arena Pharmaceuticals Inc. for a global license agreement covering its phase III investigational drug candidate, ralinepag, a next-generation, oral, selective and potent prostacyclin receptor agonist in development for the treatment of pulmonary arterial hypertension (PAH). United Therapeutics gains exclusive, worldwide rights to develop, manufacture and commercialize ralinepag. The deal also included potential future downstream milestone payments of up to $400 million based on the achievement of certain regulatory events. Additionally, Arena is also in line to receive low double-digit tiered royalties on annual net sales of ralinepag.
Cowen & Co. analysts, in a research note on United Therapeutics, said they "see timely and successful ralinepag development as key for defending the PAH franchise longer term."
Regeneron Pharmaceuticals Inc. recorded its GAAP R&D expenses were $663 million in the third quarter of 2019, compared to $557 million in the third quarter of 2018 boosting its spending year-to-date to $2.3 billion, up almost 50%. The company reported that it has 24 product candidates in clinical development, including five FDA-approved products for which it is investigating additional indications. The higher expenses in the third quarter were attributed to additional costs incurred in connection with fasinumab, the nerve growth factor receptor antagonist that Regeneron is advancing with partner Teva Pharmaceutical Industries Ltd. for the treatment of chronic pain from osteoarthritis of the knee and hip.
Return on investment
The hope for the massive R&D spending by biopharma companies is that these investments will pay dividends in terms of the approval of new medicines that will ultimately generate a significant financial return. This year, there have been 35 new molecular entities (NMEs) approved by the FDA. The latest, almost a month ahead of its PDUFA date, was red blood cell (RBC) maturation drug luspatercept, branded Reblozyl, for treating anemia in adults with beta-thalassemia who require regular RBC transfusions. The drug is the result of a collaboration between Celgene Corp. and Acceleron Pharma Inc. (See BioWorld, Nov. 11, 2019.)
In August, Celgene also scored when its subsidiary, Impact Biomedicines Inc., gained FDA approval of rare bone marrow disorders drug, Inrebic (fedratinib).
Those approvals add to the 140 that have reached the market to date over the past three years, including a record 59 last year, a 22% increase over the 46 medicines approved in 2017, that has brought the agency's five-year annual average to around 43 new therapeutics per year. (See BioWorld Insight, Jan. 8, 2018, and Dec. 31, 2018.)