Before becoming the global head of Johnson & Johnson External Innovation, William Hait spent 30 years in academic medicine focused on oncology.
Whenever he speaks to a group, the first question he asks is if there is anyone in the room that would like to get a disease.
"I've never heard anyone say yes," Hait said during a remote fireside chat that was part of Bio-Europe Spring 2020. The conference, initially scheduled for three days in Paris, was moved to a five-day virtual format a few weeks ago in response to the novel coronavirus (COVID-19) pandemic.
Hait's chat, titled "Investing in innovation, new digital approaches for a new decade," focused on using data science and digital health to move the needle from treating symptoms and diseases after they have reached advanced stages to predicting their likelihood long before they take hold, and to creating a proactive ecosystem of investment as opposed to a reactionary one.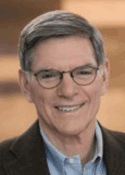 "If you can detect diseases early enough, we should be focusing on curing diseases and not just managing them chronically," Hait said. "So it has to be a fundamental shift in our thinking, a shift in how our research is funded."
J&J's Janssen unit formed a team of people, from behavioral scientists to biologists and geneticists, to run its World Without Disease Accelerator which focuses on ways to intercept disease. Hait and other executives asked the team to envision what health care should look like 20 to 30 years from now. They told him it should look more like their cars.
"When the car rolls off the assembly line, all of the specs of the car are known, and the car is embedded with sensors," Hait said. "If the car begins to go out of spec, the check engine light comes on."
If humans can know all of their specifications through genomics and other ways to identify disease susceptibility, everyone can understand their risk for disease and real-world evidence can be collected. The risk-to-benefit of making an intervention will then make sense to investors, Hait said.
"If you prevent or intercept someone who is on their way to getting diabetes, then you don't have to worry about heart disease, kidney disease, blindness," he said. "If you catch cancers early, they're curable for the most part. So it really makes so much sense to shift our thinking."
This type of technology is already available and has transformed people's lives, such as with the implantable defibrillator and the biventricular pacemaker. While researchers have an enormous amount of data available to them, there is a huge leap from recording the data to aggregating it and bringing it to a format that is curatable. It takes data scientists to write the algorithms "to find the signals from the noise," Hait said, and those working in biology and medicine to translate the information into action.
J&J met a few years ago with Apple, which showed the pharmaceutical company the ability of the Apple Watch to do electrocardiograms, illustrating its greater potential to collect data on people with heart arrhythmias. The two companies are collaborating on a large study of asymptomatic people who are walking around unknowingly with the condition, which puts them at risk of a stroke.
Aside from specific partnerships, New Brunswick, N.J.-based J&J has organized itself through its global external innovation group to view the world as an innovation grid. The group operates as an arm of each of J&J's three sectors, being consumer health, medical devices and pharmaceuticals. It has placed innovation hubs in places like Cambridge, Mass., San Francisco, London and Shanghai, as a portal of entry to J&J. The company also has its JLABS life science incubators, with more than 600 companies that are either residents or have graduated, and it makes investments of prospective partners through its venture fund, Johnson & Johnson Development Corp. (JJDC).
"Our job is to plug ourselves into the grid and pull down the innovation and pay for the innovation, of course, as well," Hait said.
In 2017, JJDC began investing in Auris Health Inc., of Redwood City, Calif., because of its Monarch platform, a robotic bronchoscope used for lung cancer. Most lesions found on CT scans are in the periphery of the lung and cannot be reached by a traditional bronchoscope. The only way to treat those patients is to go through the chest wall, Hait said, but Auris' bronchoscope can reach anywhere in the bronchial tree. In April 2019, J&J's Ethicon Inc. division acquired Auris for $3.4 billion in cash and up to $2.3 billion in contingent payments. It is the third largest medical technology acquisition of the last two years, according to BioWorld data.
The infrastructure has allowed J&J to fill its pipeline and to share in transformative technologies. The cancellation of the in-person Bio-Europe Spring conference in Paris was especially disappointing, Hait said, as France is a hotbed for mathematicians and physicists who are applying their expertise with health care databases. J&J formed eight new collaborations last year with colleagues in Paris in genomics and data science. It also made large investments in the U.K. Biobank to access data from the collected blood.
Many diseases today can be tied to behavioral problems, Hait said. While lung cancer can be caused by cigarette smoking, it is hard to pinpoint what causes cigarette smoking other than to say it is a behavioral problem. Devices that show what a cigarette smoker breathes out can alarm individuals and serve as an impetus to change behavior. Another application of digital technology is its ability to form large cohorts of patients with particular diseases.
The possibilities are endless if investments could be directed toward technologies aimed at preventing disease, tracking its process and intercepting it.
"I'm hopeful that the message will sink in, that we'll begin to invest more of the medical research dollar in cancer prevention and interception," Hait said, "that people will find that as romantic as sequencing another gene or perhaps as romantic as walking on the moon."