Baltimore-based Lifesprout Inc., a Johns Hopkins University startup, said it has closed a $28.5 million series A financing. It is planning to use the proceeds to support clinical development of therapeutic products from its Regenerative Matrix platform. Redmile Group LLC led the round, with new institutional investors Nexus Management LP, Emerald Development Managers LP, and the Abell Foundation also joining.
Lifesprout's platform comprises biomimetic, biocompatible materials engineered to look and feel like natural tissue. Of note, there are no animal or cell-derived constituents, but the company said its products look and behave in a manner similar to living tissues with natural feel, elasticity, and resistance to deformation. It already made strides with Lumina, a next-generation aesthetic filler that combines hyaluronic acid with biostimulatory effects.
"Cell therapies are among the most promising new modalities in medicine, yet they are limited by challenges of cell viability, delivery, and therapeutic dosing," noted Sashank Reddy, co-founder and CEO. "By encouraging cell survival and natural tissue integration, the Regenerative Matrix may enhance traditional cell therapy approaches."
The company got its start when Reddy teamed up with co-founders Justin Sacks and Hai-Quan Mao to develop a material that could permit fewer invasive surgeries to replace lost soft tissue. They wanted to find a better way to help patients while avoiding some of the risks of surgery.
It completed its seed round last year, and Adam Gridley, executive chairman of the company, said it has been able to work on a "compelling suite of products" in the aesthetic and reconstructive spaces. "We're thankful for the strong leadership of the investment syndicate in this series A financing, and we look forward to partnering with our investors, scientific advisors and collaborators to bring these solutions to patients."
Soft tissue loss
The loss of soft tissue represents a major issue in medicine, with patients experiencing such trauma as a result of tumor excision, injury, congenital malformation and aging. The team explained how it could help via findings that appeared May 1, 2019, in Science Translational Medicine.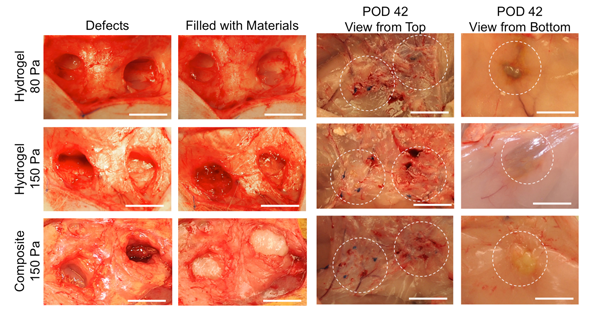 Loss of such tissues can lead to problems in terms of function and aesthetics. "Existing options for soft tissue restoration usually involve surgery with its attendant cost and morbidity," according to the study. Other issues involve removing soft tissues from other parts of the body, resulting in potential donor site deficits.
"This was an interesting problem to tackle from an engineering point of view," Mao, a professor of materials science and engineering at the Whiting School of Engineering and biomedical engineering at the Johns Hopkins University School of Medicine, said at the time. "Typically, a gel-like material that's porous enough for cells to spread inside is too soft to be able to hold its shape, and a material that is able to retain its shape when placed in the soft tissue defects is conversely too dense for cells to grow into. We really needed to synthesize a new material that is soft and porous yet resilient almost like fat tissue or Jell-O."
The team began with a hydrogel made of hyaluronic acid, a component of the body's extracellular matrix. They added another material to the hydrogel to help give it some stiffness. It also used polycaprolactone fibers, the same material used in some resorbable stitches. In the end, they found that the nanofiber-hydrogel composite supplements native tissue regenerative responses, allowing for "durable soft tissue restoration outcomes."
Organizations already have recognized the startup's potential. For example, in 2017, the Biohealth Capital Region chose Lifesprout as having the most commercial potential at the 2nd Annual Crab Trap Competition.
It also won the $10,000 top prize in the Association of University Technology Managers' (AUTM) Pitch and Play business plan competition held at AUTM's 2017 Annual Meeting in Hollywood, Fla.