PARIS – Affluent Medical SA recently raised $17.8 million in new financing. This will be used to bring forward the clinical program for its minimally invasive implants, designed to restore physiological function in patients suffering from structural heart disease as well as urinary incontinence. "Three of our medical technologies are currently in the preclinical and clinical phases. We expect to have the first technology on the market by 2022," Michel Finance, CEO of Affluent Medical SA, told BioWorld.
Founded two years ago by investment fund Truffle Capital SAS, Paris-based Affluent Medical was created through the merger of four French startups: Kephalios SAS, Kardiozis SAS, Epygon SAS and Myopowers SAS. These four companies in Truffle Capital's portfolio are partners working on a new generation of minimally invasive technology based on fluid control in the treatment of aneurysms, severe mitral regurgitation and severe urinary incontinence.
The team, under Truffle Capital's CEO Philippe Pouletty, has invested $40 million in this new generation of implants, and the technologies are protected by 27 patent families. "This year alone, we have filed four additional new patent families," said Finance.
Affluent's originality lies in simultaneously developing several technologies, by pooling human resources for clinical trials, regulatory affairs, quality systems and general management. "This has enabled us to achieve a worthwhile critical mass, with 45 employees located in Paris, Aix-en-Provence and Besançon in France, as well as Milan and Turin in Italy," said Finance.
A novel business model for a medical device startup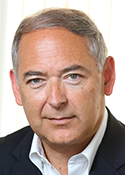 Affluent Medical is currently working on three technologies: Kephalios, the first mitral valve repair ring to remain fully adjustable over time, the Epygon mitral valve system for treating severe mitral valve regurgitation, and finally Artus, the first electronically activated urinary sphincter for treating urinary incontinence in men and women. This last device can be implanted in just 30 minutes using a minimally invasive procedure. "By contrast, we decided to sell off the Kardiozis endovascular technology for the treatment of abdominal aortic aneurysms," said Finance.
The company is following a novel path. It is bringing several technologies together under one umbrella, in order to pool resources and lower risk for all the products in development. Truffle Capital, the main shareholder in Affluent, is counting on the success of one or more technologies developed within the same entity. A strategy that has worked successfully in the past: in particular, for Abivax SA. Abivax is working on treatments against ulcerative colitis, HIV and COVID-19. This this Paris-based company, boosted by Truffle Capital, today has a market cap of $311 million.
$11.6M from private finance and $6.1M from French banks
Some 65% of the $17.7 million of new funding obtained by Affluent comes from private placement. The funding round was led by Truffle Capital SAS, through its Truffle BioMedTech FCPI and Truffle Innov FRR France funds. Other investors who participated in the financing include Head Leader Ltd. from China, partners with Affluent for two joint ventures in Shanghai, Ginko Invest through Jean-François Le Bigot and Fate through Benoît Adelus, as well as one historic investor, Swiss business angel Simone Merkle.
Affluent Medical has had two government-backed loans approved, totaling $2.5 million, from banks Société Générale SA and BNP Paribas SA, as part of government initiatives to mitigate the economic impact of coronavirus. Both loans are interest-free and repayable either after one year, or over a term of up to five years.
A $1 million innovation loan was also approved by Bpifrance SA, to finance R&D projects in cardiology. The loan charges interest at 1.14% and is repayable over five years starting in September 2022," said Finance. Following approval for the clinical trial in Austria, the Epygon mitral valve system obtained a further $2.6 million grant from the French public investment bank, Bpifrance SA. "This injection of capital increases our visibility, meaning we can take our clinical study programs forward," said Finance.
Three clinical programs underway
The company is planning to use the proceeds from the funding round to finance ongoing clinical research in cardiology, and in particular the Minerva phase I clinical trial for the Epygon mitral valve. This non-randomized study is expected to enroll up to 20 subjects from Austria, Italy and Spain. Patient recruitment is expected to be complete by the end of the first quarter of 2021, and the main assessment results will be reviewed after one year.
The new funding will also allow completion of the ongoing clinical trial for Kalios, a device for repairing the mitral valve in the heart, the size and shape of which can be adapted over time. This means patients are getting a personalized prosthesis. "By the end of the year, we expect to include 62 subjects from Austria, Switzerland, Germany and Italy, with CE marking to follow less than two years away.
Affluent Medical will also complete the Optimize II pivotal (phase III) clinical trial for the adjustable mitral ring Kalios, and start a pilot study for the implantable urinary sphincter Artus in urology. Ninety subjects will be enrolled in this multi-center European study. CE marking is expected in 2023.
IPO within 12 months
The company is essentially targeting two markets: treatment of severe mitral regurgitation and severe urinary incontinence. The first is expected to be worth $3.5 billion globally by the end of 2022, while the second is currently estimated at $7 billion.
Affluent is bolstering its board of directors through the appointment of two experienced French health care technology entrepreneurs: Jean François Le Bigot and Benoît Adelus. Bigot currently serves as CEO of Oncovita and chairman of Ginko Invest. He was previously chairman of Citoxlab Group (formerly CIT), an international CRO with more than 1,500 employees acquired last year by Charles River.
As CEO, Adelus headed up the Biomerieux IPO on the Paris stock exchange in 2004.
"With the transition to the clinical phase for all products and the clinical results we hope to achieve in the coming months, we expect to tie up our IPO within 12 months," said Finance.