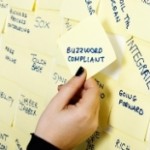 For BIO 2011, BioWorld published a list of overused BioCliches to shun, and I was pleased to observe that attendees and speakers must've taken notice and avoided using them at BIO 2012 this year. However, since the urge to use buzzwords will never die, we should at least regenerate the list every now and then before the catchwords become so stale they wind up in the dictionary and your parents are using them.
Since we made a weekend beeline from BIO 2012 to return to all corners of the globe, I offer some new words to kick off the bio-summer season of 2012:
ATTQK nations: Argentina, Turkey, Thailand, Qatar and South Korea, which are in attack mode to build their biopharma markets, following in the BRIC footsteps. (See BRIC to CRIB)
BRIC to CRIB: Finally, rather than retiring the emerging markets acronym BRIC, I'm renaming it CRIB nations to better reflect their biotech maturity status. BRIC is more appropriately reserved to denote the developed biopharma foundation nations. (Found-nations?) Hey, there's a bonus buzzword!
FDA as a verb: To stall, meander, show indecision: "I get the feeling my parents are trying to FDA me on my request to move back home."
HiBi: High-tech social media platforms in biotech applications: ("It's going to be a quick "Hello/goodbye" for social media as a practicable HiBi platform in drug development if official guidance isn't delivered soon."
Irregulatory: Dysfunction at the regulatory level: "Irregulatory activity occurs with regularity with the ongoing implementation of a biosimilars pathway."
M&A-rriage: Wholly(-owned) matrimony of two disparate species for the love of money: "Do you, large molecule, take this pharma . . .
Pharmeleon: Small-molecule company that is metamorphosing into a biotech entity (as in specialty pharma, biopharma, health care company). See any big pharma for examples.
Pop a capital: Invest in an R&D company. "The angel investor has decided to pop a capital in your assets."
R&DAR (RADAR): Research and development, approval, reimbursement: "You need bio-r&dar to succeed in the new millennium drug development market."
Reg-leg: A regulatory and legislative situation: "The drugmaker got into a reg-leg mess, running afoul of the EMA and sued by the brand maker."
SoMe: My acronym for social media, which concurrently denotes that self-absorbed, so-into-me aspect that thumbtalkers can exude.
Unnovation: Inability to perform in the clinic: "Big pharma's patent cliff worries were exacerbated by its unnovation tendencies."
Be among the first to use these, but use them with haste, for they have mandatory expiration dates!