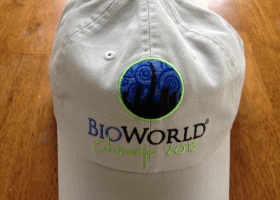 Partnering, networking and making new friends are all top-of-the-agenda for the biopharma industry's largest U.S. gathering. As you're preparing to join 16,500+ of your colleagues at the 2013 BIO International Convention in Chicago, we'd like to introduce you to a few standouts featured in the stories below. Also, come meet the BioWorld people, who are pretty interesting, too, at booth 1573. Plus, you can collect BioWorld's giveaway, which is both practical and sentimental. For 15 years, Publisher Donald R. Johnston has masterminded the creation of our lids. It's a hotly sought after gift, so come early before we run out.
Avalon's Lichter: 'Laid-Back' Savvy Keeps Deal Flow Strong
When it comes to getting venture capital deals done, the science and the financial terms naturally take center stage, but the personalities of the players need to mesh, too, for the best outcomes.
Women Leaders in Biotech: 'Walls Are Coming Down'
The glass ceiling is shattered, and barriers to women's participation in the biotech industry have fallen at every level, including the highest. That is the happy testimony of four leading women in biotech slated to present at BIO 2013, including Rachel King, co-founder of GlycoMimetics Inc.; Leslie Williams, president and CEO of ImmusanT Inc., Jessica Flechtner, vice president of research at Genocea Biosciences Inc.; and Denise Pollard-Knight, managing partner with Phase4 Ventures.
CEOs of Newly Public Biotechs Balance Work and . . . More Work
The initial public offering window may be creaking open for biotech – thanks in part to the new emerging growth company designation included in last year's JOBS Act – but running a publicly listed small biotech requires as much dedication as ever. Among speakers at BIO 2013 are two CEOs who can attest to that, having helmed their respective companies through the process in the past year – Dave Pritchard of KaloBios Pharmaceuticals Inc. and Lonnie Moulder of Tesaro Inc.
Unconventional Paths Give Young Standouts a Step Up
Among the thousands of interesting people who will be attending the 2013 BIO International Convention in Chicago are young standouts who are already making their mark in biotech, including Josh Sommer, Isaac Kinde, Laura Deming and Andina Mangubat
Navigating Successful Biotechs: CEOs Need to be Visionaries
It takes a special kind of person to be able to help navigate a biotechnology company from its early stages, with all its attendant hopes and dreams into the reality of a truly therapeutic product organization, which generates revenue and builds value for its shareholders. The job description calls for visionaries with business savvy and the ability to keep a positive attitude even when bumps in the road are encountered. BioWorld Today caught up with two such visionaries: Kleanthis Xanthopoulos, president and CEO of Regulus Therapeutics Inc., and Ingmar Hoerr, CEO of CureVac GmbH.