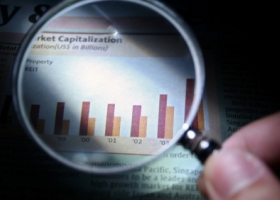 Remember the heady days about eight years ago when Amgen Inc. and Genentech Inc., prior to its acquisition by Basel, Switzerland-based Roche AG, both vied for top spot in terms of market capitalization? At that time, both companies briefly commanded impressive $100 billion market caps and their collective valuation represented a significant chunk of the whole sector's worth. Between then and now the industry took a nose dive in the wake of cratering global financial markets. As a result valuations declined and Genentech, now a unit of Roche, no longer factors into the industry's current performance statistics.
Well, thanks to an amazing run that the sector has been on for almost 24 months the prestigious $100 billion market cap is again within sight.
It might have been attained, too, but for the U.S. government shutdown and looming debt ceiling uncertainties that have spooked the markets putting biotech valuations on a reverse trajectory as company stock prices fall.
We will have to wait and just marvel at the numbers that were put up by biotech. Prior to the government machinations, Gilead Sciences Inc. reached a market cap of almost $97 billion with Amgen Inc. not too far behind sporting a market cap of $88 billion.
The difference between the Amgen/Genentech era and now is the fact that the gap between the valuations of Gilead/Amgen and other "blue chip" biotechs is not as wide as it was back then when Amgen/Genentech represented almost 50 percent of the total sector's value.
The incredible performances that many firms have been exhibiting on the capital markets have served to drive the sector to lofty new valuation heights – more than $500 billion at the end of the third quarter.
According to our ongoing analysis, 54 biotech companies developing therapeutics, with market caps greater than $1 billion, collectively saw their share prices jump by an average of 27 percent and finished up by a whopping 92 percent at the close of the third quarter.
The statistics are equally impressive when the 257 public biotechnology companies that are developing biotherapeutics are taken into account. According to the BioWorld Stock Report, they collectively recorded an average 28 percent share price increase in the quarter and a 51 percent increase since the beginning of the year.
This stellar performance may become a distant memory if the shutdown in Washington drags on for a significant period. Already the biotech sector has slipped 6 percent since the end of the quarter giving fuel to those pundits who believe that the industry's "bubble" has burst.
I am not in that camp. This is a mere temporary hiatus as investors take the opportunity to lock in profits from biotech's great run. The fundamental underpinnings of the sector are still strong and while biotech's "run" may slow down to a "trot" during the fourth, it is still on a trajectory for even higher valuations in 2014.