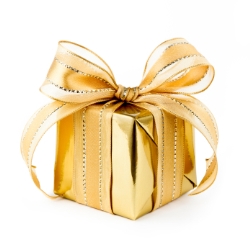 Google Glass? Fitbit? DNA necktie? Again this year, BioWorld Today polled our staffers, biotech execs, PR folks, tweeps and others in the science world to bring our readers top finds for the holidays. Enjoy!
Books and entertainment
            In February, the FDA met to consider whether and how to conduct trials to test gene manipulation techniques to prevent mitochondrial disease from occurring in offspring. "Are we heading to a world envisaged in Gattaca?" asked BioWorld Insight Editor Peter Winter, suggesting it might be time to substitute the 1997 movie for the even older holiday classic, Miracle on 34th Street. (Just don't try to take away my personal favorite, It's a Wonderful Life.)
            Ami Knoefler, founder and principal of Spark Biocomm LLC, recommended "nearly anything from the Eames Office Gallery" but singled out the classic film, Powers of Ten, which explores the relative size of objects in the universe, and related paraphernalia for their "cool science twist." She also called the company's memory game "very hip."
            For those who want to snuggle by the fireplace with a good book, BioWorld Database Editor Karen Pihl-Carey suggested the science-themed Frankenstein's Cat: Cuddling Up to Biotech's Brave New Beasts, by Emily Anthes. Microbiology for Dummies, by Jennifer Stearns, is a great book for nonscientists to add to their reference library, she added, and for those holiday get-togethers, consider The Art of Science, Advanced Trivia Game. Might be a fun alternative to the usual Balderdash.
Aline Schimmel of Scienta Communications recommended a book that's appeared on BioWorld's Summer Reading List but never on our Holiday Gift Guide. "If you haven't read it, go buy The Immortal Life of Henrietta Lacks right this second," she wrote, calling it "truly an amazing book."
            BioWorld Science Editor Anette Breindl endorsedThe Hot Zone by Richard Preston and My Own Country by Abraham Verghese, calling "both apropos of the Ebola crisis but related in very different ways."
            The Hot Zone was turned into the 1997 movie, Outbreak, with Dustin Hoffman and Rene Russo, and Breindl also suggested Contagion, a 2012 film about a rampaging virus that featured a cast of Hollywood A-listers. Don't know anyone who actually buys movies anymore? Consider a Netflix subscription and let the recipient select his or her own titles.
Apparel and accessories
            Kari Watson, senior vice president at MacDougall Biomedical Communications, raved about the sci-art scarves designed by Michele Banks whose Etsy shop, Artologica, features designs such as rainbow microbes, blue mitosis and lavender neurons. "I bought her heartbeat scarf for myself and two colleagues to celebrate a job well done for a big project around the American Heart Association meetings this year," Watson confided.
            Lynn Blenkhorn of Feinstein Kean Healthcare said she's already selected a Fossil "worldtime" watch for her oft-traveling scientist husband. Even though he's into biomaterials rather than biotech, "I know he'll love it," she said.
            Thinking of bling for your favorite female scientist? NBDesigns has an amazing variety of science-themed pieces, such as a microbiology charm necklace and DNA ladder earrings.
            Globe-trotters also might enjoy the AmazonBasics Universal Travel Case for Small Electronics and Accessories, which offers secure storage for small electronics, power adapters and memory cards. What biotech exec, VC or scientist doesn't need that assurance on the go?
Technology and gadgets
            BioWorld Asia correspondent Alfred Romann recommended the Kindle Voyage, designed specifically for those who want to kick back with a good book while on the go. "In an age of ever-more complex tablets and laptops, it's nice to have something that is just good for reading," Romann said.
            For the more intrepid traveler, BioWorld Staff Writer Michael Fitzhugh suggested private internet access, providing connections to many a public Wi-Fi network while traipsing the globe in search of partners or investors. The low-cost VPN encrypts incoming and outgoing internet traffic, keeping data safe from prying eyes. You can even pay anonymously.
            Meanwhile, the Miranda Time Zone Converter for iPhones can help you schedule a meeting with people located in three different time zones while maintaining your sanity. "With a million different tools for the job, this app stands out for its beautiful easy-to-use dial interface," Fitzhugh said.
            To record as you go, Sarah Cross, marketing director for BioWorld Today and sister publication Medical Device Daily, raved about GoPro cameras, which provide sharp still and video footage even when skiing, surfing, biking, hiking or pursuing whatever holiday adventure awaits.
            With the J.P. Morgan Healthcare Conference just around the corner, who couldn't use a Jonathan Adler On the Go iPhone Charger, recommended by KWM Communications principal Kellie Walsh May? The charger "doesn't really have biotech flair," she admitted, "but I love this thing!"
            And before you leave home for JPM, don't forget Fido, who will remain faithfully in sight with Gibi, a waterproof collar with a built-in GPS. The app can send an email of your dog's location or alert you if the pooch leaves a "safe" zone, such as your back yard.
Food and beverages
            BioWorld's Fitzhugh recommended Caffeine Chemical Formula Shot Glasses, because, as he observed, "You always understand everything better after a cup of coffee."
            Jessica Yingling of Little Dog Communications suggested Williams-Sonoma's Bitters-Making Kit as a great starter for holiday concoctions. "As a recovering scientist, I love cooking and making cocktails," she wrote. "Bitters are to making cocktails what herbs are to cooking food. This is what I plan to gift so people can make craft cocktails at home."
            For a different sort of consumable, Romann recommended a bottle of Hibiki 17 Single Malt Scotch, an award-winning Japanese blend, as a superb choice "for those who have a lot of stuff."
            And to complement a favorite beverage, consider BevShots, high-resolution images of beers, wines, cocktails, liquors and mixers taken after they crystallized on a slide and shot under a polarized light microscope. Transferred onto prints, bar accessories and even fashion items, the images are strikingly beautiful.
Home décor
            Want to bring the lab into your home, but in an artful way? Consider EcoSphere – a self-contained and self-sustaining miniature world encased in glass. Each design is crafted to achieve a certain aesthetic look for home, boardroom or office.
            And if you can't stop thinking about genetics and biotech, even around the dinner table, BioWorld's Winter suggested treating yourself to an elegant DNA chandelier to throw some "light on the subject."
Decorating for the holiday? Consider GeneGeek's Contagious Holiday Spirit, featuring 3D printed virus ornaments, DNA icicles and cross-stitch science-themed ornaments. And the modest price tag goes to a good cause: raising money for science outreach.
Or seeking an entirely new look for a kitchen, office or playroom? Check out Sissy Little, which offers "sweet" wall decals – chemical structures of honey, cream, cinnamon, peppermint, vanilla, and chocolate – as well as party packs of molecules and the solar system.
For the young and young at heart
            For the younger set, Baxter Phillips, chief business officer at Ampliphi Biosciences Corp., recommended the Dino Pet Set, a living "pet" powered by dinoflagellates, or bioluminescent plankton, that provide a light show at night. The set is "a bit pricey," Phillips admitted and, full disclosure, it comes from Biological & Popular Culture Inc., a subsidiary of bio-biggie Intrexon Corp. But "it's a neat gift for a budding scientist," he added, suggesting the company's DNA portraits as unique gifts, as well.
From the Twitterverse, the Elenco Snap Circuits Physics Kit is more device than biotech but nonetheless offers a variety of cool models for kids, who can use them to construct a radio, burglar alarm, motion detector and more. The company's Snap Circuits Lights previously earned a Best Toys for Kids award from the American Specialty Toy Retailing Association.
What about zombie warts and stomach juices? Kids will literally eat up the gooey but delicious treats from Doctor Dreadful Stomach Churner, though adults in the party might politely decline.
From the heart
            Although our Gift Guide is meant in a spirit of merriment, it's inspiring to see that, every year, at least one respondent suggests a gift at the heart of the season. This year, it was Sutro Biopharma CEO Bill Newell.
            "We have a slightly different take on the gift list that I wanted to share with you," he wrote. "At Sutro Biopharma, this year we have chosen to put on our gift list the Ronald McDonald House Wishing Tree."
For families with critically ill children, holidays can be a particularly stressful, Newell pointed out. With the support of individuals, businesses and community organizations, Ronald McDonald House provides a home-like holiday experience for many of those families while far from home. "As we are actively committed to delivering next-generation cancer therapeutics, we also wanted to give back to those providing important support to families who are bravely battling serious illnesses by fulfilling as many wishes as possible on their Wishing Tree," Newell said.
            Amen to that. Happy holidays and best wishes for the biotech world to produce even more treatments and cures in 2015.
            Editor's note: It's never too early to start planning for the 2015 holiday season. Did we overlook your favorite biotech gift? Send your suggestions to marie.powers@thomsonreuters.com.