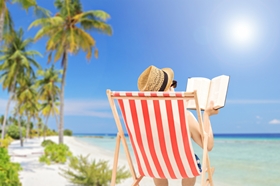 Summer is not officially here, according to the calendar, but the first long weekend of the season brings thoughts of beaches, mountains, travel, relaxation, lazy days and active ones. No matter what floats your boat over summer vacation, a good book should never be far away.
With that in mind, assembled once again for your reading pleasure is BioWorld's Summer Reading List – our 9th annual edition. Be forewarned: Our respondents dug deep this year, tackling a variety of thoughtful and complex issues. You won't find any fluff on these pages, but you'll certainly find opportunities to be dazzled and intrigued.
Read on.
Fascinating people: Biographies of daring and dictatorship
My pick this year is On the Move: A Life, by Oliver Sacks, the legendary neurologist who publicly revealed in February that he has metastatic cancer and only months to live. In this autobiography, Sacks lets it all hang out, recounting his experiences as a child and young neurologist, his struggles with drug addiction, his passion for weightlifting, his love affairs and – the saving grace of his life – his engagement with patients. Among his many research and clinical interests, Sacks is among the relatively small group of neurologists to study prosopagnosia, or face blindness – a condition that he shared, as recounted several years ago in The New Yorker. Sacks also described prosopagnosia and other rare neurological conditions in his notable selection of case studies, The Man Who Mistook His Wife for a Hat.
Observing that our Summer Reading List "is always a good reminder of summer," Greg Brown, founding managing director of Healthcare Royalty Partners, made several recommendations, beginning with Buzz Aldrin's Mission to Mars: My Vision for Space Exploration. In this rousing endorsement of continued space exploration, the early astronaut – the second man to walk on the moon – outlines his vision of colonizing Mars by 2035. Need an internal pep talk about dreaming big? This pick's for you.
Along the same lines, Joshua Cohen, assistant professor at the Tufts Center for the Study of Drug Development, recommended Elon Musk: Tesla, SpaceX, and the Quest for a Fantastic Future by Ashlee Vance. Cohen called Musk "an intrepid entrepreneur who doesn't shy away from bold decisions and risk-taking." He added that Musk "is not as packaged as Jobs or Gates, but potentially just as innovative."
Jim Greenwood, president and CEO of the Biotechnology Industry Organization (BIO) recommended A Lucky Life Interrupted, the latest from Tom Brokaw. The author of The Greatest Generation led an admittedly fortunate life graced with a strong family, many friends and a career capped by 22 years anchoring the NBC Nightly News, but he had to take a step back in 2013 when he was diagnosed with multiple myeloma. Brokaw's telling of his treatment, emotions and desire to learn more and help others seems fitting during this week when all eyes in the biotech world are on the American Society of Clinical Oncology annual meeting.
 In a darker turn, Andrew Fein, analyst at H.C. Wainwright & Co., recommended Stalin by Simon Montefiore. The biography is a vivid account of the Soviet dictator during the decades when he wielded unchallenged power in the world's largest country. Not a choice for the squeamish, the book describes, in turn, debauched dinners and ruthless killings. Still, Montefiore offers a tantalizing peek inside a secret world that was playing out even as the battlefields of World War II transitioned into the Iron Curtain of the Cold War.
The 'world' of fiction
This year's fiction selections are as diverse as their settings, which are – literally and figuratively – in and out of this world. Laura Vitez, principal business analyst at Thomson Reuters Recap "can't wait to read" Elena Ferrante's My Brilliant Friend, a 1950s story set in Naples about best friends with a shared but tangled destiny. "I'm hoping it's as good as they say it is," Vitez said of the fourth novel from the acclaimed Italian author.
Ann Duncan, BioWorld's senior production editor, said "the only book I'm recommending this summer is a novel I read while recuperating from foot surgery: Still Alice by Lisa Genova." The book – also a 2014 movie that saw Julianne Moore sweep major acting awards for her performance in the title role – portrays the struggle of an accomplished professional woman after she's diagnosed with early onset Alzheimer's disease. "It's frightening and very moving," Duncan said. "Because my mother suffers from dementia, it gave me a glimpse of the frustration she must feel on a daily basis."
Jamie Lacey-Moreira, founder and principal of Presscom PR LLC is reading Half of a Yellow Sun by Chimamanda Ngozi Adichie, which captures a variety of human stories during a seminal moment in modern African history: Biafra's struggle to establish an independent republic in southeastern Nigeria during the late 1960s.
Michelle Linn, principal of Linnden Communications, has a personal connection to her recommendation, since The Secrets We Keep was written by her friend, Trisha Leaver. In fact, Linn was with Leaver when the publisher called and indicated interest in the book. "This is a young adult novel, and my daughter just finished reading it," Linn said. "With two teenagers in the house, I find myself reading a lot of young adult novels lately – both because we can discuss them together and because they're usually fairly quick reads, which are all I have time for!"
The book focuses on high school-aged twin sisters who are involved in a car accident in which one is fatally injured. The surviving twin uses the opportunity to take on her sister's identity – thinking the sister was more popular and more greatly loved – but learns her twin had some surprising secrets. "I think it's a bit of a tear-jerker," Linn acknowledged.
Jennifer Boggs, BioWiorld's managing editor, just finished Hyde, by Daniel Levine, a retelling of Robert Louis Stevenson's famous short novel, The Strange Case of Dr. Jekyll and Mr. Hyde, from the viewpoint of Jekyll's substance-induced alter-ego. "It's part psychological thriller and part commentary on the Victorian era – a period paradoxically known for both the emergence of scientific discoveries and socially repressed customs," Boggs said. "And, if you want a biotech connection, you could argue that the book offers an important lesson on good manufacturing practices."
Boggs recommended another retelling in Neil Gaiman's different take on Sleeping Beauty in the short story collection, Trigger Warning. "It's a terrific compilation of stories, poems and fables," she said, "a little something for horror fans, Whovians or anyone who's ever bought furniture at Ikea."
Rachel King, president and CEO of Glycomimetics Inc. and current BIO chair, is reading two books that she recommended for the list. The Buried Giant by Kazuo Ishiguro – winner of the Booker Prize for The Remains of the Day – is an allegory set in an era when ogres, giants and dragons still roamed England. The book, which King called "beautiful," is about loss, memory, and loss of memories. She also gave a nod to All the Old Knives by Olen Steinhauer, a spy novel that takes place simultaneously in Vienna and over a dinner in Northern California with some deliciously mysterious twists.
Niven Narain, co-founder, president and chief technology officer of Berg Pharma LLC recommended two classics: A Tale of Two Cities by Charles Dickens ("It was the best of times, it was the worst of times, it was the age of wisdom, it was the age of foolishness…") and Ernest Hemingway's The Old Man and the Sea. Though the settings are entirely different, both novels are worth revisiting as tales of endurance, courage and personal resilience – some of the same qualities needed to navigate the challenges of drug development.
Nonfiction: Truth or dare
Narain's fiction selections bookended a distinctly modern nonfiction choice in The Innovators Prescription. Authors Clayton M. Christensen, Jerome H. Grossman and Jason Hwang apply the principles of "disruptive innovation" to the health care system and propose a set of solutions to challenges facing today's health care system – in so doing, potentially reducing the cost of care while leading to improved health outcomes for millions.
Another look on innovation from a distinctly different perspective came from Bill Chin, executive vice president of scientific and regulatory affairs at the Pharmaceutical Research and Manufacturers of America, or PhRMA, who recommended The Innovators by Walter Isaacson.
"From the author who gave us uncommon glimpses of the lives of Franklin, Einstein Kissinger and Jobs comes a set of fascinating stories about the birth of the digital age, from the first computer to the Internet," Chin said, noting that the book "offers a rich account of the many threads of invention leading to our current networked world." The book offers lessons, as well, about "how we can 'grow' innovation, leading to the next major human advance through more effective collaboration and teamwork," Chin said.
He also endorsed Being Mortal by Atul Gawande, which he called "a brilliant set of stories told by a surgeon who is adept with both the scalpel and the keyboard." Gawande entreats readers to engage in critical conversations about the end of life, asking "How do we achieve grace in dying?" Chin pointed out. From the recounting of Tolstoy's Death of Ivan Ilyich to the end-of-life challenges of loved ones and patients, "Gawande makes us rethink the choices that we might make about prolonging life at all cost," Chin said.
Randy Osborne, BioWorld Today staff writer, voracious reader and gifted author in his own right, suggested a pair of intriguing picks. "Because I'm a collector of handwritten diaries (and letters), which are hardly ever kept or talked about anymore, I had a particular interest in Heidi Julavits' The Folded Clock: A Diary, and in Sarah Manguso's Ongoingness: The End of a Diary," he said. "They're both excellent nonfiction about the practice of writing a diary and stopping, the losses and gains."
In a title that harkens to current news headlines of sexual assaults on college campuses, Lacey-Moreira recommended John Krakauer's Missoula: Rape and Justice in a College Town. Krakauer's chronicling the experiences of several women in Missoula who were victims of acquaintance rape – perhaps the most underreported crime in the U.S. – "embodies his usual journalistic approach to a difficult subject fueled by human idiosyncrasies," she said.
In another sobering page ripped from current events, BioWorld Today staff writer Cormac Sheridan ranked Gerard Russell's Heirs to Forgotten Kingdoms: Journeys into the Disappearing Religions of the Middle East "at the top of my reading list this summer." Although the Middle East is the birthplace of many of the world's major and minor religions, "the religious and ethnic diversity it has harbored for centuries is now gravely threatened by the brutal conflicts unleashed since the 2003 Iraq War," Sheridan said, noting that "the plight of the Yazidis made international headlines last year when ISIL inflicted a merciless assault on the defenseless people of Sinjar, in northern Iraq." But Russell, a former UK and UN diplomat, goes beyond the headlines, Sheridan added, to offer compelling portraits of the Yazidis and other imperiled minorities, such as the Kalasha of northern Pakistan, the Mandaeans of southern Iraq and the Samaritans of Palestine and Israel, who today number little more than 700 people.
Kosta Steliou, CEO of Phenomatrix Inc., suggested The Cave and the Light: Plato Versus Aristotle, and the Struggle for the Soul of Western Civilization, by Arthur Herman, calling it "a must-read" account that reveals how two of the greatest thinkers of the ancient world laid the foundations of Western culture.
In a segue to the present, Healthcare Royalty's Brown pointed out that 2015 is a significant year in the history of Western world, as it represents the bicentennial of the Battle of Waterloo as well as the ongoing centennial of World War I. With those milestones in mind, he plans to read Waterloo: A New History of the Battle and its Armies, by Gordon Corrigan, "a professional soldier whose own military experience provides a rich perspective on one of the most interesting battles in history," Brown said. "There are valuable business lessons that can be gleaned from exploring how teams (platoons, companies, battalions and regiments) work together more or less effectively in the heat and chaos of battle and how leaders read and respond to changes, both dramatic and subtle, in the relative positions of their armies and teams."
Also on Brown's list is Christopher Clark's The Sleepwalkers, which looks "not at the battles of World War I but rather at how the complex network of relationships and events led the leaders of the world to drift into that cataclysmic conflict," he explained. "As the First World War set the stage for the Second World War – many view the latter as the inevitable continuation of the former, based on the wholly destabilizing Treaty of Versailles – this is really the tale of how our modern geopolitical context was spawned."
Closer to home, Peter Winter, editor of BioWorld Insight, recommended Future Crimes by Marc Goodman, who describes in the book how the spam and phishing industry that we find so annoying represents just the tip of the hacking iceberg. "Goodman take us on a journey into the underworld of the internet where skilled hackers can go behind what companies believe are the safest firewalls," Winter said. "It's scary stuff and a good summer read."
Winter's picks have been solid. I couldn't put down his 2014 nonfiction recommendation, Flash Boys: A Wall Street Revolt by Michael Lewis. His 2015 selection sounds equally intriguing.
Science: Real and imagined
Kevin Vickery, director of communications at the Life Sciences Foundation recommended Life's Engines: How Microbes Made Earth Habitable by Paul G. Falkowski, noting that these organisms transformed the chemistry of our planet to make it habitable for plants, animals and humans. Falkowski looks "under the hood" of microbes to examine the elegantly complex nanomachines that have driven life since its origin. At the same time, he issues a not-so-subtle warning about the dangers of tinkering with that machinery.
In "another gem" along that vein, Osborne recommended Chelsea Biondolillo's chapbook Ologies, which consists of four essays about science "and a lot more," Osborne said. "'What would a phylogeny of that which terrifies look like?'" he cited. "'How can I create a taxonomy for all my dark fascinations?'" Good scientific food for thought.
Steliou, also a scientist and professor at Boston University, recommended The Lagoon: How Aristotle Invented Science by Armand Marie Leroi, calling the book – both a travelogue and a study of the origins of science – "excellent for anyone interested having a historical perspective of the life sciences, particularly biology."
In the nonfiction category, BIO's Greenwood recommended This Is Your Brain on Music: The Science of a Human Obsession by rocker-turned-neuroscientist Daniel Levitin. The "groundbreaking union of art and science," Greenwood said, "explores the connection between music – its performance, its composition, how we listen to it, why we enjoy it – and the human brain," drawing on musical examples ranging from Mozart to Duke Ellington to Van Halen.
Rounding out the category, BioWorld Insight staff writer Brian Orelli plans to read p53: The Gene that Cracked the Cancer Code by Sue Armstrong. "Who doesn't like a good read about a tumor suppressor discovered so long ago that it's named after the size of the protein it encodes for?" he asked rhetorically. "I just hope it captures the hype and subsequent letdown everyone felt when it looked like restoring p53 function was going to cure a vast number of tumors."
Inspirational, personal and professional development
Laura Bagby, account supervisor with 6 Degrees PR, plans to read The Road to Character by the NY Times' David Brooks, who admitted he wrote the book "not sure I could follow the road to character, but I wanted at least to know what the road looks like and how other people have trodden it." The book challenges readers to rebalance the scales between "résumé virtues" such as achieving wealth, fame and status and "eulogy virtues" that exist at the core of human nature, such as kindness, bravery, honesty and faithfulness.
Tufts' Cohen suggested Wiser: Getting Beyond Groupthink to Make Groups Smarter by Cass Sunstein and Reid Hastie, which focuses on the difficulties of making group decisions. The authors cite factors such as individual errors in judgment, "cascade" effects, polarized positions and information vacuums. "Cass Sunstein has been nudging us in the direction of rational decision-making for quite some time," Cohen pointed out. "This book removes political ideology from key policy decisions." Sounds like an enlightening choice for your favorite regulator.
And George Vlasuk, president and CEO of Navitor Pharmaceuticals Inc., recommended a book that could fit into several categories, calling The Wright Brothers by David McCullough "an example of perseverance and technical uncertainty coupled with humility and self-confidence in achieving one of the great advances for mankind." As a story of inspiration, this tale seems to mirror the experience of many biotech pioneers who sought to "soar" with cutting-edge scientific developments. "There are lessons to be learned for today's entrepreneurs who dare to push the envelope across multiple disciplines," Vlasuk observed.
Indeed. Grab one of these titles and catch some inspiration on your summer holiday.