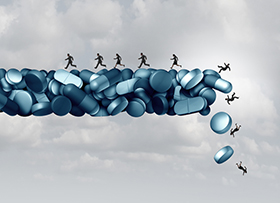 NEW YORK – While listening to panelists during the BIO CEO & Investor conference discuss the current state of the opioid epidemic, it occurred to me that there was something about this narrative that seems familiar. I feel like I've written this story before.
And I have. About 10 or 12 years ago. Only then, instead of pain drugs, it was antibiotics. Despite the need for new antimicrobial treatments to combat the growing resistance problem, many companies were shying away from antibiotic drug development. Part of that was due to the shifting regulatory landscape at the FDA regarding noninferiority studies. Dalvance (dalbavancin, Allergan plc), for instance, finally ended its long and winding road with an FDA nod in 2014, following three "approvable" letters – the precursors to complete response letters – and multiple ownership changes.
Antibiotics developers also had to contend with the abundant availability of generic options and the fact that antibiotics were never going to command the sort of premium pricing seen in areas such as oncology.
A similar story is playing out in the area of pain drugs. The regulatory path for approval of those products is complex, with a large degree of uncertainty, noted panelist Robert Radie, president and CEO of Egalet Corp. "When there's uncertainty out there … it tends to push people away."
Pain drugs also comprise a "highly genericized market," resulting in pushback from payers, even when dealing with novel therapies, he added.
Like the antimicrobial space, pain drug development has been hindered on the scientific front, with a shortage of novel targets. "I think there's still a good deal of basic research that needs to be done here," said Corey McCann, founder and CEO of Pear Therapeutics, a digital therapeutics company that offers patient-facing software for treating substance abuse.
The lack of new targets has meant that many firms have been focused largely on reformulating existing drugs or developing abuse-deterrent forms of opioids. The latter has been difficult to achieve to regulator's satisfaction, and a draft evidence report issued last year by the Institute for Clinical and Economic Review raised questions on the effectiveness of so-called "abuse-deterrent formulations" when it comes to actually preventing abuse.
As in the antimicrobial space, a solution would be finding ways to encourage investment in R&D for new approaches, in this case non-addictive, non-opioid treatments for treating pain, whether for patients needing help with postsurgical pain or for the management of chronic pain. In antibiotics, the Generating Antibiotic Incentives Now, or GAIN, provision signed into law as part of 2012's Food and Drug Administration Safety and Innovation Act, has helped spur development by offering incentives, such as an additional five years of exclusivity. Earlier this month, the FDA noted that, in the past five years, it has granted 147 qualified infectious disease product designations, including 74 designations for novel drugs, and it has approved 12 products with those qualifications.
A GAIN-style push for non-opioid pain drugs could yield similar momentum.
And the U.S. is hardly alone in looking for ways to incentivize antibiotic development. A report recently released by the EU – Drive-AB, or Driving reinvestment in R&D for antibiotics and advocating for their responsible use – recommended that a market entry award of $1 billion for companies that succeed it getting a novel product to market.
Putting forth more cash, however, won't solve all the problems in pain drug development. One area in which that space differs from antibiotics is the failure rate of clinical development, due in large part to the difficulty in measuring pain and the prevalent placebo response. A report from the Biotechnology Innovation Organization indicated that pain drugs have a clinical success rate of only 2 percent – that compares with a roughly 10 percent success rate in other disease areas.
Still, there's one other commonality between antibiotics and opioid pain drugs: Both have a tendency to be overprescribed. In cases of the former, it has helped lead to a disturbing rise in antimicrobial resistance; the latter has resulted in the current opioid epidemic, with the CDC reporting 115 U.S. deaths per day from an opioid overdose.
While a number of biopharma firms are making headway on drugs and devices to help patients kick opioid addictions, and U.S. and European governments have cited the opioid crisis among their top priorities, those efforts will only stem the tide of opioid addiction. Targeting prescribers and generics makers and advocating for responsible use will only go so far. The only sure-fire way to address opioid addiction is to eliminate opioids from the health care system entirely, a goal that many see as long term, at best.
"The holy grail is to find a non-opioid pain product," said panelist Brandon Folkes, an analyst at Cantor Fitzgerald. "Opioids are going to be used to treat pain for a long time until we get there."