Stephen Hahn, of the MD Anderson Cancer Center, generally managed to avoid any controversy in today's Senate confirmation hearing for the FDA commissioner's job, stating for instance that he is "open to all science and data that could potentially support" drug reimportation as a solution to the drug pricing problem.
Hahn was formally announced Nov. 1, as the Trump administration's candidate to take over at the FDA, at which point the White House named assistant Secretary for Health Brett Giroir to serve as interim commissioner. The news about Giroir triggered a backlash from women's health advocates and from Sen. Patty Murray (D-Wash.), whose opposition to Giroir did not blunt her interest in subjecting Hahn to a thorough vetting.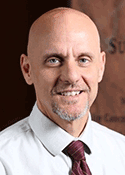 Sen. Lamar Alexander (R-Tenn.), chairman of the Senate Health, Education, Labor and Pensions Committee, said of Hahn, "I believe he is well qualified to lead the FDA." Alexander said that "this is a critical time for the FDA" in that the opioid crisis continues to plague American society, and because of the need to implement the provisions of the 21st Century Cures Act. He said Hahn is a proven leader and is well qualified to lead the agency, adding that five former FDA commissioners have expressed their written support for Hahn.
Murray 'alarmed' at device review programs
Murray, on the other hand, sustained her skepticism, stating, "President Trump has an incredibly poor track record when it comes to nominations." Murray said some of her reservations were due to Hahn's lack of experience in the federal government and because he has no track record on a number of the policy issues facing the FDA. "We need an FDA commissioner who will push back hard" on vaping and e-cigarettes, Murray said, adding, "I am alarmed at changes the Trump administration has proposed for the medical device review program."
Murray's concerns regarding the FDA's medical device review programs revolved in part around the pre-cert program for software as a medical device, adding that this and other proposals "are not consistent with the FDA's gold standard." Hahn said his career has been dedicated to patient care and the advancement of oncology, adding, "I was always confident that the FDA had my back. I also want to emphasize that I have a deep respect for Congress," he said, stating that he intends to "collaborate with Congress to protect public health."
Generic drug competition was the focus of much of the hearing, with Sen. Tim Scott (R-S.C.) telling Hahn that Section 205 of the Lower Health Care Costs Act (S.1895) was a source of concern. Scott's position was that any cap on prices for drugs may lead to counteractive pricing by drugmakers, thus truncating the effectiveness of any price controls. However, Scott said the provision might also blunt interest in the development of generic drugs, and Hahn responded that "nothing is more important than getting innovative products to market," including generics, although he did not elaborate.
Hahn also noted that it is possible to leverage outside of the U.S., or OUS, data for drug application reviews, but said he would have to get up to speed on that question before making any commitment. There was no mention at all during the hearing of the dilemma regarding the use of ethylene oxide to sterilize medical devices, however.
Hahn said packaging and labeling for opioid analgesics are important tools in the effort to stanch misuse, but said he would seek to accelerate review of alternative methods of analgesia. The pain management question requires a holistic approach, he said, one which balances the need to relieve suffering with the need to prevent any misuse.
Hahn said provider education has done much to suppress the overuse of opioids over the past couple of years, and that the use of analgesics for cancer patients has changed substantially as well. Under his leadership, the FDA would move forthrightly to promote development of non-opioid alternatives, including "even potentially medical devices," Hahn said, adding, "I look forward to furthering the education effort for providers and patients."
Regarding drug shortages, Hahn said, "I commit to working with Congress on this issue." He said he favors transparency as a tool for encouraging development of biosimilars, and that the anticompetitive practices in play "should be eliminated."
MD Anderson employs more than the FDA
Hahn addressed some of the questions regarding his administrative experience, noting that the MD Anderson Cancer Center has more than 21,700 employees, while the FDA has roughly 17,000 employees. He said the similarities between the two organizations are striking, including that he has to deal with a state bureaucracy that governs hiring at Anderson. "I believe it will be a top priority" to implement the agency's authorities, including provisions of the 21st Century Cures Act, which will require the addition of staff. Hahn reassured the senators that his experience at MD Anderson will help him hire and retain the staff needed to fulfill the agency's statutory obligations.
Sen. Mike Braun (R-Ind.) made the case that the difference in drug prices between the U.S. and other nations constitutes a subsidy for those other nations. Braun said he will introduce a conditional approval bill "that could be transformative" for development of therapies for rare diseases. The bill would provide for a provisional approval that allows the manufacturer to generate revenues to finance a pivotal trial. Hahn responded that while it is important to ensure that innovative therapies reach patients without undue delay, it is nonetheless important to ensure that those therapies are appropriately vetted.
Sen. Tammy Baldwin was one of several senators who asked Hahn about his ability to deal with well-financed companies, which she said would apply tremendous pressure on the FDA. "In my career as a physician and as a researcher, there certainly have been situations where recommendations have been made that weren't always in the best interest of the patient," Hahn replied, adding, "I am deeply committed to my patients and the public health of the American people."
Baldwin also asked about molybdenum-99, the precursor to technetium-99 (Tc-99), which she said is used in 40,000 medical scans in the U.S. every day. "We have a very fragile supply chain for this critical medical isotope," she said, to which Hahn replied, "I have been in clinical situations in which we have had to delay a diagnostic test" due to shortages of Tc-99. Hahn also noted that the University of Wisconsin has engaged in research recently to provide alternative methods of producing Tc-99, adding that he looks forward to addressing this "in a proactive manner."