New commitments by investors in Boston-based Omega Funds have put the firm on track to deploy $438 million into new and existing life sciences companies during what Managing Director Otello Stampacchia called "the most exciting time to be investing in life sciences in a generation." The final close adds to what's becoming a busy season for fund rollouts, punctuated so far this month by announcements of closing for a new series A-focused $210 million fund from Perceptive Advisors and a new $115 million med-tech-focused fund from Israel's Peregrine Ventures.
Both Stampacchia and Chris Garabedian, portfolio manager for the new Perceptive Xontogeny Venture Fund, cited key changes in industry technology and structure as creating new opportunities for investors. Despite passing fashions and trends, foundational changes such as the falling cost of sequencing and application of CRISPR to drug discovery have created new "hardware" driving innovation, Stampacchia said. At the same time, a migration of talent out of pharma and into the more rewarding field of small biotechs has created new "software that's much more open source than it used to be," creating a confluence of factors that has driven sector growth, he said.
The core tenant of Omega's work remains an effort to "identify products and platforms that develop products that address unmet medical needs," Stampacchia said, then working back from there to determine what resources are needed to achieve that. Over the last few funds, that work has led to significantly stepped-up company creation efforts, as exemplified by Omega's backing of Gossamer Bio Inc., Kronos Bio Inc. and Replimune Group Inc. – a trend that will continue. But the Omega team will also invest in companies created by others that have "come to a similar conviction" about a particular need, he said.
Much of the new Omega Fund VI was raised earlier in the year, Stampacchia said, and its deployment is likely to reflect more of an evolution than a revolution for the firm. Small-cap public companies may see a little more attention out of the new fund than previous funds, he allowed, but by and large there's likely to be a continued focus on oncology and rare disease, especially as data allow for the application of lessons from oncology into other immunology-driven indications, he said.
Perceiving early stage opportunities
Another high-profile fund debuting this month is the Perceptive Xontogeny Venture (PXV) Fund, which will be solely focused on investment in early stage life sciences companies. The fund got its start when industry veteran Garabedian started his Boston-based accelerator Xontogeny, an entity created in response to his realization that many life sciences funds had become ever-larger, writing bigger and bigger checks for series A rounds, often focused on platform discovery. Garabedian, chairman and CEO of Xontogeny, realized that "the middle market had kind of went away in brand-name biotech VCs." Though seed investment sources remained intact, sources of series A investment in the $10 million to $15 million had become elusive, he said.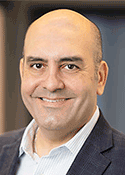 The rising tide of venture-created companies, creating a roster of startups that at times has even seemed to overshadow the list of independently created small biotechs, made the gap for the latter even more apparent. Perceptive invested $25 million in 2017 to fund Xontogeny, an answer to the consulting, mentoring and seed funding needs of small biotechs. Seeing a logical next step in raising a pure-play venture fund, Perceptive has tapped Garabedian to manage the new PXV fund.
The fund, slated to support between eight and 10 companies, is expected to be the sole or predominant lead investor in both series A rounds in the range of $10 million to $20 million with capacity to participate in subsequent series B rounds. So far, the fund has participated in financings of both Blacksburg, Va.-based Landos Biopharma Inc. and Quellis Biosciences Inc. Next up, Garabedian said, he's working on a new investment into a cardiometabolic-focused company. "The overall goal is to play an active management role in these companies," he said.
More funds to deploy
Adding further fuel to the fire, Peregrine Ventures, an Israeli med-tech venture capital fund put together by private equity firm Peregrine Ventures Management Ltd., said Dec. 9 that it had just closed its fourth fund, Peregrine 4, raising $115 million. The fund will continue to invest in early stage and late stage rounds of medical technology startups, Peregrine said. Investments from the firm have so far yielded "numerous successful companies in the fields of therapeutic single product use devices, digital health, pharma, esthetics, food-tech and diagnostics," it said.