DUBLIN – Advanced Biodesign SAS secured €9 million (US$9.8 million) in new funding commitments to take its lead drug candidate, ABD-3001, into a phase I trial in acute myeloid leukemia (AML). The Lyon, France-based firm is investigating a novel drug mechanism associated with cancer cell metabolism, which could have application across several cancer types.
The company is targeting two isoforms of aldehyde dehydrogenase (ALDH), a large family of enzymes that ordinarily play diverse roles in cell signaling and differentiation. "We are specifically inhibiting ALDH 1 and 3," Advanced Biodesign CEO and co-founder Ismail Ceylan told BioWorld. "These isoforms are specifically increased in cancer cells." In that setting, they play a critical role in maintaining cancer cell viability by enabling the cells to break down the substances that arise from the aberrant, energy-hungry metabolism of cancer cells. "These metabolites generate highly toxic compounds," Ceylan said.
The company has amassed in vitro and vivo data in support of the hypothesis that this dual inhibition of specific ALDH isoforms will benefit patients. Together with academic collaborators, it has also uncovered supporting genetic evidence. A recent analysis of data from The Cancer Genome Atlas and Gene Expression Omnibus databases indicates that 31% of non-small-cell lung cancers (NSCLCs) carry mutations in genes encoding three ALDH isoforms, ALDH1A1, ALDH1A3 and ALDH3A1. Moreover, those mutations were associated with resistance to chemotherapy and with reduced survival.
The study, which was published online in Oncogene on Feb. 3, 2020, demonstrated that dual inhibition of ALDH1 and ALDH3 with dimate (4-dimethylamino-4-methylpent-2-ynthioic acid S-methyl ester) was cytotoxic in 73% of NSCLC cell lines tested and showed antitumor effects in xenograft mouse models. It led to the accumulation of the pro-apoptotic aldehydes hydroxynonenal and malondialdehyde and to disruption of the redox balance of the cells, as the reduced form of glutathione was diverted to oxidation of those compounds, which permitted an accumulation of reactive oxygen species.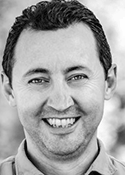 The design of the company's first-in-human trial of ABD-3001 has not yet been finalized. It will include a dose-escalation phase and an expansion cohort – it will recruit 36 patients according to the current plan, but that could change. Its choice of AML as a lead indication was influenced by a seven-year collaboration between the company and Régis Costello, head of hematology and cell therapy at Hôpital de la Conception in Marseilles, France. Studies with more than 100 clinical samples indicate that the vast majority – 98% – have high ALDH gene expression, Ceylan said, and application of an ALDH inhibitor induces apoptosis in the presence of ROS species.
Academic collaborators in France and Spain also reported that ALDH1 inhibition, or depletion of ALDH1A1 and/or ALDH1A3, led to the accumulation of pro-apoptotic aldehydes, apoptosis and tumor growth inhibition in immunocompetent, immunosuppressed and patient-derived mouse xenograft models of melanoma. Those data were published online in Oncotarget on June 5, 2017, in a paper, titled "ALDH1A3 is epigenetically regulated during melanocyte transformation and is a target for melanoma treatment."
Costello will lead the upcoming trial. Advanced Biodesign is also lining up additional clinical centers in Paris and Lyon. AML, particularly in the first-line setting, has become an increasingly crowded space, due to the adoption of targeted therapies, such as Abbvie Inc.'s and Roche Holding AG's BCL-2 inhibitor, Venclexta (venetoclax), the isocitrate dehydrogenase-2 (IDH2) inhibitor Idhifa (enasidenib), marketed by the Celgene arm of Bristol-Myers Squibb Co., and the IDH1 inhibitor Tibsovo (ivosidenib), marketed by Agios Pharmaceuticals Inc. For that reason, Bergen Bio ASA is positioning its first-in-class Axl inhibitor bemcentinib (BGB-324), which is currently in phase II trials, as a second-line therapy in AML. Advanced Biodesign is also targeting relapsing/remitting forms of AML initially.
Advanced Biodesign has maintained a low profile until now, although it has been around for some time. It was originally founded as far back as 2010 and has been funded by its main investor, Paris-based Xerys, which, with the new cash injection, has now committed about €18 million to the company. In addition to Ceylan, its founders include chief operating officer Guillaume Martin and chief scientific officer Mileidys Perez-Alea. Another founder, Gerard Quash, died in 2018.