South Korea's Bridge Biotherapeutics Inc. has enlisted San Francisco-based AI drug discovery shop Atomwise Inc. to help it identify up to 13 small-molecule inhibitors of Pellino proteins and other targets in an effort to develop new therapies for inflammatory diseases. Atomwise stands to receive an up-front payment of undisclosed value, as well as milestone and royalty payments under terms of the deal. Presuming success, it estimates the partnership's payoff could reach up to $1.08 billion.
Bridge, a rising star in the Korean biotech scene, has become increasingly active on the world stage. Last July, it secured a high-profile partnership with Boehringer Ingelheim GmbH for development of autotaxin inhibitor BBT-877, a deal worth up to €1.1 billion (US$1.2 billion), excluding an up-front payment of €45 million. Prior to that, in April 2019, it landed ₩31 billion (US$26 million) in series C funding. The company's new partnership with Atomwise "gives us a competitive edge," said Bridge founder and CEO James Lee.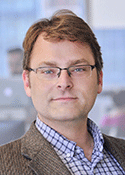 Bridge has taken the lead in advancing therapeutic candidates targeting Pellino E3 ubiquitin ligases, which, as keys to the protein degradation space, are hot targets with particular relevance in addressing inflammation, Atomwise CEO and co-founder Abraham Heifets told BioWorld. They're especially interesting in the context of neuroinflammation, where they may offer a new strategy for attacking Alzheimer's disease, he said.
Pellino E3 ubiquitin ligases are a target area Seongnam-based Bridge has pioneered with BBT-401, the first-in-class Pellino-1 peptide inhibitor, currently in phase II as a potential treatment for ulcerative colitis. The new partnership with Atomwise will lean on the AI expert's structure-based discovery technology, Atomnet, to help pare millions of potential molecules down to a curated subset ready for preclinical testing.
Pellino-1 is a protein mediating the myeloid differentiation primary-response protein 88, which activates nuclear factor kappa-light-chain-enhancer of activated B-cell pathways triggering inflammation. According to Bridge, it engages with multiple inflammatory signaling pathways.
A challenging field
The challenges of E3 ligases are similar to those that were initially presented by kinases, Heifets said. Kinases have been and remain a significant class of target, but for many decades were undruggable due to the challenges of developing molecules that were selective enough that their benefits outweighed their risks. Success with the class was ultimately due to the hard work of medicinal chemists, he said.
Now, with E3 ligases, "you're kind of faced with a blank piece of paper, so figuring out how to make progress is challenging," Heifets said. On the scientific front, that's where Atomwise's ability to screen tens of billions of compounds could offer Bridge a path to advancement. But there's also a business challenge at play: the race to capitalize on a new exciting piece of biology before someone else. "I think Bridge chose to partner with us because, for those kinds of problems, we've been able to deliver repeated success to partners," he said.
The deal with Bridge is Atomwise's first deal with a Korean company, but not its first in Asia. Inking its first deal in China in September 2019, Atomwise agreed to partner with Jiangsu, China-based Hansoh Pharmaceutical Group Co. Ltd. Under that agreement, the pair is working to develop drug candidates for up to 11 undisclosed targets in multiple therapeutic areas, using Atomwise's AI platform and Hansoh's R&D, manufacturing and commercial capabilities. Atomwise is eligible for undisclosed technology access fees, option exercise fees, royalties and income based on sublicensing or sale of assets created under the collaboration that it believes could reach $1.5 billion.
Since its founding in 2012, Atomwise has partnered with numerous researchers, including those at academic institutes and in the biopharma sphere. One among the more recent and notable deals arrived in January, when it agreed with Cleveland-based Biomotiv LLC to form a series of co-owned, joint development companies intended to integrate Atomwise's AI technology and Biomotiv's expertise in preclinical and clinical development to translate academic and early stage research into small-molecule therapies. The firms will source targets, assays and compounds for the JDCs from the Harrington Project, the AIMS program and research institutions around the world.
Today, Atomwise has more than 500 drug discovery projects underway, with a variety of big pharma partners, too, including Eli Lilly and Co., Merck & Co. Inc., Abbvie Inc. and Bayer AG. The Bayer deal, in particular, has exemplified success for the private company. In January, Bayer opted to continue the development of two crop protection programs with Atomwise, extending an agreement first inked between Atomwise and Monsanto Co. in mid-2017. "The development of chemical compounds for agriculture is as challenging as it is for drug development," Heifets said at the time.
The young company is also making progress on the scientific front, having recently completed what Heifets said was "the biggest screening in human history," as part of its 10-to-the-10 program, which ended up screening 12 billion compounds during the course of fewer than 10 days, looking for novel drug candidates.