Pharma has not gotten terribly serious yet about integrating digital health tools into clinical trials, let alone into their product offerings, despite the potential benefits they could offer when it comes to patient adherence, compliance and experience. Still, oncology giant Bristol Myers Squibb Co. (BMS) has made a small step in that direction by partnering with Paris-based digital therapeutics company Voluntis SA.
The pair are looking to develop digital products to support cancer patients by enabling the reporting of and feedback on treatment-related symptoms, as well as remote monitoring by health care providers. Voluntis has previously structured similar pharma partnerships and aims to cultivate additional ones. Cancer patients often have adverse reactions to treatment; proactively and quickly managing these could help to reduce related hospitalizations, as well as improve the patient experience thereby supporting uninterrupted treatment as prescribed.
Oncology guidance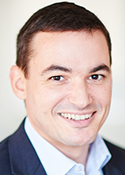 "Voluntis' main efforts in oncology reside in its proprietary platform, Theraxium Oncology, which is the cornerstone technology for all the digital therapies we co-develop with our partners in the field of cancer treatment," Voluntis CEO Pierre Leurent told BioWorld. "Oleena, our first digital therapeutic to obtain marketing authorization in oncology, is also powered by the same platform. Our partners in this sector are leading pharmaceutical companies such as Astrazeneca, Novartis and, more recently, Bristol-Myers Squibb."
Theraxium Oncology is a software platform to develop oncology digital therapeutics. It enables specific configurations of modules and clinical algorithms that can be tailored to the needs of patients with specific cancer indications or treatment regimens. Oleena is the first digital therapeutic developed by Voluntis that has obtained FDA clearance.
Oleena was cleared by the FDA in July. It is the first digital therapeutic of this sort to be available commercially in the U.S., according to Voluntis. It is slated to be available in U.S. cancer centers during this half of the year. A CE mark for Oleena is anticipated later this year.
It is a multicancer product that offers personalized recommendations to patients to help them to better manage their own symptoms such as diarrhea, pain, nausea and vomiting. It also offers health care providers information on patient symptoms to better enable them to treat them.
Oleena is available on a prescription basis. Beyond symptom management, it offers directions for initiation and dosage of specific treatment therapies that can be particularly complex in these patients. It is designed for use by patients with a broad range of cancer types and treatments including chemotherapy, immuno-oncology drugs and targeted therapies, such as PARP, PI3K and CDK4/6 inhibitors.
In addition to its in-house efforts on Oleena, Voluntis has also developed an ovarian cancer platform in partnership with Astrazeneca that originally dates to 2015 and has since been expanded. Known as eCO, in a nod to the pharma's ovarian cancer treatments cediranib (Recentin) and olaparib (Lynparza). It is designed to aid in the management of hypertension and diarrhea that can result from treatment. It was evaluated by the National Cancer Institutes, with the positive pilot study results published in the Journal of Clinical Oncology's Clinical Cancer Informatics.
In December 2019, Voluntis also reported a deal with Novartis in breast cancer. Like its other pharma deals, this is intended to develop a digital therapeutic that will improve the patient experience and outcomes by better connecting health care providers and patients for symptom management.
"The new collaborations we have recently announced confirm the unique and differentiating value that biopharma leaders see in our technology and capabilities. Our ambition is to bring these partnerships to scale and positively impact the lives of as many patients as possible worldwide," Leurent said. "We want to leverage the global footprint of our partners to make our digital therapeutics available to a large number of patients around the world. Our objective is also to forge additional partnerships in the space. From a biopharma prospective, oncology is a vast market and it presents a significant potential for new collaborations around our Theraxium Oncology platform."
Beyond cancer
Voluntis has several additional digital therapeutics efforts beyond oncology. In diabetes, it has developed Insulia to offer automated basal insulin dose recommendations and coaching for type 2 diabetes patients and to connect them to health care practitioners.
Another diabetes-oriented Voluntis effort is Diabeo, which is aimed at type 1 and type 2 diabetes patients who are on a basal-bolus insulin regimen. It connects patients to health care providers and automatically suggests insulin dosage. Diabeo was developed in partnership with Sanofi and gained a CE mark in 2013, although it has not been cleared for use in the U.S.
Voluntis is also developing a product in hemophilia to enable remote monitoring of bleeding events, as well as the management of a patient's medication inventory.
And in coagulation, in partnership with Roche Diagnostics, Voluntis has developed a digital therapeutic to support patient's use of the Coaguchek INR self-testing device; it is used to routinely measure the appropriate dosage of the vitamin K antagonist treatment. To support that, Voluntis created Coaguchek Link to centralize data on dosage and compliance and enable telemonitoring.
In its apps, Voluntis isn't relying upon self-reported patient symptoms alone. Some of its products also connect to a wide range of sensors including blood pressure monitors, blood glucose monitors or sleep detection.
Despite all its pharma partnerships, Voluntis has a market cap of less than €15 million. Digital health still struggles to gain traction with investors, even though it's been the subject of years of hype. The Paris market is also a notoriously difficult one for innovative life sciences companies looking to maintain liquidity. Voluntis went public in May 2018 in an IPO that raised €30.1 million (US$34.47 million).
The new oncology deals with BMS and Novartis seem likely to be steps in the right direction for the company, which has since declared oncology its top strategic priority. Both these deals involve undisclosed upfront and milestone payments that would be tied to the number of users after a potential commercial launch.
Voluntis has said these two deals will provide a "significant contribution" to the company's 2020 revenues. During the first half of 2019, Voluntis reported €2.5 million in revenue, down from €2.6 million during the same period a year earlier.
"This collaboration with Voluntis is an example of our commitment to advance patient care with digital solutions," summed up BMS Chief Information Officer Paul von Autenried. "By developing new technology and patient-centered initiatives such as these, we hope to advance the standards of clinical practice."