Dragonfly Therapeutics Inc., of Cambridge, Mass., has expanded a strategic collaboration with Merck & Co. Inc. on the development of natural killer (NK) cell engager immunotherapies for oncology to add infectious disease and immune disorders. For $47.5 million up front, it's granting Merck the option to license exclusive rights to candidates developed using its TriNKET cell technology platform. Simultaneously, the company announced new financing from Fidelity Management & Research Co., raising its total equity funding plus partnership capital to date to more than $300 million.
In addition to the up-front payment, Dragonfly is also eligible for additional payments of unspecified value associated with development, regulatory and sales milestones and potential royalties from Merck.
Expansion of the Merck deal follows Dragonfly's November announcement of a new collaboration with North Chicago-based Abbvie Inc. and an ongoing partnership with Celgene Corp., now part of Bristol Meyers Squibb Co., that was first established in 2017. The Abbvie deal covers development of candidates directed to multiple targets for autoimmune disorders and oncology, giving the big pharma exclusive options to license an unspecified number of Dragonfly's NK cell engager immunotherapies in exchange for an up-front payment, future success-based milestone payments and royalties of unspecified value. The Celgene collaboration provided $33 million up front with the promise of potential future milestone and royalty payments of unspecified value.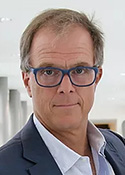 Dragonfly said Thursday that, in total, it's eligible for potential future milestones of more than $10 billion plus ongoing royalties from its partners. So far, the company has built more than 15 drug candidates for them, of which the first three have already been handed off for advancement by those partners to the clinic, Dragonfly co-founder and CEO Bill Haney told BioWorld.
Dragonfly has two platforms: one for developing TriNKETs, or multispecific NK cell Engager Therapies, and one for discovering cytokine therapies. Using common protein engineering tools, "working in cooperation, they amplify the performance of one another," Haney said.
Among the top benefits of TriNKETs, Haney said, is that they're at least as potent as CD3 engagers; they are uncomplicated to make, avoiding stability, titer and degradation issues which sometime plague multispecific molecules; and they have a unique mechanism of action with "a very different therapeutic window," very similar to monoclonal antibodies.
In contrast to T-cell engagers, which are typically thought of as distinguishing between self and non-self, TriNKETs distinguish between healthy and diseased cells, Haney said. That means that for a target that's broadly expressed in the body – for example HER2 – TriNKETs avoid off-target toxicities. "What these announcements reflect," he said, "is that we have the potency to be effective in oncology, but a safety profile that makes us very appealing for autoimmune disease."
The new financing round, led by Fidelity along with other major investors, will help the company advance its internal pipeline "deep into the clinic," Haney said, something that's aided by their commitment to long-term support for the company. "In the world of drug development, where making great medicines is not the work of a weekend, having people who have a long-term view and a keen sense that you build value by helping patients is a big help."
Alongside the work it's doing to support its partnerships, Dragonfly is also pushing ahead with a pipeline of more than 15 internal candidates, led by DF-1001, a new molecule that targets natural killer (NK) cells and T-cell activation signals to specific receptors on cancer cells. A phase I/II study of the drug began in November with a dose-escalation phase, enrolling patients with various types of solid tumors that express HER2 at all levels. With a target of 220 participants, enrollment in the trial has been well in line with company forecasts so far, but "when I cast my mind from today forward, I anticipate slowdowns that are almost impossible to forecast," Haney said.
Dragonfly's first IND for a cytokine program is slated to be filed shortly, in the second quarter of this year.
Though there's a growing number of NK cell-focused immuno-oncology companies, such as GT Biopharma Inc., Innate Pharma SA and Nantkwest Inc., and cytokine-focused companies as well, Haney said that, by and large, biopharma companies have focused on the adaptive immune system over the innate immune system. However, "the decision between friend or foe is notably driven by the innate immune system," he said, noting the field's relative youth.