BEIJING – Cancer and autoimmune specialist Innocare Pharma Ltd., of Beijing, made a strong debut to raise $288 million on the Hong Kong Stock Exchange (HKEX) on March 23, marking the second biggest IPO in the city since the beginning of this year.
The immuno-oncology company issued 250.3 million shares at HK$8.95 (US$1.15) apiece, representing the top end of the indicative range. Its shares were oversubscribed nearly 300 times in Hong Kong.
With the IPO backed by Morgan Stanley and Goldman Sachs, Innocare is the first pre-revenue biotech company to list on the HKEX this year. Thanks to the investors' appetite for biotech stocks, its share price rose nearly 10% to close at HK$9.81 (US$1.26) on Monday, while the Hang Seng Index was down 4.9%.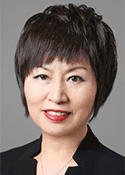 Innocare CEO Jasmine Cui told BioWorld in an exclusive interview that the company was confident of receiving an encouraging market response despite a global recession caused by COVID-19. "Before the coronavirus outbreak, we had already passed the hearing stage and were ready for the IPO," she said.
"Our goal is to become an innovation engine with a base in China with an eye on the global market," said Cui, citing the "international exposure" offered by the HKEX.
She added that management's in-depth scientific understanding and years of experience working in multinational pharma combined with the company's capabilities to execute their ideas help Innocare stand out in the industry and the market. Innocare has discovered and developed a pipeline of nine drug candidates with best-in-class or first-in-class potential in less than four years.
Best-in-class BTK inhibitor
Innocare aims to win marketing approval for its core asset, a BTK inhibitor known as ICP-022, or orelabrutinib, this year to start making profits. Cui said the company will have its own sales and marketing team for the drug in China, and is looking for partners in the global market.
Innocare submitted the NDA in China for relapsed and refractory (r/r) chronic lymphocytic leukemia (CLL) and small lymphocytic lymphoma (SLL) in November 2019, and for r/r mantle cell lymphoma (MCL) this month. The company said orelabrutinib has best-in-class potential and is currently being evaluated in a broad clinical program in China and the U.S. for treating patients with various B-cell malignancies and autoimmune diseases.
"Orelabrutinib has excellent safety and efficacy profiles. We published our data in American Society of Hematology last year," Cui said. "We've submitted NDAs, and we're one of the top players in the BTK market in China."
In a phase II study, orelabrutinib produced an overall response rate of 88.8% and the disease control rate was 93.8% among 80 enrolled patients with relapsed and refractory CLL/SLL. And among 106 total enrolled r/r MCL patients, the objective response rate was 85.9% and the disease control rate was 90.9%.
Orelabrutinib also demonstrated sustained BTK occupancy at low dosage. Its bioavailability enables a dosage regimen of 150 mg once daily, as compared to 100 mg twice daily for Calquence (acalabrutinib, Astrazeneca plc) and 420 mg/560 mg daily for Imbruvica (ibrutinib, Johnson & Johnson/ Abbvie Inc.), which is currently the only approved BTK inhibitor in China.
Meanwhile, Beigene Ltd.'s Brukinsa (zanubrutinib), a second-generation BTK inhibitor that won FDA approval last year, is a competitor for Innocare's orelabrutinib. Both are awaiting approval from the NMPA.
Innocare said that based on observational results, orelabrutinib has demonstrated higher selectivity against BTK based on data from preclinical studies than the reported data of Imbruvica, Calquence and Brukinsa. The reported data of those three drugs suggest a lower bioavailability at their respective dosage compared to orelabrutinib.
To maximize the commercial value of orelabrutinib, Innocare intends to get the drug candidate into China's national reimbursement drug list to gain access to all public hospitals.
Two other drug candidates at Innocare that show best-in-class or first-in-class potential include pan-FGFR inhibitor ICP-192 and FGFR4 inhibitor ICP-105.
"FGFR is a really promising pathway that will be effective for treating a variety of cancers and those associated with FGFR mutations. We believe that this pathway will yield a drug that can be used on multiple solid tumor types," Cui said.
Innocare called ICP-192, now in a phase I/IIa study in patients with solid tumors, one of the most advanced clinical-stage pan-FGFR inhibitors in development in China. The company plans to initiate expansion trials in cholangiocarcinoma patients with FGFR2 fusions and in urothelial cancer patients with FGFR2/3 genetic alterations, along with a plan to take it to the U.S.
Meanwhile, ICP-105 is being developed primarily for treating advanced hepatocellular carcinoma with FGFR4 pathway overactivation. It is undergoing phase I dose-escalation trials.
Apart from the three clinical-stage candidates, Innocare's pipeline also includes six internally developed drug candidates at the IND-enabling stage, including pan-TRK inhibitor ICP-723 and TYK2 inhibitor ICP-330. Chinese regulators accepted the IND for ICP-723 on March 17.
Combination is the future focus
For the years coming, Cui told BioWorld that the company aims to have a monumental drug for commercialization, and to add stronger manufacturing capability, while advancing most of its drug candidates to clinical trials and to the market.
She added that Innocare will step up clinical development by expanding its teams in China and the U.S, while seeking opportunities to license in promising assets to enrich its pipeline.
"We are interested in late-stage assets that can be used in combination or complementary to our portfolio," said Cui. "We're also interested in antibody drugs. In a lot of cases, the best combination therapy uses small molecules with large molecules. We will look into large molecules for potential collaborations."
Currently, Innocare is exploring combination therapies with its drug candidates.
For orelabrutinib, it is combining it with a next-generation CD20 antibody for follicular lymphoma in a phase I study and plans to combine it with standard-of-care treatment for systemic lupus erythematosus in China.
For ICP-192 and ICP-105, the biotech will assess whether they could show promise in combination with immune checkpoint inhibitors for patients with FGFR mutation and advanced HCC with FGFR4 pathway overactivation, respectively.
Other pre-revenue biotech companies that are on the HKEX listing queue include Immunotech Biopharm Ltd., Akeso Inc., Peijia Medical Ltd. and Kintor Pharmaceutical Ltd. Last month, biosimilar maker Bio-Thera Solutions Ltd. reaped $241 million via a pre-revenue IPO on Shanghai's STAR market.