BEIJING – After his role as associate director and head of chemistry at Eli Lilly and Co., Brandeis-trained Jingye Zhou founded Eccogene Inc. in Shanghai in 2018 to focus on developing small-molecule drugs for metabolism and immune-related diseases.
The preclinical startup is advancing its metabolic pipeline to clinical trials next year and building an immune pipeline with its immunometabolism platform.
Eccogene closed a ¥100 million (US$14.13 million) series A financing round in 2018. As a biotech scientist, Zhou said he believes that small-molecule drugs hold great potential, especially when the top 10 most prescribed drugs are all small molecules.
"For chronic diseases affecting a large patient population, small-molecule drugs offer administration convenience, good affordability and easier accessibility," Zhou explained to BioWorld in an exclusive interview. "These advantages lead to better compliance for a much bigger patient population, which is important when addressing the medical problems in the real world."
SSAO and THR for NASH
For now, Eccogene has three drug candidates in its metabolic pipeline, with two leading programs aimed at nonalcoholic steatohepatitis (NASH) and non-NASH indications. ECC0-509 targets semicarbazide-sensitive amine oxidase (SSAO), while the other candidate is a THR agonist.
Zhou said he believes both have best-in-class potential, and they are expected to enter phase I studies next year.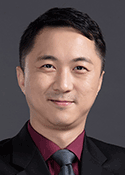 "SSAO inhibition is an anti-inflammation and antifibrosis mechanism. [ECC0-509] addresses the drug interaction issue seen by [a] competitor molecule in the clinical study, and it has the potential to be a best-in-class SSAOi for NASH," said Zhou. He added that an SSAO inhibitor was shown to be effective in modulating NASH biomarker in a phase IIa study by Boehringer Ingelheim GmbH.
Separately, Zhou said the liver-specific THR agonist targets lipotoxicity and has been demonstrated to be one of the best mechanisms for NASH resolution. Eccogene's THR agonist candidate has significant differentiation from competitors' clinical molecules, he noted, hence the potential to be best-in-class.
"These two mechanisms target different pathological components of NASH," he said, adding that this may be a good scientific basis for developing a combination therapy in the future.
And the potential of those two drug candidates is not limited to NASH. Zhou said they both could be first-in-class in non-NASH indications that could better capture their value with their mechanisms.
The company's third metabolic program remains undisclosed for now.
Zhou explained that Eccogene's strategy for its metabolic pipeline is to focus on the mechanisms with human evidence of translation and aim for clinically meaningful differentiation in its products.
"One objective of our metabolic programs is clinically meaningful differentiation," he said. "We dived deep into each program and now have data to support our assets having the potential to achieve clinically meaningful differentiation while maintaining good druglike properties."
Immunometabolism platform
While progress has been made with Eccogene's metabolic pipeline, the startup is also working to establish its immune pipeline. Zhou unveiled that Eccogene has found a multinational partner for that purpose. In the research collaboration program with the undisclosed partner, Eccogene will contribute its platform technology capability.
"For our immune pipeline, our strategy is to build a highly innovative pipeline based on our cutting-edge platforms. Our immunometabolism platform is for novel target identification and validation and our ligand ID platform is to identify novel small-molecule scaffolds for mechanisms of interest," he added.
Eccogene's pipeline is driven by in-house research. The immunometabolism platform will continue to play a key role in keeping Eccogene's pipeline innovative and competitive over time. It assists Eccogene in validating novel mechanisms of action and leveraging its ligand ID platform to identify drug-like scaffolds. Zhou described those platforms as a "cornerstone for continuous innovation."
"Eccogene has the vision to establish the full value chain for at least one to two products by itself," Zhou explained. "We also realize that we probably can't maximize the value for every single project if we do everything by ourselves, so we consider partnership opportunities during clinical development and commercialization for some of our products."
Clinically meaningful differentiation is key
Throughout the interview, Zhou stressed the importance of developing drugs with clinically meaningful differentiation. That vision, Zhou said, will set Eccogene apart from hundreds of biotech companies in China.
"A highly differentiated product will have a profound impact in addressing unmet needs, especially when we are dealing with diseases affecting [a] large patient population and requiring chronic use of therapeutics," he explained.
That strategy is particularly important in China, where a lot of me-too or fast-follow products have to face local competitors emerging at around the same time and in-licensed competitor molecules that are at a later development stage.
"The opportunity resides in the product itself," Zhou said. "Efficacy, safety, DDI, and compliance or a combination of these factors can be meaningful differentiation. When the product has meaningful differentiation, it will be competitive in China and elsewhere."
But achieving clinically meaningful differentiation is not an easy task. Zhou said he believes the team must have an in-depth understanding of the disease and biology behind the mechanism of action, and they must be capable of designing molecules with differentiation that no one has created before while maintaining good drug-like properties and the ability to demonstrate that translation of differentiation in the clinical phase.
But he said Eccogene has what it takes to achieve those goals, with its specialization in disease biology, medicinal chemistry and translational science. Its research team also has years of industry experience with complementary expertise in biology, chemistry, ADME, toxicology and CMC. The company is also supported by a panel of scientific advisors and consultants who have more than 20 years of experience in R&D.
Zhou received biology training at Fudan University in Shanghai and studied chemistry at Brandeis University in Massachusetts. Before founding Eccogene, he served at U.S. startup Tetraphase Pharmaceuticals Inc., Glaxosmithkline plc, American Chemical Society and Eli Lilly.
"The key in drug innovation is a link between disease, biology and chemistry," he said. "We need an in-depth understanding of the disease. We need to translate the biology to creating the desired pharmacological effects in patients. We need the chemistry capability to innovatively design molecules that achieve the biological effects with good druglike properties."