C4 Therapeutics Inc., a company focused on destroying disease-causing proteins via degradation, has closed a $170 million financing intended to help move four cancer candidates into the clinic by the end of 2022. It expects to file its first IND by year-end. The funds comprise a $150 million series B round co-led by existing investor Cobro Ventures – an investment vehicle for C4's CEO and co-founder, Marc Cohen, and his brother – and new investor Perceptive Advisors, as well as $20 million in venture debt from Perceptive. C4's last venture round was a $73 million series A raised in 2016.
Additional new equity investors in the round included Bain Capital Life Sciences, Mizuho Securities Principal Investment and RA Capital Management, among others. Jefferies and Locust Walk served as transaction advisors to the company.
Cohen, also C4's chairman, told BioWorld that he expects the company to file the IND by the end of this year, with the goal of getting the company's first program into the clinic by the first quarter of 2021. It's a big transition, he said, because it will be the first time testing one of its oral small-molecule drugs in people.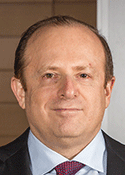 Protein degradation has been an active field in recent years, with a growing number of entrants. But, so far, only Arvinas Inc. has moved a drug leveraging the technology into the clinic. Though not commenting on the specific outcome of that program – a phase I/II trial of ARV-110 in men with metastatic castration-resistant prostate cancer – Cohen said that it was "great for the field" because it served as proof that protein degraders can get into cells and safely show signs of efficacy. "That tells us, and the entire field that this new technology is going to have a significant place in medicine."
But preclinical programs are also underway at Amphista Ltd., Cullgen Inc., Kymera Therapeutics Inc. and Nurix Therapeutics Inc. Big biopharma players have also been investing in the space, with Calico Life Sciences LLC, Roche Holding AG and Biogen Inc. investing in C4. Other programs have been backed by investments from Abbvie Inc., Amgen Inc., Astrazeneca plc, Bayer AG, Boehringer Ingelheim, Bristol Myers Squibb Co., Glaxosmithkline plc, Merck & Co. Inc., Novartis AG, Pfizer Inc., Sanofi SA and Vertex Pharmaceuticals Inc.
A lot of the excitement over protein degraders lies in the way in which the approach is expected to open up the field of druggable targets, expanding it far beyond the scope of inhibitors, which are widely used today. At C4, much of that excitement is bound up with the company's Torpedo platform, which Cohen said is capable of making better degraders than those created by its competition because it uses a "multidimensional optimization process," which, instead of trying to optimize the individual components of a protein degrader, starts with the end in mind, focusing entirely on the degradation result itself through the use of a robust chemistry engine, proprietary assays and high-throughput screening with predictive modeling of in vivo performance.
As the company shapes its internal portfolio, it's looking at indications of all size, though it may focus on smaller indications first, where there's a well-defined path to registration and tremendous need. C4's team is also focused on areas of "low biological risk" in an effort to ensure it avoids the fate of other life science ventures that have failed to adequately validate the scientific strength of the link between their drug target and the biology of their target indications.
As the company moves ahead, Cohen said he is keeping all options on the table for future financing. But "public markets are the cheapest form of capital, so from a business perspective, that would be a potentially smart way to go," he said, noting Arvinas as a publicly traded company. Shares of Arvinas (NASDAQ:ARVN), initially offered in September 2018 for $16 each, fell 1.4% on June 16 to close at $30.48.