BEIJING – Diabetes-focused Hua Medicine (Shanghai) Ltd. became the first drugmaker to reveal phase III data of a glucokinase activator (GKA) designed to treat type 2 diabetes. On June 18, it said its first-in-class GKA, dorzagliatin, showed sustained efficacy and safety for the 52-week treatment period with reductions in HbA1c levels in a completed phase III trial as a monotherapy.
"We have become the first company globally to advance a glucokinase activator through clinical development," said Hua Medicine CEO Li Chen. Other investigational GKAs, such as Roche Holding AG's piragliatin, Merck KGaA's MK-0941, Astrazeneca plc's AZD-1656, Array Biopharma Inc.'s AMG-151 and Pfizer Inc.'s PF-04991532, have all failed to advance to phase III trials.
In an exclusive interview, Chen told BioWorld that the 24-week data from another phase III study that investigates dorzagliatin in combination with metformin will come in early July.
For the monotherapy study, the 52-week trial investigated the efficacy and safety of 75-mg dorzagliatin in 463 patients with type 2 diabetes, with an initial 24-week double-blinded, placebo-controlled treatment, followed by an open-label 28-week treatment period. Patients receiving a placebo for the first 24 weeks were given dorzagliatin for the next 28 weeks.
Reduction in HbA1c levels was 1.11% for those taking dorzagliatin all along (p<0.001). For the group receiving placebo initially before switching to treatment for the final 28 weeks, the reduction in HbA1c levels was 1.27% through the 52-week period (p<0.001) compared with baseline. The company said dorzagliatin also improved HOMA2-β and insulin resistance, the hallmark of type 2 diabetes, during the 52-week trials.
More comprehensive data will be presented at medical conferences shortly, Chen told BioWorld. On June 14, he presented more data from the 24-week trial at the 80th Scientific Session of the American Diabetes Association.
In November 2019, Hua Medicine said dorzagliatin demonstrated a statistically significant reduction in HbA1c levels over placebo, based on results of the 24-week trial. More data unveiled last week showed significant beta-cell function improvement measured by HOMA2-β in the treatment group, with an increase of 2.56% in beta-cell function, compared to a decline of 0.72% in the placebo group.
Such data led to the company's conclusion that the phase III registrational trial saw sustained efficacy and safety profiles through the 52-week treatment period. As for adverse events, Hua said there were less than 1% cases of hypoglycemia with blood glucose < 3 mmol/L during the 52-week treatment period.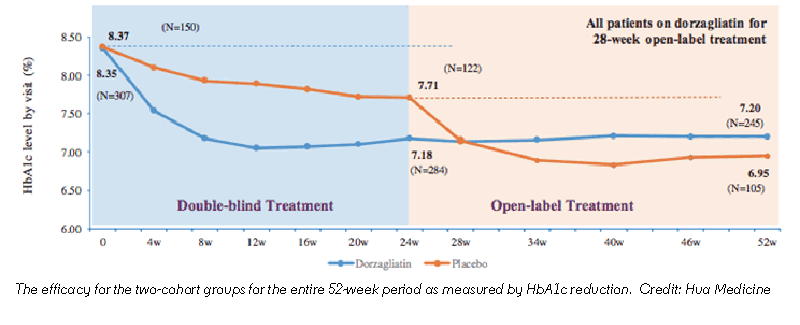 Aiming at the underlying cause
Taken orally twice a day, dorzagliatin is a GKA designed to control the progressive degenerative nature of diabetes by restoring glucose homeostasis in type 2 diabetics. Hua Medicine said it aims to treat the underlying cause of the disease.
"All the other diabetes drugs have not been able to stop the progression of the disease and prevent a higher incidence rate of type 2 diabetes," Chen said. "They have not addressed the underlying cause of type 2 diabetes, which is insulin resistance and the loss of beta-cell function.
"From phase I to the pivotal phase III trials, results showed that dorzagliatin is able to fix the glucose sensor function of glucokinase and remodel glucose homeostasis, mirrored by the reduction in HbA1c levels and improvement in beta-cell function and insulin resistance," he added.
Chen also noted that patients taking dorzagliatin are unlikely to suffer from diabetes complications later. "Dorzagliatin treats the underlying cause of the disease and is able to control the fluctuation of blood glucose, so that we can stop the development of type 2 diabetes, and then prevent and delay diabetes complications," he explained.
With a fast onset of action and sustained efficacy and safety profiles, Chen said dorzagliatin could be the "first-line therapy to treat drug-naïve patients."
Combo and personalized medicine
Following the 52-week data from the monotherapy trial, Hua Medicine is preparing for an NDA in China, and it hopes to win further approvals in the U.S., Europe, and Japan through partnerships.
Confident that dorzagliatin can be a cornerstone therapy for type 2 diabetes, Hua Medicine is also investigating the candidate in combination with other diabetes drugs. Included in its pipeline are a 52-week pivotal phase III study of dorzagliatin in combination with metformin, and phase I studies in combination with SGLT2 inhibitor empagliflozin and DPP-4 inhibitor sitagliptin. Clinical studies of combining dorzagliatin with GLP-1 and insulin are also underway.
On April 27, Hua Medicine released phase I results of the combination therapy with empagliflozin. It said following the oral glucose tolerance test, the combination treatment achieved significantly enhanced glucose-lowering effect over empagliflozin or dorzagliatin monotherapy. Researchers also observed a significant increase in C-peptide secretion for the combination treatment over empagliflozin monotherapy.
Similarly, the trial combining dorzagliatin with sitagliptin also demonstrated combination and synergy potential between the two drugs.
As for the phase III study in combination with metformin, which has a similar design to the monotherapy trial, the 24-week data will come in a few weeks.
"The combination of dorzagliatin with the existing therapies gave a much better glycemic control, reduced the risk and improved beta-cell function," Chen said, adding that dorzagliatin can be a cornerstone therapy either as monotherapy or in combination to treat the whole spectrum of type 2 diabetes.
One way to achieve that is through developing personalized medicine. Hua Medicine said patients of different types of type 2 diabetes may respond better to certain combinations.
"We can subclassify the type 2 diabetes patients into six categories," Chen said. "We can use an algorithm to identify patient groups that respond best to dorzagliatin as monotherapy, or in combination with metformin, SGLT2, DPP-4, GLP-1 or insulin."
For instance, DPP-4 and GLP-1 target obese type 2 diabetes, while SGLT2 and insulin target metabolic syndrome and type 2 diabetes basal insulin users, respectively.
Chen also revealed plans to develop dorzagliatin for new indications, such as type 1 diabetes, nonalcoholic steatohepatitis and neurodegenerative diseases.
On Friday, Hua Medicine's stock price (HK:2552) rose by more than 27% in Hong Kong on the news, ending the day at HK$6.98 (US90 cents).