DUBLIN – Blueprint Medicines Corp. is banking $775 million, including $675 million up front and another $100 million as an equity investment, from a co-commercialization deal with Roche Holding AG and its Genentech subsidiary involving RET inhibitor pralsetinib. The deal also includes up to $927 million in development, regulatory and commercial milestones, $90 million of which are described as "near-term," plus tiered royalties on ex-U.S. sales, ranging from the high-teens to mid-twenties.
The deal excludes the greater China region, where Cstone Pharmaceuticals Co. Ltd., of Suzhou, China, already holds rights to the drug. Shares in Blueprint (NASDAQ:BPMC) rose as much as 21% in premarket trading July 14, to a high of $92, before shedding most of those gains to close at $79.97. The equity component of the deal was priced at $96.57, a significant premium on the closing price of $76.65 immediately before the deal was disclosed.
In addition to adding pralsetinib to its product portfolio, Roche also gained an option to license a next-generation RET inhibitor.
The Genentech arm of Basel-based Roche and Cambridge, Mass.-based Blueprint will co-commercialize pralsetinib in the U.S., where the drug is currently undergoing regulatory review as a therapy for locally advanced or metastatic RET-fusion-positive non-small-cell lung cancer (NSCLC) and for RET-mutant and RET-fusion-positive thyroid cancers. The NSCLC application has a PDUFA target action date of Nov. 23. Roche will have exclusive rights to commercialize the product elsewhere, apart from territories included in the 2018 deal between Cstone and Blueprint. Pralsetinib is also undergoing regulatory review in Europe in RET-fusion-positive NSCLC.
In China, Cstone plans to submit shortly an NDA to the Center for Drug Evaluation of the National Medical Products Administration, following an analysis of Chinese patients in Blueprint's phase I/II registrational Arrow trial, which showed that the drug's safety and efficacy outcomes in that group were similar to those observed in the global population.
The present deal will put Blueprint on a financially self-sustaining footing and eliminate any lingering disappointment attached to a recent complete response letter from the FDA nixing the use of its Kit kinase inhibitor, Ayvakit (avapritinib), in fourth-line gastrointestinal stromal tumor (GIST) (apart from cancers that are positive for platelet-derived growth factor receptor alpha exon 18 mutations, for which it is already approved). Avapritinib is also still in development for systemic mastocytosis, which is caused by the abnormal accumulation of KIT-mutated mast cells in one or more tissues.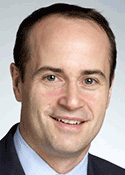 The present deal follows a previous – and still ongoing – early stage discovery collaboration in cancer immunotherapy between the two firms, which has so far generated one disclosed program, which targets MAP4K1. "Really it was that existing relationship and the trust that was established there that was one of the key drivers in proceeding with Roche here," Blueprint CEO Jeff Albers told analysts on a conference call.
The timing of the deal was prompted by the volume of work ongoing at Blueprint. It evolved from conversations that the company had about a range of possible deal structures with various potential partners. "Earlier this year we had talked about the fact that, with the amount we had ongoing across pralsetinib and our desires to expand the reach there globally, with the amount we had focused on systemic mastocytosis, both with avapritinib and with BLU-263, and then with an increasingly robust preclinical portfolio, the notion of us doing everything on our own was becoming less tenable – that some form of partnership would make sense," Albers said.
"There were several parties interested in some type of pralsetinib collaboration, and for us, from a strategic perspective, it made the most sense, because of the urgency to move fast globally as well as expand research in real time, and we have to be humble enough to recognize when there's a partner that can amplify our efforts and bring expertise to bear, as Roche does in this case, and it's with deal terms that recognize the value and the potential future value of the asset, a partnership makes a lot of sense. So, we're thrilled that this was the landing point," Albers said.
Roche and Blueprint now have Indianapolis-based Eli Lilly and Co. firmly in their sights. Lilly paid dearly to get its hands on the first-in-class RET inhibitor Retevmo (selpercatinib), having acquired its original developer, Loxo Oncology Inc., for $8 billion in February 2019. The drug duly gained accelerated approval in May in three cancer indications – non-small-cell lung cancer (NSCLC), medullary thyroid cancer (MTC) and other types of thyroid cancers – that involve a RET gene alteration. Roche is some ways behind its rival but has paid far less for its entry ticket to this emerging oncology market.
"We view the collaboration and financial terms as positive for Blueprint," Cowen analyst Marc Frahm wrote in a client note. There had been "significant skepticism that Blueprint could achieve a meaningful market share" given its lack of marketing muscle relative to Lilly's. "Given the disparity in marketing strength many investors had felt pralsetinib's value would be maximized in a larger company's hands and Roche was frequently mentioned as the ideal partner," he noted.