PERTH, Australia – With a series A investment in hand, Glyscend Therapeutics Inc. will take its polymer therapeutic that mimics the effect of gastric bypass surgery to Australia next year to begin clinical trials.
The AU$29 million (US$20.3 million) series A round was led by Brandon Capital's Medical Research Commercialisation Fund (MRCF) and U.S. health care investor Santé Ventures.
Glyscend's orally administered treatment mimics the impact of gastric bypass surgery in improving sugar control in patients with type 2 diabetes, but without the risk associated with the invasive surgery.
A gastroenterologist, Glyscend CEO Ashish Nimgaonkar told BioWorld data show that diabetic patients and obese patients who underwent bariatric surgery went off their insulin and diabetes drugs within 24 hours of surgery without having lost an ounce of weight.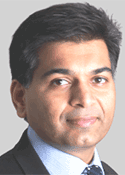 But bariatric surgery is invasive and many patients aren't eligible for it, and there are a number of complications such as perforation and strictures, and the surgery is irreversible.
"We tried to replicate the same effect of these surgeries but using a pill," he said. "We found that there is a small portion of the upper intestinal tract, the duodenum, which is critical in how it senses nutrients. It signals to the pancreas, the liver and the brain how to regulate insulin production, which hormones to produce and how to absorb and metabolize glucose."
How it works
The gastrointestinal tract has a natural mucous barrier, but it has holes, and the polymer is able to plug those holes and bring the mucous together.
"The polymer reacts to pH, and the duodenum pH is higher than the GI pH, so when the polymer senses that it's in the duodenum, it changes its solubility and gets attracted to the mucous and creates an impermeable barrier.
"The beauty of this is that the mucous has a short life; it gets regenerated every six or eight hours, so the polymer-mucous complex is sloughed off and excreted in the stool. We have designed the polymer so it is non-toxic to the lining of the gut, but also it is inert so it doesn't get absorbed into the bloodstream."
Patients who are diabetic or have other metabolic conditions need to take their medications their whole lives, he said, and many of the drugs in this space have been plagued by systemic side effects.
Insulin, for example, can increase weight in addition to causing hypoglycemia. And, as weight goes up, insulin resistance increases, and patients require more of the drug, "so it's a nasty spiral," he said.
SGLT2 inhibitors have also had problems around cardiovascular issues and other complications like urinary tract infections, he said.
Aussie connection
Developing Glyscend's polymer technology has been a global collaboration between researchers from The Johns Hopkins University Hospital and two of the world's leading diabetes and metabolic experts, Michael Horowitz and Chris Rayner, from the Centre of Research Excellence in Translating Nutritional Science to Good Health, based at the University of Adelaide and Royal Adelaide Hospital in Australia.
"When we were scouring the literature and looking at how we could solve this problem in humans, the folks that came out on top were Michael Horowitz and Chris Rayner at Royal Adelaide Hospital, and they have been working on this concept for decades where they would pass different materials through different parts of the GI tract through tubes and look at the glucose and hormone profiles," Nimgaonkar said.
The two Australians are "world experts in this space of how the gut regulates metabolism."
"That was the genesis of why we came to Australia," Nimgaonkar added, noting that the tax rebate is beneficial, and Australia is one of most attractive places to conduct trials, but he said the company wanted to run trials in Australia specifically for the expertise of Horowitz and Rayner.
"Professors Horowitz and Rayner were sought out to participate in the early development of Glyscend's program, and I am pleased that they will be leading the first-in-human clinical trials next year in Adelaide," said Bob Soh, director at Glyscend and investment manager at Brandon Capital Partners.
Glyscend has conducted preclinical testing in diabetic animal models that demonstrated a robust improvement, essentially replicating the effects of bariatric surgery.
The compound is expected to enter the clinic in Australia in the first quarter of 2021. Roughly 20 to 50 patients will be enrolled in the phase I trial.
"It's fantastic to be part of a global team tackling such a significant health issue, in such a novel way," Horowitz said. "In the case of gastric bypass surgery, some type 2 diabetes patients are essentially 'cured' due to the diversion of intestinal contents away from the upper gastrointestinal tract. With Glyscend's non-absorbable pill, we aim to recreate the same profound effect, in a way that is safe and easy to administer. Initial results are extremely promising."
"By having intestinal contents bypass the upper gut, we can induce a dramatic change in hormonal signaling resulting in improved blood glucose control," Rayner added. "This pill has the potential to revolutionize how we treat type 2 diabetes."
Glyscend was originally formed as a project within the Center for Bioengineering Innovation & Design at Johns Hopkins University, which provided initial financial support, along with the National Science Foundation and Maryland Innovation Initiative. The company was the winner of Johnson & Johnson's 2016 World Without Disease Quickfire Challenge and is a JLABS company. The company is headquartered in Baltimore, Md.