DNA Script SAS raised a $50 million extension to its series B financing, for a total yield of $89 million. The oversubscribed round was led by Casdin Capital LLC, which also led Thrive Earlier Detection Corp.'s recent $257 million series B. Paris-based DNA Script has earmarked the funds to advance the development of its suite of enzymatic DNA synthesis (EDS) technologies and support the commercial launch of its Syntax DNA benchtop printer.
Also participating in the round were Danaher Life Sciences, Agilent Technologies and Merck KGaA, of Darmstadt, Germany, via its M Ventures arm. Additional investors included LSP, the Bpifrance Large Venture Fund and Illumina Ventures.
In conjunction with the financing, the company said it was appointing Eli Casdin, founder and chief investment officer of Casdin Capital, to its board.
Beta testing to begin later this year
Founded in 2014, DNA Script is a DNA synthesis company engineering biology to speed the pace of breakthroughs in the life sciences. The company soon will begin testing the Syntax system with a select group of business and research partners, with plans to launch a beta testing program later this year and taking orders for the DNA printer by 2021.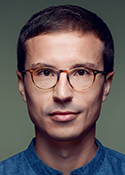 "DNA Script is focused on fully launching Syntax by early 2022, so we will spend much of the time between now and then making improvements to the product based on feedback from beta testing," Sylvain Gariel, co-founder and COO of DNA Script, told BioWorld.
"Over the long run, we will continue to fine tune the EDS platform to enable faster and more accurate enzymatic synthesis, while increasing oligo length," he added. "Our goal is to enable most molecular biology applications with the Syntax platform, with a strong focus on personalized medicine applications."
According to Gariel, the company's strategy is to first address core molecular biology applications, particularly polymerase chain reaction (PCR)-based uses and next-generation sequencing. This would enable high-throughput labs to print the DNA reagents, such as probes and printers, used in PCR testing on demand rather than waiting for specific mail orders. This could reduce manufacturing and shipping bottlenecks that can arise, especially during times like the COVID-19 pandemic when global demand for reagents is high, and shipping may be delayed.
"As the technology matures, synthetic biology will become an area of strong focus for us, not only for research applications but also for manufacturing, in particular in the context of personalized therapeutics and diagnostics," Gariel said. Examples include tumor monitoring based on the patient's tumor-specific mutations or personalized cancer vaccines to significantly increase a patient's odds against relapse, as well as patient-specific engineered T cells.
'Simple and straightforward'
"The Syntax EDS was inspired by the wide availability of in-lab and benchtop next-generation sequencing systems and the impact they have had on genomics research and personalized medicine," said co-founder and CEO Thomas Ybert. "This first-of-a-kind DNA printer makes writing DNA as simple and straightforward as reading DNA is currently, meaning that research and clinical labs will be able to do same-day synthesis of oligonucleotides, saving precious time when it comes to iterating experiments or developing diagnostic or confirmatory tools."
As for regulatory hurdles, DNA Script faces the same constraints as any other genomic technology. "For diagnostic and therapeutic workflows, the exact needs will be very customer-dependent," Gariel said.
The company is working on securing the necessary quality certifications.
As it prepares to commercialize the Syntax system, DNA Script also is working on the development of deployable DNA data story and retrieval technology as part of the Molecular Encoding Consortium. The four-year project aims to develop a prototype instrument capable of storing and retrieving 1 terabyte (TB) of information in 24 hours. An initial phase will target 10 gigabytes of storage a day, scaling to 1 TB a day in the second phase.
The two-stage project is being funded by a $23 million grant from the Intelligence Advanced Research Projects Activity's Molecular Information Storage program, under the U.S. Office of the Director of National Intelligence. Other partners include the Broad Institute and Harvard University.
"Massive amounts of digital data are generated every day, and emerging technologies such as autonomous cars and artificial intelligence will further increase the need for data storage at unprecedented scales," Gariel said, noting that currently available exabyte-scaled data centers are costly and resource-intensive. "Nucleic acid-based systems hold promise to store this information with radically reduced physical footprints, power and cost requirements."