Francesco de Rubertis, a co-founder of Medicixi Ventures, has unveiled the next generation of the venture-backed asset-centric biopharma model with the creation of Centessa Pharmaceuticals Ltd. The new company was created by acquiring, in all-share transactions, total control of 10 companies from the Medicxi portfolio.
Contemporaneously, Centessa has raised $250 million in a series A round led by General Atlantic and co-led by Vida Ventures and Janus Henderson Investors, alongside a group of other blue-chip investors.
Interestingly, in contrast with the conventional asset-centric venture approach, of which de Rubertis was a pioneer, which saw investment in specific programs to proof of concept which would enable them to be sold onto multinational pharma companies, Medicxi has ambitions to build a fully-fledged pharmaceutical company. In addition to the funds raised from the series A round, Centessa starts life with an additional $60 million previously held by the assets it acquired.
de Rubertis, who started courting stakeholders associated with the acquired companies in September 2020, has created a pharmaceutical company that has ambitions to become a major player but is not constrained by portfolio management issues.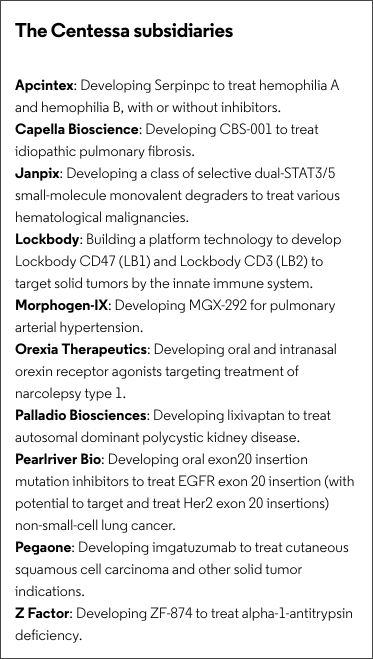 It's all about the data
"This is the first bottom-up operated pharma company; there is no top-down logic or competition for resources or cash. If the data for one of the subsidiary companies comes out positive, the only question is when will the cash be constrained not if," he told BioWorld.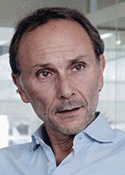 Programs will not be judged on whether they are aligned with the beliefs of Centessa's executive team. "Each asset R&D decision taken by Centessa will be purely based on the data. There is no portfolio logic or therapeutic area strategy positioning, If the data are good, the entrepreneurial scientists will be encouraged to keep pushing, If the data are disappointing, the scientists will not waste time and will move onto the next idea," he said.
Centessa is assembling an impressive array of management talent to oversee the pipeline. Saurabh Saha, former vice president R&D and global head of translation medicine at Bristol Myers Squibb Co., has been appointed CEO, while Moncef Slaoui, former chief scientific officer of Operation Warp Speed, former chairman R&D at Glaxosmithkline plc and Medicxo partner has been appointed chief scientific officer. According to de Rubertis, who will chair the new company, more industry stars will be added to the team in the coming weeks.
Medicxi has been very focused on which programs Centessa acquired. "The businesses we have acquired are working on clearly validated modes of action, the biology is well understood and derisked, and we have the opportunity to bring the medical value proposition forward. We were looking for best-in-class rather than first-in-class," de Rubertis added.
de Rubertis has been able to persuade the entrepreneurial scientists associated with the original asset-centric businesses to buy into the new approach by providing innovative incentives. It is an approach that reduces the downside associated with failure of a particular program, because they are part of a larger group, and yet retain all the potential upside if the pursuit is successful.
"We told the entrepreneurs that in the new structure the incentives and pay-outs are the best of both pharma and biotech. They all get Centessa shares, so irrespective of what happens to their particular program, they stand to benefit from potential successes elsewhere. However, if a program is successful, the key founding scientists will also benefit from a special benefit, which is simply a percentage profit share of the direct outcome of their program. This is better than the conventional biotech upside because it is a profit share and not an equity share which often is diluted over time," he added.
Getting buy-in
The process of getting the entrepreneurial drivers and investors of the programs now part of Centessa was not a trivial exercise, de Rubertis acknowledged. "It was not an easy exercise. They were all doing well, some even had offers from pharma companies or outstanding crossover financing rounds available. At the start, when I first proposed the idea, the initial reaction was 'not over my dead body' but half of them were won over after just the first couple of conversations, others took a little more time," he noted.
Part of the issue was related to the relative disconnect on valuations. When allocating the Centessa shares to the various assets acquired creating the company, Medicxi secured the services of a third party to ascertain fair value market valuations. "Some of them weren't happy with the allocation but the process was completely independent. We weren't going to force anyone to accept the offer but if they didn't, we told them they wouldn't be part of the transaction," he explained.
Another key component of getting buy-in for the initiative was explaining to the entrepreneurial leaders of the asset-centric vehicles that make up Centessa they would still have a significant influence on the direction of their activities, although the final say will rest with the high caliber executives Medicxi has hired to manage the pipeline of assets.
"When I started selecting the management team there were two criteria: they had to be industry stars but also understand the vision of an asset-centric bottom-up operated pharma company. However, while is important to listen to the entrepreneurial leaders, the final decisions will be made by Shobham and Moncef," he added.
With $310 million on hand, de Rubertis is confident that Centessa has enough firepower to achieve the milestones in the next two years. Across the 10 businesses it has acquired, Centessa has four clinical and more than 10 preclinical programs in its pipeline. "$310 million is enough capital for a couple of years of operations and it is amazing what you can do with that amount of money, Of course, as we go forward, we will need to raise more capital," he noted.
The Centessa portfolio consists of four clinical stage programs, including two that are in late-stage clinical development, and more than 10 additional programs spanning diseases with high unmet need across oncology, hematology, immunology, inflammation, neuroscience and rare diseases.
On a growth trajectory
Longer term, de Rubertis expects to acquire additional activities. "While we expect to prosper with the assets we have, growth will also come through acquisitions of companies 11, 12, 13 and 14. And because of the incentive structure we have in place, we think we are going to be very attractive for other single asset companies which have preclinical and phase one programs. I want Centessa to become a $100 billion-plus pharma company," he added.
While de Rubertis has lofty ambitions for Centessa, underpinned by a diverse pipeline of specific asset-centric programs, he conceded that the go-to-market strategy has not yet been finalized. "In the first few years we will need to transact some deals involving the 10 companies, but we do want to develop a market strategy in order to have our own commercialization. We do not know what that looks like at the moment. That is a mandate for the management team and board, but we do have a few years to develop a go-to-market strategy that is still free from top-down constraints," he explained.
Centessa's series A round was led by General Atlantic and co-led by Vida Ventures and Janus Henderson Investors. Additional blue-chip investors participating in the financing, include Boxer Capital, Cormorant Asset Management, T. Rowe Price Associates, Inc., Venrock Healthcare Capital Partners, Wellington Management Company, BVF Partners L.P., EcoR1 Capital, Franklin Templeton, Logos Capital, Samsara Biocapital, Lifesci Venture Partners and an undisclosed U.S.-based, healthcare-focused fund.