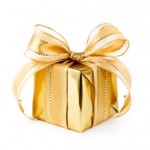 While all you biotechs out there scramble to meet your end-of-year milestones, BioWorld would like to announce a little milestone of our own. That's right, this is our fifth annual biotech holiday gift guide.
To celebrate five years of excellent gift recommendations for every biotechie on your list – be they scientist, fashionista, bibliophile, new parent, Wall Street exec, traveler, or anyone else – we're bringing you a Top 10 list of our staff's all-time favorites. So without further ado:
10. Ever wanted to wash yourself with E. Coli or S. Enteritidis? Now you can, with Petri Dish Soaps, a hand-made coconut oil product colored like the streak patterns of various bacteria on different types of agar.
9. What could be more romantic than carrying a little piece of the one you love with you everywhere you go? That's what the DNA Life Pendant offers: a tiny silver and glass necklace charm that holds a DNA sample from your loved one.
8. It's hard to catch a biotech exec without a smart phone in hand. I mean, how else are you expected to stay awake during those endless scientific presentations and board meetings? So consider giving an iTunes gift card for purchasing all the latest apps. Top recommendations from our readers include: Epocrates, Pubmed on Tap, Papers, FDA Drug Approvals, Clinical Trials, NextBio and Byline.
7. If you've got parents-to-be on your holiday list, ask if they're registered at Cord Blood Registry or ViaCord. Banking stem cells from umbilical cord blood can save lives: Around 10,000 cord blood transplants have been performed worldwide to treat dozens of diseases. You can also pick up onesies, bibs and T-shirts proclaiming "there is an exothermic reaction in my diaper" at Clever Cuties.
6. Need to shop for a dog lover? They might appreciate this biotech approach to pinpointing people who don't pick up after their pooches. BioPet Vet Lab's Poo-Prints program creates a DNA database for the dogs in your neighborhood, so the next time someone leaves a "deposit" on your lawn, you can mail in a sample and identify the culprit.
5. Nothing says "Happy Holidays" like crochet, but why give a scarf or mittens when you can give a tiny crocheted brain, lungs, pancreas, liver, kidney, eyeball or heart?
4. Why not fill all that wall space in the CEO's corner office with something really unique? For our 2007 list, BIO President and CEO Jim Greenwood recommended personalized art based on DNA collected with a simple buccal swab.
3. For our 2008 list, Steve Worland, president and CEO of Anadys Pharmaceuticals Inc., suggested companies facilitate their employees' humanitarian efforts with the gift of time. Anadys gave its employees time during the work day to assemble 200 Thanksgiving food baskets for the hungry, a project that Worland noted had "essentially zero cash impact to the company" but hugely impacted employee morale.
2. Got a fashionista on your list? BioWorld Today columnist and biogoddess Cynthia Robbins-Roth suggests jewelry shaped like your favorite molecule (act now, before the folks over at NeurogesX Inc. buy out all of the capsaicin necklaces!).
1. BioWorld Today science editor Anette Breindl recommends Science Tarot, a set of fortune telling cards that blend fine art with hard science. Here's hoping you draw Mendel's Peas, which signify growth!