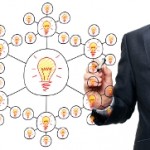 When people talk about Johnson and Johnson's new San Diego incubator, Janssen Labs, they can't help but be a little bit skeptical about the fact that J&J isn't taking any options or first-rights to compounds developed by its incubator tenants. "What's the catch?" everyone keeps asking. "What does J&J get out of the deal?"
I'm guessing J&J execs asked that same question when Diego Miralles, J&J West Coast site head, pitched them on his idea for a no-strings-attached incubator business model. And I'm guessing his answer was something along the lines of "well we've got all this expensive equipment and extra lab space anyway, so why not make a little rent money and support innovation and, while we're at it, get ourselves in the loop with local start-ups who might one day reward our kindness with preference in licensing deals."
Something like that, anyway.
J&J is a public company with a fiduciary duty to its shareholders, so I'm sure it's getting some benefit out of this incubator. But the biggest benefit, according to Miralles, is supporting innovation. "A healthy biotech sector is critical to our future. We believe the tide will rise for all ships, and we will all benefit," he told BioWorld Today back in October when we first wrote about the incubator, which launched last week.
For years VCs and start-ups have been warning that if the industry doesn't find a way to support innovation, there won't be any more candidates for big pharma to in-license. It seems J&J is heeding that warning.
I wonder if other pharmas will follow suit. Maybe it will be like when Warren Buffett said he'd match any voluntary contributions Republican congressmen make to pay down the deficit – the deficit is a problem for all of us, so he's challenging the politicians to step up to the plate and help fix it. Maybe other big pharmas will see that J&J is trying to address the early stage funding gap and they'll rise to the challenge as well. One can hope . . .