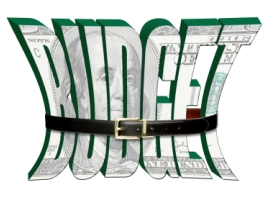 In the days before the sequester tightened Washington's belt, the National Institutes of Health (NIH) and several other federal agencies sent up warning shots of just what was at stake. Under the automatic budget cuts intended to put the national deficit on a strict diet, the NIH expected to lose $1.6 billion from its 2013 fiscal budget.
If the sequester stayed in place, NIH Director Francis Collins said the agency would give "hundreds and hundreds" fewer grants than it would have awarded otherwise, slowing down important research. Speaking at a news conference, Collins said the NIH was trying to avoid employee furloughs, but he couldn't promise they wouldn't occur.
That's when someone asked a question that others were likely thinking: "Doesn't the NIH have any fat it can trim?"
"No," was the reply, especially since the sequester was falling on the heels of several years of nearly flat budgets for the agency. Collins pointed out that because of those flat budgets, the NIH has lost about 20 percent of its spending power in recent years.
Collins painted a similarly bleak picture last year when he testified before a House subcommittee. Even without the sequester, researchers had only a 17 percent chance of getting NIH grant funding, one of the lowest rates in history, he told the Energy and Commerce's Health Subcommittee. In years past, a researcher had a 30 percent chance at funding.
Today, the average age of a researcher getting a first grant is 43. That fact is enough to send young scientists into other careers, depleting the next generation of researchers and jeopardizing the nation's status as a leader in medical R&D.
While the numbers are discouraging, there is something that would enable the NIH to fund more researchers and stretch its limited research dollars, even under sequestration. The solution? Limit the indirect costs universities can take from agency grants to cover facilities and administration (F&A).
While many foundations spend less than 25 percent of their grants on indirect costs, some universities are spending up to 95 percent on overhead, Rep. Tim Murphy (R-Pa.) said at the subcommittee hearing last year. Repeating a previous conversation with Collins, Murphy listed several private universities that charge excessive indirect costs on NIH grants but spend little of their own money on research. For instance, Harvard University, which has an endowment bigger than the NIH budget, applied 75 percent of its NIH funding to overhead costs and spent zero of its own funding, the congressman said.
Such practices aren't limited to NIH grants, as the F&A rates for research grants are calculated in accordance with federal-wide guidelines issued by the Office of Management and Budget. "F&A cost rates are negotiated and established by the federal government to ensure that they are fair and equitable and that the federal government pays its fair share of these costs," NIH told BioWorld recently.
Given current budget constraints and the fact that many universities are making money by licensing the intellectual property resulting from NIH-funded research, it may be time to rethink the government's "fair share" of those F&A costs. Putting tighter caps on indirect costs would give the NIH more money to fund its core mission of research rather than subsidizing universities that will profit from that research.
Editor's note: How much NIH grant money should go toward indirect costs such as facilities and administration? Cast your vote at bioworld.com. Look for our poll on the bottom, right side.