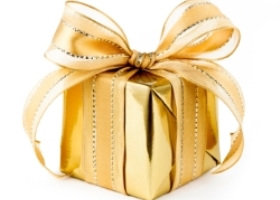 Who needs Black Friday and Cyber Monday, anyway? True biotech aficionados know they can find the perfect gift for everyone on their holiday list in BioWorld's 7th Annual Biotech Holiday Gift Guide. Shoppers, start your engines.
Personal Health
Last year, biotech holiday lists – including ours – featured genomic testing. Thanks to the FDA, the popular 23andMe genotyping service has suspended health-related genetic tests. However, BioWorld Managing Editor Jennifer Boggs pointed out that you can still get your microbiome sequenced at ubiome, learning what bacteria reside in your body, comparing your microbiome to those of other individuals and visualizing yourself in a research study. Imagine unwrapping yourself for the holidays.
Oleg Nodelman, founder and managing partner of EcoR1 Capital LLC, took a more active stance. "While trying to find the best way to invest in the obesity space, and keep myself healthy, I ran across the best gift I have given myself this year, the Lifespan treadmill desk," he said. Be cautioned, however. "If I am breathing heavily while I am on the phone with you, it might be more than my excitement about your company," Nodelman deadpanned.
Books and Entertainment
Sometimes, the lawyers don't get any respect. Brighten your favorite biotech barrister's day with the new release Biopatent Law: European vs. US Patent Law. Hours of enjoyment guaranteed. We promise.
Looking for a thriller closer to home? Check out The Cure, the latest book by former pharma/biotech exec Doug Richards. The plot, involving a gene therapy treatment to reverse a severe psychopathic condition, is a page-turner.
And check out the superhero-fantasy-meets-cell-biology storyline in Biowars: The Battle Rages Within. The science-based comic adventure series, conceived by a former New York University pre-med student fascinated by intracellular communication, was launched earlier this fall. Subscriptions are free with registration.
Thinking of a bio-themed movie night? BioWorld Insight Production Manager Amanda Lanier suggested a trio of terrific DVDs. M. Night Shyamalan's The Happening (2008) features a family on the run from an inexplicable neurotoxin. Extraordinary Measures (2010) features actor Brendan Fraser as John Crowley, chairman and CEO of Amicus Therapeutics Inc., and details his quest to form the company and develop drugs to treat his children and other suffering from Pompe disease. Rise of the Planet of the Apes (2011) traces the origin of the intelligent apes in the movie series to the fictional biotech company Gen-Sys Laboratories, which was conducting research into a cure for Alzheimer's disease. All you add is the popcorn.
For the budding scientist, a science museum membership is the gift that keeps on giving. The Exploratorium in San Francisco, Museum of Science in Boston, American Museum of Natural History in New York, Field Museum in Chicago, Franklin Institute in Philadelphia and venerable Smithsonian are among the best in the U.S., but the world is filled with more wonderful museums – many crowded with gift shops that will dazzle children and adults, alike.
For respite, Pam Lord senior vice president of Canale Communications, recommended tickets to a local ballet, singling out the companies located in some the biggest biotech hubs in U.S., including the San Francisco Ballet, Boston Ballet, New York City Ballet, American Ballet Theater and Pacific Northwest Ballet. "In our line of work, we see the worst of disease and what it does to the body and spirit," Lord said. "The physicality of dance is not only beautiful but is the epitome of the human body at its finest. It is life affirming."
Apparel and Accessories
Science-themed T-shirts caught the eye of several BioWorld staff members. Boggs recommended a nanotechnology T-shirt with "It's No Big Deal" as the slogan, while Staff Writer Sharon Kingman liked the period table of elements shirt. You can also choose "Bond, Molecular Bond,"  "Grey Goo," and other cool designs.
What biotech exec wouldn't love a DNA necktie, recommended by Stephanie Fischer, director of communications at the Pharmaceutical Research and Manufacturers of America (PhRMA)? A DNA bowtie is available for the nattier dresser.
Going for a bolder look? Kingman suggested a gift voucher for a tattoo parlor, where your friend or beloved can create a scientifically themed tattoo. From scorpions to the solar system, no telling where that ink might lead.
Aline Schimmel of Scienta Communications suggested a more subtle form of personal decoration. "Personally, I love the Made with Molecules jewelry pieces" from Fractalspin, she said.
Looking for bling for the biotech exec in your life? Paul Laikind, president and CEO of Viacyte Inc., suggested the DNA Collection from K. Brunini Jewels, which includes stunning necklaces, rings, earrings, bracelets and cuff links. Elaborate DNA strands are complimented by "organic" materials, including emeralds, tourmalines, diamonds and Tahitian pearls.
Food and Beverages
BioWorld Science Editor Anette Breindl suggested a gift that doesn't require much storage: consumables.
"A classic possibility is a bottle of wine," she said. "Red wine has always been a biotechie sort of gift, given the storied history of resveratrol," a sirtuin activator that seems to have general anti-aging effects. As a bonus, Breindl pointed out, you can purchase a fine bottle for a lot less than $720 million – the price Glaxosmithkline plc paid for Sirtris Pharmaceuticals Inc. in 2008 to land its sirtuin platform. In fact, red wine might be a bargain. Despite widespread warnings of a global wine shortage, an analysis by Thomson Reuters' Felix Salmon found quite the opposite.
And with the JP Morgan 32nd Annual Healthcare Conference right around the corner, "I can guarantee every biotech CEO would appreciate a $100 Starbucks gift card," Schimmel advised. Amen to that.
Technology and Gadgets
Plenty of options exist for those on your list who can't live without the latest gadget. For the scientist or CEO who's on the move between board room and lab, BioWorld Washington Editor Mari Serebrov suggested a smart phone microscope or foldable mini spectrometer. Those hankering for that morning caffeine fix might enjoy a caffeine 3D molecular model set or the more practical periodic table of elements mug.
For those seeking to entertain visitors, consider a ferrofluid magnetic display for desk or bookcase. These shifty magnets in a bottle might be so enticing that guests will stay all day, so not a good choice for productivity nuts.
Need a hug? Consider Giantmicrobes, stuffed animals fashioned to resemble the common cold, the flu, sore throat, cough, dust mite, bed bug and more. They're a million times actual size and a thousand times cuter.
On a more practical note, BioWorld Insight Editor Peter Winter suggested several apps for effective multitasking – and who in the biotech doesn't need that? Toodledo is a task and note manager for smart phones and calendars to organize to-do lists and notes. Expensify is designed to track expenses, snap pictures of receipts and create expense reports. Both are ideal for shoppers on a budget, since they're free.
And PhRMA's Fischer suggested the Pocket Finder, a GPS device for luggage that's ideal for biotech globetrotters.
Home Decor
Decorating for the holidays and missing the nostalgia of a cold, wintry setting? BioWorld Staff Writer Randy Osborne suggested just the fix: instant snow. A 5.3-oz jar makes two full gallons of fluffy, nontoxic snow. You can even dry it out and re-use it.
Continuing with the holiday theme, it's hard to resist a uniquely geeky solar system collection of tree ornaments, suggested by Schimmel.
For a different type of décor, what biotech enthusiast wouldn't want to turn his or her DNA into art, as in "art that hangs on the wall"? Osborne, again, came to the rescue with the DNA portrait, a personalized piece of art that doesn't even require a finger prick.
For the entertainer, the Scientific Chemistry Cocktail Set will set the mood for a biotech-themed New Year's Eve party. The set includes beakers that look straight from the lab, but we're pretty sure the liquid concoctions are a bit more palatable.
And Lee Jones, president and CEO of Rebiotix Inc., recommended the Petri Dish Soap by Cleaner Science, which was a big hit with her office last year. Sadly, the shop is "on vacation" for the holidays, but before beach weather returns you can look for the soaps fashioned like petri dishes festooned with microbes – a great (and practical) gag gift.
Last but Not Least, the Gift of Generosity
Finally, BioWorld's Breindl pointed out the obvious about holiday shopping: many of us, and most of our gift recipients – already have way too much stuff. In the spirit of the season, she suggested a donation to a medical-related charity.
"If you are giving a present to someone whose life has been touched by a specific illness, perhaps they would appreciate a donation in their honor or in the honor of their loved one," Breindl said. Her personal favorite is the Global Network for Neglected Tropical Diseases, which has a four-star rating from Charity Navigator.
"Treating a person for a neglected tropical disease can cost as little as 50 cents, which has got to be the best deal in health care," she pointed out.
Saving a life for less than $1? Even Santa can't top that.
Editor's note: It's never too early to start planning for the 2014 holiday season. Did we overlook your favorite biotech gift? Send your suggestions to marie.powers@thomsonreuters.com.