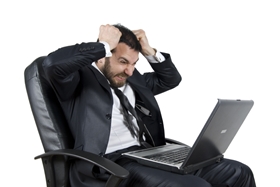 For more than five years, the FDA was criticized for failing to provide clear guidance on how drug developers could use social media without running afoul of its marketing restrictions. Last month, the agency finally came through with two crucial draft guidances.
A webinar Thursday afternoon aimed at providing more color around the social media regulatory framework could only be described as an #EPICFAIL.
The webinar, for which registration reportedly closed early due to overwhelming demand, suffered problems from the get-go, with many registrants unable to log in at all. Almost immediately, slides started crashing, prompting the agency to pause the presentation for several minutes and try to re-sync its PowerPoint. That didn't work, so presenters plowed ahead in audio-only format.
By the time the final presenter, Julie Chronis, began to speak, the slides were back up but the audio was intermittent and unintelligible – similar, some would say, to the FDA's message on social media as a whole.
A few minutes into Chronis' presentation, the FDA's slides froze again, leaving those who actually gained access to the presentation with nothing but sound bites.
In a bit of irony, BioWorld and other industry veterans took to Twitter to express their frustration, such as these responses to our live tweets:
@BioWorld Are you still seeing a blank screen, too?
@BioWorld seems to be tweeting. @US_FDA: What's going on?
@BioWorld @US_FDA this is slightly frustrating
@BioWorld Same here. Reloading crashed the browser. Suppressing bitter/irony commentary.
@BioWorld same problem. Was logged in waiting for event. Now crashed
@BioWorld And, judging by ongoing tweets, it's already started
@BioWorld this may be why they prerecorded their ANDA webinars.
@BioWorld We are seeing a white screen here in Austin also....
You get the picture, even if @US_FDA did not.
Less than 15 minutes into the webinar, we tweeted:
#FDA_socialmedia slides crashed; pausing to allow more registered attendees to jump on
Access was never resolved, prompting this:
@US_FDA losing even more credibility on social media with massive technical difficulties for #FDA_socialmedia webinar. Still paused.
That observation was quickly picked up, in many cases with additional editorial comment.
While you could argue that posting on Twitter, Instagram or Facebook is not the same as hosting a webinar, all involve technology aimed at communicating, clearly and concisely, to a specific audience. Though the FDA is bent on regulating the messages that drugmakers send to potential patients, even 140 characters at a time, the agency could not even muster a single, articulate presentation on that very topic.
And it's not as though preparing for this event took the agency by surprise. Even in its advisory for the webinar, the agency acknowledged that technology "is continually changing," and "in today's world, a tremendous amount of information exchange occurs on the web and through social media."
FDA, heal thyself.
In the end, Thomas Abrams, director of the FDA's Office of Prescription Drug Promotion, apologized for the massive technical problems and promised to post slides from the webinar. But it goes without saying that the agency isn't likely to provide the same leniency to drugmakers.
The final irony? The FDA is a major user of social media in its own right. The agency knows how to do this, when it chooses. Less than an hour after finishing the botched social media webinar, the agency tweeted, @FDA_Drug_Info Join us for a webinar, "Form 356h, Update to Field 29," on July 16: go.usa.gov/Xygk.
Here's our take:
#FDA_socialmedia webinar a complete disaster. Audio now gone, slides frozen. Are you listening, @US_FDA?