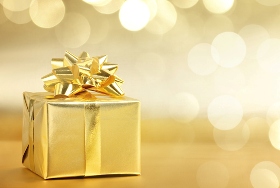 Thanksgiving doorbusters. Check. Black Friday blowouts. Check. Small business Saturday, Cyber Monday, Giving Tuesday. Check, check, check.
It's only Dec. 1, with the major holidays some two weeks or more ahead, and major advertisers would have us believe we're already shopped out. But the intrepid elves at BioWorld, along with some loyal readers and followers, have lined up fun selections for everyone on your list with our 11th annual Holiday Gift Guide.
Heidi Chokeir, managing director at Canale Communications Inc., called the Foldscope kit "an AMAZING gift for the budding scientist in people's lives." Larger kits are already sold out but the individual kits, designed to allow curious explorers to perform microscopy experiments anywhere at any time, are still available, along with matching Foldscope t-shirts.
Colleague Sumitra Gupta, account associate at Canale, kept the science theme going with a trio of fun picks. The climate change disappearing coffee mug replicates the action of melting ice caps. You're my base pair greeting card is a DNA "love" card perfect for a nerdy companion, lab partner or genetics study partner. And the vaccines cause adults t-shirt offers a great message for those still trying to stamp out that long-debunked MMR vaccine controversy.
"I love thinking about this!" admitted Carter Keller, chief operating officer of Gigagen Inc., who is "most excited about science kits that I can do with my sons."
This year, Keller is perusing choices from The Odin "to bring the lab home." At the top of his list are a DIY CRISPR kit and a kit to genetically engineer brewing or baking yeast.
Communications consultant Lisa Guiterman had a few clever finds "that may appeal to the kid in all of us," she said, tagging the Magic Light Wand that turns on holiday lights remotely, the small and maneuverable XForce Quadcopter Drone with Hand Motion Remote Control and the Tiny Arcade Pac-Man Miniature Arcade Game, which she called a "great stocking stuffer." And with Star Wars: The Last Jedi hitting screens this month, who could resist Guiterman's additional suggestion for the Star Wars Droid Inventor Kit?
BioWorld analyst Karen Pihl-Carey said jewelry is always a sure bet with those in the science field. "I like the DNA earrings and the serotonin, dopamine and acetylcholine necklace from Boutique Academia for the more casual workday and the solar system necklace by Beautyspot for a dressier look," she advised.
Research funding wrapped up in a good read
Medical journalist Neil Canavan, who also serves as scientific adviser of the Trout Group, reached out with a book that he admitted was "utterly self-serving but entirely appropriate, given BioWorld's demographics." A Cure Within: Scientists Unleashing the Immune System to Kill Cancer was published Oct. 1 by Cold Spring Harbor Laboratory Press. Across 25 chapters, the book recounts the revolution of cancer immunotherapy, as told by 25 investigators who were part of the emerging story. "And yeah, full unabashed disclosure, I wrote it, though the project is entirely nonprofit," Canavan added, noting that Cold Spring sales go to their labs while his royalties are being donated to the Cancer Research Institute. Emerging science, newly approved therapies and funding for downstream research wrapped up in a good read. We like it.
Laura Bagby, account director at 6 Degrees Communications, recommended Astrophysics for People in a Hurry by Neil deGrasse Tyson. "I think the solar eclipse reignited an interest in many of us to further contemplate the cosmos," Bagby wrote, describing Tyson's book as "ideal for those of us who are short on time but strive to be well-versed in the language of the universe."
For those who want to take planetary exploring to the next level, but not quite a spaceship, BioWorld Staff Writer Alfred Romann suggested a telescope. Whatever version you choose, "telescopes are always good fun," he said.
BioWorld Staff Writer Shannon Ellis miniaturized that suggestion.
"Can we do classic gifts for the little ones?" she asked, noting that her seven-year-old son just received his first microscope. "I thought about getting him a digital one that connects to the computer but decided for his first introduction it was worth sticking to an old-school physical version," Ellis confided. "The first time I saw a microscope was likely in high school! It was so fun playing around with it with him, even if he's still a bit young to understand."
Turning back to books, Ellis recommended Little Soldiers, published by her friend and colleague, Lenora Chu, about Chu's decision to place her son in the Shanghai school system, dubbed Little Soldiers. The tale "offers a glimpse inside China's education system for the preschool and primary years," Ellis observed. "Although it's not about science specifically, it doesn't take much of a leap of understanding to see how China's system has been so good at preparing the best and brightest – those who are filling top-notch science schools and labs in the U.S. For everyone who has worked with China-educated scientists, the book offers an inside account of early academic life from the author's distinctly U.S. perspective."
Although encyclopedias have gone out of style (and largely out of print), Romann also recommended the original Encyclopedia Britannica for the book shelf. It's "a bit out of date, a reprint from 1795, but interesting," he observed.
For another enlightening read, BioWorld Staff Writer Michael Fitzhugh recommended A Rare Breed: How people and perseverance built BioMarin into one of the world's most innovative companies, by Daniel S. Levine and Daniel P. Maher.
"Amid the bustle of clinical, regulatory and other catalysts shaping company stories on Wall Street, the dynamic human stories behind those developments all too often fade to the background," Fitzhugh said. The inside story of Biomarin's founding and first 20 years recounts both the struggles and triumphs of individuals who, despite long odds, made the company a success. "With clear explanations of the biology and business behind the development of Biomarin's most important therapies, the book makes the story of developing, manufacturing and gaining approval for complex treatments for rare diseases broadly accessible and thoroughly interesting," Fitzhugh added.
DNA as a game and in the real world
On a lighter note, Fitzhugh also suggested CRISPR Playing Cards from the Innovative Genomics Institute, a joint project of the University of California Berkeley and UC San Francisco. Last summer, he explained, the Institute launched an online game inviting players to invent RNA molecules to combat infectious disease. From that initiative came the playful invitation to learn more about biology with custom CRISPR Playing Cards. The regulation playing deck seeks to "highlight the beautiful 3D shapes of Cas proteins," according to an explanatory card included in the deck. "The Jokers are, naturally, anti-CRISPRs," Fitzhugh pointed out. "Though the cards might be a bit hard to track down, we'd bet they'll be available at the institute's next open house," he added.
Also in the games category is board game Cytosis: A Cell Biology Game, recommended by Jacob Verghese, account executive at MacDougall Biomedical Communications in Munich. The competition takes place inside a human cell, where players take turns placing workers on available organelles within a human cell to collect resources such as carbohydrates or ATP or to take actions such as purchasing cell component cards or translating mRNA into Proteins. "Players use their resources to build enzymes, hormones and hormone receptors and also to help detoxify the cell – all of which score health points," Verghese explained. "The player with the most health points at the end of the game wins!"
BioWorld Production Editor Andrea Gonzalez transitioned from the world of make-believe to the real world by suggesting a genetic test kit, such as those available from 23andMe or Ancestry.com, for friends and colleagues who are curious about their family tree. For a bit more, both choices can be expanded into reports that offer diet and exercise recommendations or suggest health-related risks. "I like the idea of getting ancestry kits for my hard-to-shop-for parents because this is something they'd be interested in doing but wouldn't buy for themselves," Gonzalez said.
Although a suggestion by Aline Sherwood, principal of Scienta Communications, might have the greatest appeal to long-time reporters, even newbies might get a kick out of this old-school typewriter that plugs into a tablet or smartphone via USB to experience the retro clickity-clack of these classic machines. "Personally, I think newsrooms are too quiet," Sherwood observed. "This will bring back the comforting cacophony of typewriters without the need for correction tape," she added, referring to the old-school office supply that, surprisingly, is still available.
Feel-good gifts that feel good
No holiday is complete without good food, including traditional baked goods. For those holiday sweets, these festive medicine- and anatomy-themed cookie cutters from Bakerlogy were a popular choice, recommended by Eleanor Duff, global director of communications for immuno-oncology at Astrazeneca plc, Gigagen's Carter, and Ann Graul, senior content manager for disease briefings at BioWorld's parent company, Clarivate Analytics. We know which holiday parties to attend.
BioWorld's Pihl-Carey, who also gave a thumb's up to the cookie cutters, pointed to another good conversation-starter while sipping from the I Drink W I NE Periodically glass. And for those seeking an extra dose of resveratrol, "chocolate organs didn't appeal to me at first, but these look yummy," she said.
During her travels to Barcelona, Clarivate Science Editor Shyama Ghosh commended "a good glass of Crianza from the nearby bodega" as "an absolute joy at the end of the day." For those who must settle for a rush hour commute, she endorsed Alava de la Cruz, which ships its Rioja wine to many locations around the globe, "together with a touch of warm sunshine and mellow fruity aromas."
For the science-y family that loves to cook, Pihl-Carey recommended spicing up the kitchen with test tubes for spices. "The storage block keeps the area in your kitchen laboratory tidy – a necessity for elementary researchers, who may like a Science Rocks apron as they experiment," she added. (For more of a statement, scientists and their supporters may prefer Science Matters.)
While we're on apparel, Gigagen's Carter recommended DNA double helix lounge pants "as a gag gift to folks in the industry." White elephant gift for the lab crew, anyone?
And along those lines, BioWorld Senior Science Editor Anette Breindl raved about the decidedly more stylish double helix DNA dress. "OMG. Can we all get one for ASH?" she asked.
BioWorld Regulatory Editor Mari Serebrov  recommended a fun but oh-so-practical pair of science shoes, the Periodic Table Men's Classics. And talk about great timing – they're on sale.
"Every year Toms puts out at least one pair of STEM-related shoes in styles for men, women and children," Serebrov said. The company also offers shoes with a nod to wildlife, botanicals and astronomy. "The beauty of giving Toms is that you're giving twice, because the company gives a free pair of shoes to a child in need for every pair purchased," she pointed out. "In addition, the proceeds from some of the shoes benefit causes such as the Haiti Artist Collective and health programs in India. Through its sunglass collection, the company helps fund eye care."
Another feel-good gift idea from Serebrov is the cuddle + kind hand-knit doll sets. "The company offers fair-trade animal dolls hand knit in Peru as part of a sustainable industry empowering women," she explained. "For every doll purchased, the company donates meals to needy children."
Katie Engleman, senior director of media relations at W2Opure, suggested another ingenious tool for a family member or friend with limited arm or hand mobility. Verily's Liftware Level is designed to help the user hold a utensil at the correct angle to eat more easily. The leveling handle contains sensors that detect changes from the intended movement of the hand. A tiny computer then directs two motors in the handle to bend the flexible gray joint to keep the utensil at the proper angle.
For one-of-a-kind gifts that touch the heart, or the scientist within, Peter Winter, editor of BioWorld Insight, recommended three-dimensional DNA crystal cubes, which he called "inspirational" and "optically perfect."
Some gifts can't be wrapped, and at least one recommendation along these lines comes our way every holiday season. This year, that special sentiment – the gift of time – came from Oleg Nodelman, founder and managing director of Ecor1 Capital LLC.
"It is hard to think of a more valuable gift to give than quality time," he said. "Email closed, phone off, social media shut down, total presence." Always the pragmatic investor, Nodelman added, "ideally, on a day that the market is closed!"
May the markets favor biopharma in 2018. And when they're closed, well, we offered options but the decision-making is up to you. Happy holidays and a prosperous new year!