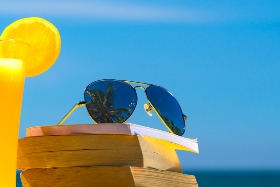 Summer arrives with a bang for biopharma in the dueling agendas of the American Society of Clinical Oncology (ASCO) annual meeting, the BIO International Convention, Digestive Disease Week (DDW) and ASM Microbe – all packed into a 12-day period – not to mention overlapping health care conferences sponsored by several major investment banks. What's a harried insider to do? Breathe deeply, then take a gander at BioWorld's 12th annual Summer Reading List before you head to the airport for 10 days of sleep deprivation and jet lag. As always, our staff and readers from across the industry have you covered.
Here are this year's picks.
In the fiction category, Don Johnston, senior marketing communication director for life sciences at Clarivate Analytics, reads novels between his "big historical tomes" (more on those later) and "cannot recommend more highly Daren Wang's The Hidden Light of Northern Fires, a novel about the U.S. Civil War and the Underground Railway," he said.
"Longtime BioWorld subscribers may recall that name: Daren was production editor in our early days after moving the BioWorld business to Atlanta," Johnston continued. "He went on the become a founder and executive director of the Decatur (GA) Book Festival and is already working on his next book."
Laura Bagby of 6 Degrees PR plans to read Exit West by Mohsin Hamid. The novel, which touches on emigration and refugee problems, follows a young couple who live in an unnamed city undergoing civil war and finally have to flee, using a system of fictitious doors that lead to different locations around the globe.
"For an indulgent time of pure escape," BioWorld Regulatory Editor Mari Serebrov – a seasoned author herself – plans to read Alexander McCall Smith's No. 1 Ladies Detective Agency series this summer. Set in Botswana, "the novels are a light-hearted exploration of human character," Serebrov said.
BioWorld Staff Writer Randy Osborne "strongly" recommended the first novel by "one of my favorite writers," Melissa Broder. The Pisces: A Novel is about, or the plotline seems to follow, the protagonist Lucy's love for a merman and their ensuing problems. "But really Broder is after much bigger fish, as it were, under the surface of the narrative," said Osborne, who previously recommended – and still does – Broder's essay collection, So Sad Today, along with her poetry.
"Trigger warning, or whatever they're calling it these days: The novel contains some very explicit sex scenes," Osborne cautioned. "Good beach read, though, if you like to read on beaches. I don't and enjoy them only at night. Which is when the despondent Lucy meets her aquatic friend, Theo."
Peter Winter, BioWorld Insight editor, found the political intrigue in the decidedly land-based Final Notice by Van Fleisher more to his liking. Set in the near future, the plot centers on a newly invented health/sport watch that monitors blood chemistry so accurately that it can predict when someone will die, within a 10-, 20- or 30 day-window. Although the technology is designed to give users time to set their affairs in order and reach out to loved ones in their last days, those with a grudge have other ideas in mind.
Warren Shubin, IT project manager at Achaogen Inc., voiced interest in The Windup Girl by Paolo Bacigalupi, which he called "a biopunk" science fiction novel.
"On one hand I found this book disheartening in the sense that we are closer to its dystopian future than any of us would probably like to admit," Shubin said. "But on the other it is a great read that speaks to the power that people in industry and government will have to use in order to undo damage to the environment."
BioWorld Staff Writer Alfred Romann also looked to the sci-fi world with his recommendation, Ready Player One by Ernest Cline. Although, perhaps, popularized by the Steven Spielberg movie of the same name, "the book is quite different from the recent film and a good window into how the gamer generation thinks," Romann said.
I'll end the category with a classic: The Divine Comedy, which I recently re-read with fresh eyes and the perspective I didn't have as a 20-something undergraduate English major. The classic tale by Italian poet Dante Alighieri is, of course, an incredible imaging of the afterworld, but it's also a fascinating study of history, mythology, politics, nature, anatomy, astronomy and art. Most of all, it's a timeless love story. As T.S. Eliot once observed, "Dante and Shakespeare divide the world between them. There is no third."
In nonfiction: Humanity, hackers and lessons from the wild
Turning to nonfiction, Britt Meelby Jensen, president and CEO of Zealand Pharma A/S, suggested Sapiens: A Brief History of Humankind by historian Yuval Noah Harari, which she called a "fascinating and wide-ranging book about the history of the human race from the early days until today. It sparks interesting reflections about big questions on humanity as well as the purpose of life and leaves a lot of questions unanswered."
That book may serve as a great segue to Romann's second suggestion of Grave New World: The End of Globalization, the Return of History, in which author Stephen D. King lays out the case that globalization is not a guaranteed outcome. "Rather, it may be a choice, and one that is now in danger," Romann said.
H.C. Wainwright analyst Andrew Fein turned to the animal kingdom, suggesting The Wisdom of Wolves: Lessons from the Sawtooth Pack, in which naturalists and documentarians Jim and Jamie Dutcher share insights gleaned from six years living with this society, including their observation of principles such as kindness, teamwork, playfulness, respect, curiosity and compassion.
BioWorld staff writer Cormac Sheridan noted that "Irish fiction has enjoyed a remarkably strong run over the past decade, but two Irish nonfiction writers have caught my eye this year." In Lost and Found: Memory, Identity, and Who We Become When We're No Longer Ourselves, neurologist Jules Montague "writes with great humanity and great insight about the need to cherish and protect the individual identities of people living with dementia or with traumatic brain injury," Sheridan said.
And Dublin-based Mark O'Connell won the 2018 Wellcome Book Prize for To Be A Machine: Adventures Among Cyborgs Utopians, Hackers, and the Futurists Solving the Modest Problem of Death. "Required reading, no doubt, for the techno-optimists who would be transhuman," Sheridan opined.
Remixing U.S. history and culture
Johnston reached back into U.S. history, following up on last year's resolution to tackle one hefty biography each on the U.S. Founding Fathers.
"I've now read about Jefferson, Franklin and Washington," he said. "I added James Madison, who was not part of my original thinking, but you can't really understand the U.S. Constitution – and its practical interpretation in the establishment of the U.S. government – without considering Madison, who was sort of our original wonk. I am now reading David McCullough's John Adams and hope to visit the Adams National Historical Park in the Boston area after BIO International. Hamilton would be next!"  
Holland Johnson, executive editor of BioWorld MedTech, agreed, "I'm a sucker for historical writing." He recommended Grant, by Ron Chernow, who "does a great job of providing a wealth of material on one of our most celebrated (and vilified) generals and highly underrated presidents in U.S. history," Johnson said. "This story about the life of Ulysses Grant is an easy read and is meticulously researched."
Looking more broadly across U.S. history, Johnson also recommended The Soul of America: The Battle for Our Better Angels, by Jon Meacham.
"In a time in our history when a lot seems hopeless, it was nice to read a book that discussed how we as a nation had encountered seemingly insurmountable problems in our past and found ways to come together to overcome them," Johnson said. "Meacham – who attended my high school, McCallie School in Chattanooga – as always does a masterful job of bringing the past to life for his readers."
Fast forwarding through the time machine, public relations consultant Paul Kidwell recommended STP: A Journey Through America With The Rolling Stones by Robert Greenfield. Those "of a certain age" may remember the 1972 American tour by The Rolling Stones. "Greenfield had a front-row seat to the mayhem and chronicled the experience in this book that you will not be able to put down," Kidwell said. "It reads like a great whodunit spy novel without the surprise ending. STP (Stones Touring Party) mixes up a depraved elixir of drugs, rock and roll, sex and boys being boys." The book is "mostly out-of-print," he added, "but still available on Amazon and worth the effort."
In coming to terms with some of the more troubling aspects of current U.S. events, Zealand Pharma's Jensen recommended Hillbilly Elegy: A Memoir of a Family and Culture in Crisis by J.D. Vance. The book provides insight into a way of life in the U.S. and the "white underclass" that is unfamiliar to most Europeans, Jensen said.
"It's an interesting story about how difficult it is to break out of the family pattern, which also gives a different understanding of the many Trump voters," she observed.
First person narratives, from North Korea to Nike
In the memoirs category, Annie Graul, senior content manager for Clarivate Analytics' Disease Briefings, an application of the Cortellis life sciences platform, "could not put down" The Girl with Seven Names, the autobiography of North Korean defector and activist Hyeonseo Lee.  
"With North Korea in the news so much these days, it seemed a good time to read this young woman's fascinating account of escaping the Hermit Kingdom by slipping across the border to China and then making her way to South Korea," Graul said. In addition to the riveting tale about Lee's life and odyssey, "the book provides a glimpse into daily life in North Korea, helping the reader to understand the pervading mentality of a society that has lived under absolute control for generations," she added.
Nearly at the other end of the memoir spectrum, Oleg Nodelman, founder and managing partner of Ecor1 Capital Management LLC, recommended Shoe Dog, the memoir of Nike Inc. founder and chairman emeritus Phil Knight. The book offers keen insights into the philanthropist and founder of the sporting goods company that became a global sensation with its trademark swoosh. Knight became one of the world's wealthiest men yet still endured his share of tragedy.
Another worthy read suggested by Osborne is I Am I Am I Am, by Maggie O'Farrell. "With a title taken from what must be the most oft-quoted passage in Sylvia Plath's famous crackup novel, the essay collection chronicles 17 'brushes with death.'" Osborne said. "The first is especially scary, and the book overall provides an awe-inducing contemplation of how close we the living exist every moment to the brink of not."
Science, statistics and 'secrets and lies'
Corporate communications consultant Angela Bitting, a long-time Summer Reading List fan, recommended The Gene: An Intimate History by Siddhartha Mukherjee, which she called "an amazing, comprehensive study from the beginning of time trying to determine how traits are passed down. I had many wonderful conversations with my kids around the dinner table about the crazy initial ideas that were outside of the box and about the discoveries we are still making today that are chronicled in this book."
Anette Breindl, BioWorld senior science editor, had two science-themed picks on her list. In Becoming Ms. Burton: From Prison to Recovery to Leading the Fight for Incarcerated Women, author Susan Burton "provides an eye-opening account of her descent into, and journey back out of, addiction and the prison industrial complex," Breindl said. "And she manages to inspire without sugarcoating while telling her story."
And Breindl confessed that the just-published Theranos Inc. exposé, Bad Blood: Secrets and Lies in a Silicon Valley Startup, by John Carreyrou, "is now at the top of my list."
Jessica Yingling of Little Dog Communications Inc. had an antidote to bad behavior with Let My People Go Surfing: The Education of a Reluctant Businessman – Including 10 More Years of Business Unusual by Yvon Chouinard, legendary climber, businessman, environmentalist and founder of Patagonia Inc. The book's message? "Similar to the durable goods industry, to find success and longevity, the life science industry needs to constantly challenge the norm," Yingling said.
BioWorld Staff Writer Michael Fitzhugh tagged I Think You'll Find It's a Bit More Complicated Than That by physician, academic and campaigner Ben Goldacre.
"This book, eminently suited for those like me with a relatively short attention span, is a collection of Guardian essays and other writings," Fitzhugh said. "If you truly like to chill out with a bit of lighthearted reading on the ups, downs and occasional hilarity of statistics, epidemiology and health policy, this is the book for you. It's an accessible and enjoyable way to jump into Goldacre's witty and insightful writing and good background for understanding the genesis of the clinical trials transparency campaign, Alltrials, in which he played a major foundational role. (See BioWorld, Feb. 21, 2018.)
Rules for life, and living that life to the fullest
Amanda Lanier, managing editor for BioWorld Insight and BioWorld Asia, recommended The CEO Next Door: The 4 Behaviors that Transform Ordinary People into World-Class Leaders by Elena Botelho "for the aspiring executive or manager who wants to optimize." The book offers advice based on an analysis of a database of 17,000 C-suite executives and 13,000 hours of interviews. "It starts with common misconceptions about CEOs and moves onto the four behaviors of a CEO, stressing the importance of combining top performance with high visibility," Lanier said. "Later sections detail common pitfalls, mixed in with advice on dealing with a board, the value of building relationships and why it's important to be memorable."
In a similar vein, Kidwell suggested Give and Take: Why Helping Others Drives Our Success by Adam Grant.
"Like thousands of folks who delighted in his TED talks and first year of podcasts, WorkLife with Adam Grant, this New York Times bestseller makes the case for being kind at work and succeeding," he said. "Work is loaded with people, many of whom we are asked to interact with and endure their many diverse personalities." How we interact with co-workers, according to the author, is a barometer of our success in the office.
BioWorld Insight's Winter recommended 12 Rules for Life: An Antidote to Chaos by psychologist Jordan Peterson, who "gives us some prescriptions for getting through life in one piece," he said.
Chiming in with the same suggestion was long-time biopharma executive Michael Becker, who has recounted his own journey from serial entrepreneur to cancer patient.
"I'm not typically a self-help book reader, but if you can get past the title this book is an interesting read," Becker said. "From the humorous (pet a cat when you encounter one on the street) to the practical (stand up straight with your shoulders back), Peterson's 12 rules have a common theme: Gradual, personal change is possible. Life can be tragic and we may feel powerless at times, but always look for the little things that highlight the beauty of life."
Becker recently published his own update, the second edition of A Walk with Purpose, whose first edition was featured on last year's reading list. This book "is essentially a re-write, as I needed to update the last few chapters since, well, I'm still here!" Becker exclaimed.
Let's hold that thought, with a nod to the heavy lifting in drug discovery and development that biopharmas perform day in and day out. Have a great ASCO, BIO, DDW, ASM or whatever floats your boat, and happy reading along the way.