CEO David Giljohann said the first indication in Exicure Inc.'s deal with Allergan plc is antigenic alopecia, but his firm doesn't "have anything else to disclose yet" about other hair loss diseases that the pact will include.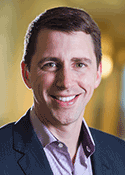 Skokie, Ill.-based Exicure gained $25 million up front from Allergan, of Dublin, in an arrangement whereby Allergan gets exclusive access and options to license spherical nucleic acid (SNA)-based therapeutics arising from two programs. Exicure will conduct discovery and development; if Allergan exercises an option, it would then take over clinical efforts and commercialization. Exicure stands to collect development and regulatory milestone payments as high as $97.5 million per program and commercial milestones of up to $265 million each. Included in the deal are tiered royalties on worldwide net product sales of mid-single-digit to midteens, Exicure said.
Calling the setup "fully aligned with our core competencies and aligned nicely with Allergan's expertise in the medical aesthetics area," Giljohann said Allergan will meet the first option point at the time of candidate selection. Exicure, he said during a conference call with investors, has "validated targets that we think are amendable to local topical application and that heretofore may not have been acceptable or practical. We also think that there are novel targets we will discover along the way. We're excited to do both." Asked whether the drugs would be marketed as therapeutic or cosmetic products, he said Allergan will make such decisions based on the firm's widely recognized expertise.
"We've known many of the folks at Allergan for several years," Giljohann said. "We reached some clinical proof points in the last year or so, particularly in our dermatology franchise," and the findings in psoriasis "accelerated discussions [with Allergan] quite nicely." In December of last year, the company offered top-line results from a phase I trial evaluating SNA therapy XCUR-17 in patients with mild to moderate chronic plaque psoriasis. It's a treatment targeted to mRNA encoding interleukin 17 receptor alpha, a key inflammation protein. In preclinical studies, the prospect inhibited expression in human skin and in psoriatic mouse models.
The phase I bid came through as well. A randomized, double-blinded, placebo-controlled trial, it enrolled 21 patients with mild to moderate chronic plaque psoriasis and measured XCUR-17 formulated as a topical gel, also evaluating early signs of efficacy. All patients received three strengths of XCUR-17, a vehicle gel, and a positive comparator (calcipotriol cream), which were all applied on different areas of psoriatic skin within each individual patient. Seventeen of the patients treated with the positive comparator showed a clinical response, while four patients treated with the placebo vehicle did. In the case of XCUR-17, 11 patients treated with the highest strength were observed to have a reduction in redness and improvement in healing as determined by blinded physician assessments. The highest strength also turned up a statistically significant improvement in psoriasis symptoms vs. the vehicle gel. No adverse safety events surfaced related to treatment with XCUR-17.
With the alopecia campaign joined by Allergan, the targets are hair follicles and scalp, Giljohann said, and experiments may be tried in preventing as well as reversing hair loss. Asked about Allergan's pending buyout by North Chicago-based Abbvie Inc., he said he saw no hitches for the deal with Exicure. "We think that the programs will still be aligned and that we will be working with Allergan/Abbvie for many years to come." In the middle of last month, shareholders in Allergan voted 99.64% in favor of the Abbvie transaction, with a scant 0.36% voting against. The scenario included an unexpected, last-minute €572 million (US$631 million) charge on the transaction by way of the Irish government. (See BioWorld, Oct. 15, 2019.)
I-O player most advanced
Wainwright analyst Raghuram Selvaraju started coverage of Exicure last week with an $8 price target, calling the company's approach "the first nucleic acid delivery system we have encountered that has such broad applicability and flexibility" and "a highly innovative manifestation of the nanomedicine concept, employing 3D spherical arrangements of nucleic acid molecules to optimize delivery of these difficult-to-administer drugs." The method "permits higher loading and longer-term delivery, as well as enhanced transport vs. planar arrangements of such molecules," so that oligonucleotides can hit their marks "in a tissue-targeted or broad-based manner, with efficient tissue and cell penetration and potential for blood-brain barrier permeability where necessary," he wrote in a report.
Exicure's most advanced candidate is in immuno-oncology, with the phase II-stage AST-008, a Toll-like receptor 9 agonist, undergoing tests against solid as well as hematological cancers. As of the start of this month, the company had dosed 13 patients in the first four cohorts of the phase Ib part of the ongoing experiment. No treatment-related adverse events or dose-limiting toxicities were seen and preliminary results are expected in December.
Allergan has made other deals in the hair space. In 2015, the company bought Westlake Village, Calif.-based Kythera Biopharmaceuticals Inc. in a cash-and-shares deal which valued the firm at $75 per share, or about $2.1 billion. Kythera's hopper included KYTH-105 (setipiprant), an oral prostaglandin D2 antagonist, for treating male pattern baldness. It licensed rights to the compound from the University of Pennsylvania, whose head of dermatology, George Cotsarelis, discovered the effect, and Allschwil, Switzerland-based Actelion Ltd. The latter firm had tested the drug in a phase III trial in allergic rhinitis without success. (See BioWorld, June 18, 2015.)
In late June, Stemson Therapeutics Inc., of La Jolla, Calif., disclosed a "significant" investment in its seed financing round by Allergan in order to advance Stemson's final product development in preparation for human trials. The move represents Allergan's first step into induced pluripotent stem cells (iPSC)-based cell therapy technology – and Stemson was the first to discover how to differentiate iPSC's into the cells responsible for inducing and controlling human hair follicle growth, the company said.
Shares of Exicure (NASDAQ:XCUR) closed Thursday at $2.74, up 29 cents or 11.8%.