The U.S. FDA has granted breakthrough device designation for Righteye LLC's eye movement-tracking vision system as a test for Parkinson's disease. The noninvasive test, which measures an individual's ability to follow objects on a screen, could help doctors not only confirm the difficult-to-diagnose disease, but also detect it at earlier stages.
By 2030, it is estimated that 1.2 million American will be living with Parkinson's disease, a neurodegenerative disorder that leads to progressive stiffness, loss of balance and cognitive impairment. The disease's annual health care tab in the U.S. currently runs just shy of $52 billion, with roughly half of that attributable to direct medical costs and half due to missed work, lost wages and family caregiver time. Yet despite its high toll – both physically and economically – Parkinson's, which often begins with minor hand tremors, has proven doggedly difficult to diagnose.
High rate of misdiagnosis
"When assessing Parkinson's disease, 60% of patients are misdiagnosed at least once, with one third of patients misdiagnosed twice," said George Gitchel, director of clinical research at the Southeast Parkinson's Disease Research, Education, and Clinical Center (PADRECC) at the Richmond Veterans Affairs Medical Center in Virginia. "That is a terrifying and unacceptable statistic in the age of modern medicine."
Developed by researchers at PADRECC and Virginia Commonwealth University with funding from the Michael J. Fox Foundation, and licensed to Righteye in 2016, the test requires patients to sit in front of an all-in-one tablet-looking device and follow a series of moving targets. The goal is to identify ocular tremors, a persistent issue with Parkinson's patients that prevents steady fixation on objects and images.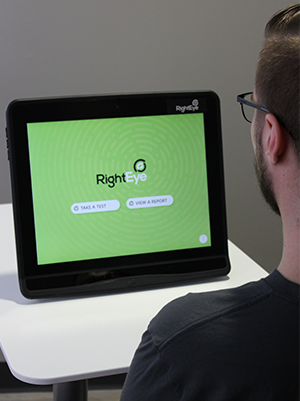 "We gamify the experience so that it has a high level of engagement," Adam Gross, co-founder and CEO of the Bethesda, Md.-based startup, told BioWorld MedTech. The test would be used be used along with others, such as an imaging scan that involves injecting a radioactive drug, to confirm a clinical diagnosis.
"With this FDA breakthrough device designation, Righteye has an opportunity to address a critical unmet need in the fight against Parkinson's disease," Gross said. "Earlier diagnosis of Parkinson's disease may lead to more proactive delivery of treatment, which may improve the quality of life for the patient as well as the quality of care delivered from the provider."
Leveraging AI and machine learning
The FDA's breakthrough device designation is designed to accelerate development and review of novel treatments and diagnostics for life-threatening or nonreversible debilitating conditions. Companies benefit from enhanced communication and guidance from FDA staff.
Gross declined to predict a timeline for an FDA go-ahead and commercialization of the Parkinson's test, noting that clinical trial design will be driven by the regulatory pathway Righteye decides to pursue.
The cloud-based Righteye Vision System uses artificial intelligence (AI) and machine learning to track a person's eye movements and delivers a normative score based on data from other people in the same age range. The company currently boasts more than a billion data points, 660 different algorithms and about 90 different models that help to characterize a person's functional vision. The system earned a 510(k) clearance from the FDA in October 2018 for recording, viewing and analyzing eye movements in support of identifying visual tracking impairments in patients.
In addition to Parkinson's, Righteye has been studying the system's utility in diagnosing concussion and traumatic brain injury. Research published this summer in the journal Concussion revealed that Righteye's eye-tracking technology not only identified but scaled the severity of TBIs by measuring horizontal and vertical saccades – rapid eye movements between fixed points.
The company also is exploring indications in Alzheimer's disease and stroke. "Ideally, we will deliver all tests via the same Righteye Vision System," Gross said.
Fundraiser planned
An ambitious program requires capital, and Righteye is looking to raise money to take the company to the next stage in its development – moving from an early-stage startup toward becoming a more established company. "We are embarking on a series B capital raise of $10 million to $15 million to fund an aggressive sales and marketing plan, increase the pace of new scientific discovery and product development," Gross said. The added funds will help to speed growth and expand market access, as well as make product refinements that will increase customer satisfaction, he added. Righteye raised a total of $10 million in two previous funding rounds.
Righteye isn't the only med-tech company eyeing the Parkinson's space. Earlier this year, Rostock, Germany-based Centogene AG kicked off a two-year study to better understand the genetic factors underlying the disease. The global trial of up to 10,000 patients will look at the genetic background of Parkinson's patients and what it says about disease development, diagnosis and treatment. The aim is to identify 1,500 LRRK2-positive patients and learn more about which mutations of that and other Parkinson's-linked genes are associated with disease development. Centogene is using its CE-marked dried blood spot collection kit, Centocard, to identify subjects with mutations in LLRK2, GBA and other suspect genes.