SAN FRANCISCO – Atop the stage where, just a year ago, he'd detailed the then-new $74 billion acquisition of Celgene Corp, Bristol-Myers Squibb Co. CEO Giovanni Caforio told attendees of this year's J.P. Morgan Healthcare Conference he intends to plunge ahead with "the agility and speed of a biotech company." BMS has eight product launches planned in the next 24 months, he said, targeting solid tumors, hematology and immunology indications.
Revlimid (lenalidomide), Eliquis (apixaban) and Opdivo (nivolumab) continue to lead the company's product mix, each generating more than $5 billion in sales through the third quarter of 2019, with Revlimid surpassing $8 billion during that period. For Opdivo, which already has 19 approved indications in the U.S. across 11 tumor types, he said the company will continue to focus on advancing its combination with Yervoy (ipilimumab) in first-line lung cancer, among other settings.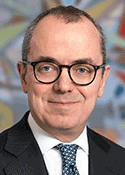 In hematology, the company is looking to four near-term launches, three for Celgene-sourced assets: the company's FDA-approved beta-thalassemia therapy, Reblozyl (luspatercept), which Celgene licensed from Acceleron Pharma Inc.; the CD19-directed CAR T-cell candidate lisocabtagene maraleucel for a variety of lymphomas and chronic lymphocytic leukemia, licensed from Juno Therapeutics Inc.; and idecabtagene vicleucel for multiple myeloma, licensed from Bluebird Bio Inc. The fourth near-term launch anticipated will be for an oral formulation of azacitidine for acute myeloid leukemia, CC-486. Also underway is work on the company's ongoing debut of the rare bone marrow disorders drug Inrebic (fedratinib), which gained FDA approval in August 2019.
"I'm also really happy that the combination of our two companies in the new Bristol-Myers Squibb gives us the opportunity to be an important player in immunology," Caforio said, noting his company's work on moving two immunology candidates closer to the market, ozanimod in ulcerative colitis and a TYK2 inhibitor for the potential oral treatment of, initially, psoriasis.
Over the next two years, Caforio said his team's focus will be on delivering and paying down the debt it racked up buying Celgene. "We feel comfortable about the commitment we've made to go back to less than 1.5 debt EBITDA ratio by 2023," he said.
"I feel better about our opportunity at Bristol-Myers Squibb today than I felt one year ago when we announced the deal," he concluded. Investors appeared positive regarding the company's outlook, too, pushing shares (NYSE:BMY) 1.4% higher to close at $66.15 Monday.