DUBLIN – Shares in Targovax ASA rose as much as 26% last Wednesday on news of an option and license agreement in China involving its peptide-based KRAS-directed cancer vaccines, TG-01 and TG-02. Nantong, China-based Iovaxis Therapeutics is paying $250,000 up front for an exclusive option on the two vaccines. It is potentially on the hook for $3 million more should it trigger the option and up to $100 million in development and commercial milestones. The agreement covers Hong Kong, Macau and Singapore, in addition to China.
The option has a one-year term but could be triggered before that if the vaccines obtain regulatory approval to enter clinical development. "The reason we're not doing a straight licensing deal with this company is that they're uncertain about how easy it is to get an IND in China for this therapy," Targovax CEO Øystein Soug told BioWorld Asia. "They can exercise it tomorrow if they want." Given China's current appetite for biomedical innovation – particularly in cancer – it would be surprising if an IND wasn't forthcoming. "We don't believe it's going to be a challenge, either," Soug said.
TG-01 and TG-02 both have previous clinical history. TG-01, which comprises seven peptides representing the most frequently occurring KRAS phenotypes in cancer, previously demonstrated promising activity in a phase II trial in pancreatic cancer when co-administered with the immune-boosting adjuvant granulocyte-macrophage colony-stimulating factor (GM-CSF). However, plans for a pivotal trial were derailed when a modified Folfirinox chemotherapy regimen dramatically outperformed gemcitabine, its intended comparator, and greatly extended the likely time needed for such a study.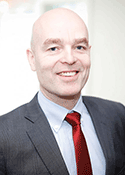 Oslo-based Targovax has moved away from pancreatic cancer, therefore, but has also focused more heavily on its other technology platform, an adenovirus-based oncolytic virus construct, in the meantime. "Our strategy has always been to find cost-effective ways of taking TG forward with partners," Soug said. Efforts to secure partners in other regions are ongoing. "Our prime objective here is to generate more data," Soug said. TG-02 differs from TG-01 in having one additional peptide, which encodes the eighth most common KRAS cancer mutation. It has previously been tested in a small phase I trial in patients with rectal cancer. Between them, the two vaccines cover more than 90% of the most frequently occurring KRAS mutations in cancer.
The present deal is part of a major resurgence in the development of KRAS-targeting therapies in recent years, as a number of labs – most notably Kevan Shokat's at the University of California, San Francisco – overturned the longheld doctrine that KRAS was undruggable and opened up one of the key signal pathways that controls cell division. KRAS and its related isoforms, HRAS and NRAS, are among the most frequently occurring oncogenes in cancer, but targeted therapies have remained elusive until very recently.
The first KRAS inhibitors, in development at Amgen Inc., of Thousand Oaks, Calif., and San-Diego-based Mirati Therapeutics Inc. have already delivered promising, albeit early stage, clinical data. "If you only go after one mutation with a small molecule, that only takes you so far," Soug said. An immunological approach, could, potentially, cover all clinically significant KRAS mutations, including escape variants that can drive cancer progression. A major challenge will be to develop regimens that are sufficiently immunogenic in order to overcome the highly immunosuppressive milieu of most KRAS-associated cancers. That will, inevitably, entail the deployment of combination therapies involving additional agents, such as checkpoint inhibitors. "That's what you have to do," Soug said.
Targovax is by no means the only firm with a KRAS-targeted vaccine in development. Cambridge, Mass.-based Moderna Inc. has teamed up with Kenilworth, N.J.-based Merck & Co. Inc. on the development of mRNA-based vaccine V941 (mRNA-5671), which targets four KRAS mutations, G12D, G12V, G13D and G12C. That program is currently in phase I as a monotherapy and in combination with Merck's PD-1 inhibitor, Keytruda (pembrolizumab).
Targovax is also gearing up for an imminent readout from a phase I/II trial of ONCOS-102 plus chemotherapy in malignant pleural mesothelioma. If positive, the company aims to find a partner to test a triplet combination, which would also include a checkpoint inhibitor. "That's going to be a larger phase II [trial]," Soug said.
The same construct has already delivered an interim readout from a phase I trial in patients with advanced melanoma who have already received a PD-1 blocker. "That melanoma trial has two cohorts. One read out last year. The other is reading out this year," Soug said. Three injections of vaccine delivered a 33% overall response rate in the first cohort of just nine patients. Those in the second cohort will receive up to 12 doses, as well as Keytruda. ONCOS-102 is also undergoing a phase I/II trial led by the Ludwig Institute for Cancer Research, which is testing a combination of the virus and Astrazeneca plc's PD-L1 inhibitor, durvalumab, in patients with advanced peritoneal malignancies.
Targovax's stock (Oslo:TRVX) shed over half of its initial gains to close Jan. 8 at NOK10 (US$1.13), up 11.6% on its previous close.