Christian Peters, CEO of the newly launched and privately held Pinpoint Therapeutics Inc., said he has a relatively unusual pedigree that allows him a unique perspective in drug development. That combination of working in academia and in the corporate sphere has given him a more well-rounded view than most.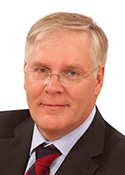 He'll take that expertise and run with it courtesy of $1 million in debt financing, driven by Los Angeles-based Kairos Ventures, to develop autophagy inhibitors for treating a range of treatment-refractory cancers. Pinpoint is targeting an enzyme in the autophagy pathway, PPT1, which is expressed in most cancers.
The science comes from the University of Pennsylvania (UPenn) Abramson Cancer Center and its chemistry department. The inhibitors could eventually be applied as a monotherapy or as combination therapy. The researchers are Ravi Amaravadi and Jeffrey Winkler. Winkler is Columbia University and Harvard College-trained while Amaravadi is an associate professor of medicine in the hematology oncology division. Peters was a research associate/NRSA postdoctoral fellow at UPenn from 1998 to 2001. His corporate stints include time at CSL Behring LLC, Therakos Inc. and Realm Therapeutics plc.
"I've always stayed close to UPenn. They are terrific," Peters told BioWorld. "They told me you don't need to stay in academia. They will tell you that you can choose whatever your calling is. I like the translational aspect of science. After all these years, I still find it extremely important to work on high unmet needs. I've done this throughout my career. It brings out the best in people when you have a high unmet need that may help patients."
Peters said the company's new approach has not previously been seen in the autophagy space. The inhibitors Pinpoint uses can increase the potency and specificity of targeting both PPT1 and the autophagy pathway, possibly allowing for treatment of multiple cancers. Peters said he is happy to point to the mode of action for hydroxychloroquine.
"Suddenly, when you bring autophagy and hydroxychloroquine together, you say, wow, this may really work," he said.
Autophagy, the process of degrading and recycling cellular components, was at the heart of the 2016 Nobel prize in physiology or medicine, given to Yoshinori Ohsumi for his discoveries of autophagy's mechanisms.
'A solid setup'
Peters was thinking about his next move in 2018 when Realm pulled the plug on its attempt to reshape itself as a dermatology specialist after its lead program, PR-022, failed a phase II in atopic dermatitis. Peters, an immunologist who had played a key role in the FDA's approval of seven products, was told by a colleague that perhaps he should check back in at the Penn Center for Innovation, that exciting science was afoot. He followed through, found it was a good fit and the company began gathering steam last August, with no infrastructure, operating as an LLC. Some funding from the center transformed Pinpoint into an incorporated company with ambitious plans for 2020.
Peters said Pinpoint has a number of compounds prepared for synthesis in the next four weeks and hopes to have in vitro data by midyear. Some data in cancer models are expected toward the end of this year. He said he hoped to continue with more potent components to repeat the data and should that happen, a second round of funding from Kairos may be called for.
In the meantime, Peters, along with the two other co-founders, have no offices other than meeting rooms at the Center for Innovation. That doesn't bother him.
"I have done the whole thing, from preclinical to launch," he said. "With the three of us, we have enough expertise. It's a solid setup to bring something exciting and new to the world."