Design Therapeutics Inc., a San Diego startup developing new therapies for degenerative disorders caused by nucleotide repeat expansions, has raised $45 million in series A financing. SR One led the round, with participation from Cormorant Asset Management, Quan Capital and Westriver Group. The money will help advance Design's lead program for Friedreich ataxia (FA) toward clinical development as well as development of discovery-stage programs for other degenerative diseases, including fragile X syndrome and myotonic dystrophy.
The company, which is building on technology in-licensed from the Wisconsin Alumni Research Foundation (WARF), intends to conduct IND-enabling studies and initiate clinical development for its FA program within a couple of years, the firm's co-founder and executive chairman, Pratik Shah, told BioWorld.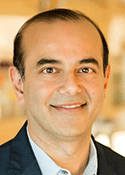 Shah co-founded Design in late 2017 with scientist Aseem Ansari, formerly of WARF, but now at St. Jude Children's Research Hospital. Formation of the company, which now employs about 20 people, closely followed publication in Science of research by Ansari and his colleagues describing a potential way to restore frataxin levels to treat or prevent FA, a rare movement disorder affecting just one in every 50,000 people in North America. There's no cure or effective treatment for the condition.
Nucleotide repeat disorders, characterized by repeat expansion in certain genes, are well-known in the biomedical community for causing dozens of diseases, including FA. "Depending on where it is located, the repeat may cause a change in the regulation of gene expression or produce a toxic gene product, all of which are recognized as significant contributors to degenerative diseases," according to Design's team.
In people without FA, an expanded guanine-adenine-adenine, or GAA, is repeated between seven and 22 times in the first intron of the FXN gene. By contrast, in the defective FXN gene, "the GAA repeat occurs over and over again – hundreds, even up to a thousand times," according to the National Institute of Neurological Disorders and Stroke. Another condition resulting from repeat expansion is fragile X syndrome, the most common monogenic cause of autism.
Design's lead molecule for FA has been designed to be bifunctional. "One end recognizes the GAA repeats in a sequence-specific manner by binding to the DNA through the minor groove," Shah said. "The other functional end of the molecule can attract a transcriptional factor. By doing that, it unblocks the RNA polymerase, which can now read the gene normally through the repeat region without falling off," he said.
Design's technology can also be used to engineer molecules that bind not just GAA repeats, but also different molecules that would recognize CGG repeats, such as those expansions in the FMR1 gene that lie at the root of fragile X syndrome.
Shah is no stranger to the development journey. Prior to co-founding Design, he was chairman of the immuno-oncology player Synthorx Inc. until its $2.5 billion acquisition by Sanofi SA. Earlier, he was involved in the successful development and approval of Austedo (deutetrabenazine) as president and CEO of Auspex Pharmaceuticals Inc. until that company's $3.2 billion acquisition by Teva Pharmaceutical Industries Ltd. in 2015.
As with any opportunity created by mounting understanding of fundamental biology, Design has at least a couple of competitors in its lane. Cambridge, Mass.-based Triplet Therapeutics Inc. launched in late 2019 with $59 million in financing, including a $49 million series A round led by MPM Capital and Pfizer Ventures U.S. LLC. The company is focused on developing antisense oligonucleotide (ASO) and small interfering RNA therapies to modulate the DNA damage response mechanism that drives repeat expansion. Ionis Pharmaceuticals Inc. is also working on the issue, having already started clinical trials with ASOs targeting several nucleotide repeat expansion diseases, including Huntington's disease and amyotrophic lateral sclerosis.