I2O Therapeutics Inc., of Allston, Mass., raised $4 million in seed funding to further its work on oral formulations of therapies typically limited to injections, such as biologics, large molecules and peptide-based pharmaceuticals.
I2O's platform is designed to help drugs safely through the digestive system by providing a dissolvable coating to the drug. The technology was developed at the Harvard University labs of the John. A. Paulson School of Engineering and Applied Sciences and is exclusively licensed to I2O by Harvard's Office of Technology Development. The technology's creation was overseen by Samir Mitragotri, the school's Hiller professor of bioengineering, whose research is centered on transdermal, oral and targeted drug delivery systems. The company has now spun out to the Pagliuca Harvard Life Lab.
One of Mitragotri's goals, and I2O's, is developing an oral formulation for GLP-1 analogues. The initial work began 10 years ago as the lab was looking for material that could enhance the bioavailability of peptides that could cross biological membranes such as skin and oral gastrointestinal barriers. The gastrointestinal barriers to drug absorption have long been an obstacle for delivering biologics to the human body. In a paper he co-wrote, published in the July 2018 Proceedings of the National Academy of Sciences, Mitragotri and his co-authors reported on developing a highly effective oral insulin formulation using choline and geranate ionic liquid, which they found significantly enhanced paracellular transport of insulin while protecting it from enzymatic degradation and by interacting with the gastrointestinal system's mucus layer to avoid thinning. In vivo, it demonstrated encouraging pharmacokinetic and pharmacodynamic outcomes after jejunal administration in rats.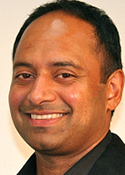 As the research deepened, particularly in the past three years, so did the interest of pharmaceutical companies. Eight months ago, the company was born and set up shop at the Harvard Life labs.
"We started collaboration work with pharmaceutical companies and as we gained momentum we decided to spin our technology out as a company," Ravi Srinivasan, I2O's co-founder and director, told BioWorld.
Insulin delivery is part of I2O's vision, but Srinivasan said it's not the company's primary goal right now. Insulin is a great model molecule and of interest, he said, but added there are other molecules that I2O is pursuing that are perhaps closer to the clinic than insulin.
"There is low-hanging fruit from a technical perspective that are closer to the clinic," he said. "But we haven't disclosed the actual molecules."
Srinivasan has experience taking biotech companies from inception to exit. His therapeutic areas of interest include oncology, dermatology, ophthalmology and diabetes. He is also the founder, president and CEO of Southlake, Texas-based Onconano Medicine Inc. and the co-founder and director of San Carlos, Calif.-based Cage Bio Inc. In August 2018, Onconano received $15.4 million in funding from the Cancer Prevention and Research Institute to develop a treatment for human papillomavirus-associated cancers, including those of the head and neck.
The I2O fundraising round was led by Sanofi Ventures and JDRF T1D Fund. Srinivasan said I2O, which is a shorthand for injectable-to-oral, began speaking with both groups at the beginning of 2019.
"We're fortunate to close the round in the middle of the pandemic, where obviously folks are a little more gun shy in terms of investment," he said. "We will advance our lead product toward the clinic. We're now in candidate selection mode."
There are currently four employees at I2O. With the funding, Srinivasan said, he expects to add six to eight more to the roster.