CYBERSPACE – At a series of new drugs on the horizon sessions at the 2020 American Association for Cancer Research (AACR) Virtual Annual Meeting I, a variety of companies presented preclinical and clinical data for promising early stage oncology products.
Syndax Pharmaceuticals Inc., of Waltham, Mass., presented data from the first six patients in its phase I Augment-101 study of SNDX-5613, which inhibits the interaction between menin and MLL1. By blocking the menin-MLL1 interaction, SNDX-5613 inhibits the activation of the transcription program that leads to leukemic transformation.
The company is testing SNDX-5613 on patients with mixed lineage leukemia rearranged (MLL-r), which is caused by spontaneous translocations at the MLL1 locus, resulting in MLL-fusion proteins capable of activating the leukemic transcription program. Blocking the binding of menin stops the transcription, causing the cells to differentiate and die. MLL-r accounts for 5% to 20% of acute myeloid leukemia (AML) and acute lymphocytic leukemia (ALL) cases, or 7,000 worldwide cases per year.
Augment-101 is also enrolling patients with AML caused by mutant NPM1, which is often referred to as NPM1-C because the mutant protein stays in the cytoplasm. Mutations in NPM1 are found in 30% of all adult AML cases, or 20,000 worldwide cases per year.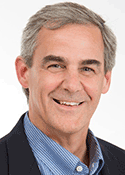 Researchers noticed there were similar transcription profiles for MLL-r and NPM1-C mutants, leading to the discovery that MLL is overexpressed in NPM1-C mutants. "The mechanism of why endogenous MLL1 becomes overexpressed in the setting of NPM1-C have not really been worked out," Briggs Morrison, CEO of Syndax, told BioWorld. "It's the same interaction of MLL1 with menin, but in this case it's the endogenous MLL1, not the fusion protein," Morrison said of why SNDX-5613 should also work on patients with NPM1 mutations.
Three of the first six patients had an MLL rearrangement. One patient had a complete response with incomplete blood count recovery (CRi) after 28 days of therapy and went on to experience a complete response. The second patient had a partial response with incomplete blood count recovery (PRi) after 28 days of therapy with blast count reduced from 40% to 20%.
A third patient with MLL-r didn't have a response, but the patient wasn't taking an antifungal azole like the other two patients. Azoles inhibit CYP3A4, which metabolizes SNDX-5613.
"This has important implications for the clinical program since many patients receive azoles as prophylactic antifungal therapy, which can influence the clearance of -5613 when co-administered," Jerry McGeehan, vice president of the menin program at Syndax Pharmaceuticals, noted during the presentation.
With functioning CYP3A4, the third patient didn't have SNDX-5613 plasma levels that were above the threshold required for activity in preclinical models.
Syndax plans to define two doses to take into phase II development: one for patients on azoles and one for patients who aren't taking azoles. While the company could just require all patients to take azoles, Morrison noted that the prophylaxis treatment isn't needed after patients go into remission, so knowing the proper azole-free dose will be helpful.
The remaining three patients didn't have MLL-r or NPM1 mutations, and didn't respond to treatment. They were allowed to be enrolled in the study at the request of the FDA in the hope that other types of leukemia would also work through MLL. "We said fine, that's a reasonable request. When the FDA makes a request like that, you generally say 'fine,'" Morrison said.
Syndax plans to present additional data from the study in the fourth quarter of 2020. Shares of the company (NASDAQ:SNDX) closed up $7.99, or 69%, to $19.50 on April 28.
Two are better than one
Amgen Inc. and Abbvie Inc. both presented preclinical data at AACR for their bispecifics designed to redirect T cells to tumors using a tumor target while also targeting CD3 on T cells.
Amgen's AMG-509, developed in conjunction with Xencor Inc., of Monrovia, Calif., is a 2+1 bispecific antibody, which has two domains that bind to six transmembrane epithelial antigens of the prostate (STEAP1) in addition to an anti-CD3 domain.
"It allows for an avidity effect and a more potent effect," Olivier Nolan-Stevaux, a principal scientist at Amgen, said of the addition of the second STEAP1 binding domain that improves the EC50 (effective concentration at half the maximum) by about 65-fold, thereby increasing the potency in T-cell redirected lysis assays.
Expression of STEAP1 is induced by the androgen receptor in prostate cancer and by the EWS-FLI1 oncogene in Ewing sarcoma (EWS). About 88% of metastatic castration-resistant prostate cancer (mCRPC) and 63% of EWS tumors have elevated membrane expression of STEAP1.
Amgen, of Thousand Oaks, Calif., has started a dose-escalation study to determine the maximum tolerated dose or the recommended phase II dose in patients with mCRPC who are refractory to a novel hormonal therapy and one or two taxane regimens.
Abbvie's ABBV-184 is a peptide that includes a TCR that recognizes a survivin peptide and an anti-CD3 T-cell engager.
Survivin is an anti-apoptotic protein that's expressed in many hematologic and solid tumor cancers. The overexpression of survivin is correlated with tumor progression and worse prognosis.
The drug has low off-target TCR binding and has minimal cytokine release in normal human cell lines at high concentrations above 1 nM. In preclinical models, ABBV-184 had antitumor activity against both hematologic and solid tumors in vitro and in vivo.
Abbvie, of North Chicago, has started a phase I dose-escalation study to determine the recommended phase II dose while measuring the safety, tolerability, pharmacokinetics and immunogenicty of the drug. The study will enroll patients with AML and lung cancer with tumors expressing survivin. Because ABBV-184 contains a TCR specific for HLA-A2, the patients also need to be HLA type A2.