Kriya Therapeutics Inc., a startup led by former Axovant Sciences Inc. executive Shankar Ramaswamy, has raised $80 million in series A financing expected to help advance a portfolio of gene therapies for diabetes and other chronic conditions. Its team, hoping to apply lessons learned from early successes in the gene therapy field, aspires to move its first programs into the clinic in 2022, Ramaswamy told BioWorld.
While recognizing that medicines like Zolgensma (onasemnogene abeparvovec, Novartis AG) and Luxturna (voretigene neparvovec, Spark Therapeutics Inc.) have been "a tremendous scientific and clinical breakthrough for patients" in the rare disease sphere, Ramaswamy said, "We think there's opportunities to use that same technology to go after well-characterized diseases where the biology is well understood."
Investors backing the company's plan include QVT, Dexcel Pharma, Foresite Capital, Bluebird Ventures, Narya Capital, Amplo, Paul Manning, Asia Alpha and Transhuman Capital, which led Kriya's seed financing late last year. Together, they're backing a venture Ramaswamy co-founded last year with former United Therapeutics Corp. co-CEO Roger Jeffs and Fraser Wright, a co-founder of Spark who served as that company's chief technology officer. Additional recruits include gene therapy veterans such as past Avexis Inc. talents Britt Petty and Mitch Lower.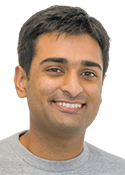 Ramaswamy, brother of Roivant Sciences founder and CEO Vivek Ramaswamy, also has substantial gene therapy experience, having served in multiple roles at Axovant, including during its shift into that field following the 2017 failure of its once-lead asset, the Alzheimer's diseases candidate RVT-101 (intepirdine).
Kriya's initial pipeline, including multiple preclinical AAV-based candidates, is focused on metabolic diseases. It includes three disclosed candidates so far. The lead program, KT-A112, is intended to deliver genes to produce insulin and glucokinase for type 1 and type 2 diabetes. The second, KT-A522, administered by salivary gland injection, is designed to deliver the gene to produce a glucagon-like peptide 1 receptor agonist for type 2 diabetes and severe obesity. The third, KT-A832, administered by intrapancreatic injection, in meant to deliver a gene to produce modified insulin growth factor 1 for type 1 diabetes.
Kriya in-licensed both KT-A112 and KT-A832 from the lab of Fatima Bosch, a professor of biochemistry and molecular biology at the Universitat Autònoma Barcelona and director of the school's Center of Animal Biotechnology and Gene Therapy. Ramaswamy said that her work in animal models of diabetes "gives us a high degree of confidence" that the gene therapy approach can work at a biological level. "It's really a matter of building on that to turn it into a viable product that can be taken through a regulatory process, can be manufactured at scale and evaluated in clinical studies."
The other candidate, KT-A522, is sourced from the NIH. Small animal diabetes models treated with the candidate achieved therapeutic circulating levels of the GLP-1 receptor agonist and experienced significant improvements in glycemic control and decreased weight gain, according to the company.
Whether gene therapies, currently characterized almost as much by their high prices as their curative natures, can overcome the plenitude of small-molecule and biologic therapies currently comprising the standard of care for diabetes remains to be seen. However, the potential of one-time administration of a helpful medicines, curative or not, could still change lives and may even be able to be priced more in line with biologics one day, he suggested. "As we see it, with a gene therapy you have the opportunity to have a basal level of a therapeutic protein on top of which you could layer other therapeutic agents of other modalities," Ramaswamy said.
"What we're hoping to offer," he said, "is to really provide a potential paradigm shift in the backbone standard of care that provides a fundamental level of coverage."