LONDON – Sosei Heptares has attracted a third pharma partner to its G protein-coupled receptor (GPCR) discovery platform, signing a potential $1 billion-plus deal with Abbvie Inc. in inflammatory and autoimmune diseases.
Most of the biodollars are some way down the line, but more immediately, Sosei Heptares is getting $32 million in up-front and near-term milestones for all preclinical research, plus potential option, development and commercial milestones totaling $377 million. The balance of the headline figure rests on Abbvie taking up an option to expand the collaboration from one target to four.
Sosei Heptares will carry out all the discovery work up to IND, at which point Abbvie will decide whether to exercise an option to take a license. The pharma company will then assume responsibility for global development and commercialization.
No details of the initial target were disclosed, but Malcolm Weir, executive vice chair of Sosei Heptares, said the deal came about because both parties had an interest in it.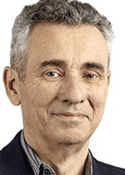 "The sequencing of the genome means all the [GPCR] targets are known. But everybody has questions about which to move up the batting order," Weir said. In this case, new biological context relating to the target made it more interesting to pursue.
As things stand, there are 50 or so GPCRs, many of which have been linked with diseases, that are yet to be targeted by an approved drug.
Within Sosei Heptares there is a continual screening operation, assessing potential targets. The company publishes a lot of its science and is open about what areas it is interested in. "That provokes a lot of conversations and builds relationships, but we don't go around waving early targets at people," Weir said.
In addition to this new deal, Abbvie has inherited partnership programs with Sosei Heptares as a result of its $63 billion acquisition of Allergan plc, which completed last month.
In April 2016, Allergan took exclusive rights to a portfolio of novel muscarinic receptor agonists, which Sosei Heptares was developing for the treatment of neurological disorders, including Alzheimer's disease. However, the phase II of the lead compound was halted in September 2018 after cynomolgus monkeys in toxicology studies developed neoplastic tumors.
The new deal with Abbvie follows on from signing up Takeda Pharmaceutical Ltd. to an early stage research collaboration worth up to $1.2 billion. That agreement, in gastrointestinal diseases, included $26 million in up-front and near-term milestone payments, in addition to full funding for all research.
The Takeda collaboration in August 2019 came within weeks of signing a similar-size agreement with Genentech Inc.
The ability to attract such partners to early discovery deals is driven not only by the power of Sosei Heptares' GPCR structure-based drug design technology, but also the company's understanding of clinical development, with the capability to develop drugs up to phase IIa. "We've done that over and over again, so we stand out as a platform company which also has clinical expertise," Weir told BioWorld.
"These agreements drive home our leadership position as a GPCR drug discovery company and the interest of pharma in us," said Weir. "These are major deals with a lot of built-in value."
The three collaborations have "slightly different flavors and structures," with the deal with Abbvie being the first in which programs will be taken all the way to being IND-ready. "In other deals candidates are handed off earlier on," Weir said.
Riding out COVID-19 storm
It has been possible to keep things moving on those and other collaborations during the COVID-19 pandemic because the R&D facility in Cambridge, U.K., put in place social distancing and other measures such a rotas for lab researchers, before the U.K. officially locked down. Weir said the aim was to make the workplace the safest environment for staff to be in.
There was an initial slowdown whilst things were reconfigured, and also a few "stutters" in clinical trials being run by CROs in India, China and Croatia.
But overall, there has been a high level of business continuity, and work on revenue-generating collaborations was maintained. "We managed to ride out the initial storm and then settle into a new pattern of working," Weir said.
As its contribution to the fight against COVID-19, Sosei Heptares has set up a multidisciplinary team to apply its structure-based drug design capabilities to discover drugs targeting SARS-CoV-2.
As one sign of how it has weathered the pandemic storm, Sosei Heptares last month reported progress in it orexin programs, which are being developed in two venture-backed startups. The company said it had solved the structure of the orexin OX2 receptor and identified a small-molecule agonist that binds to the site.
The orexin system is a regulator of wakefulness and sleep, and the loss of orexin neurons causes narcolepsy and is linked to other neurological condition. However, orexin receptors on target cells remain intact, providing an opportunity to activate them.
Earlier this month, there was a progress report from another partner, when Astrazeneca plc presented new clinical data from its phase Ia study of AZD-4635, an oral inhibitor of adenosine signaling discovered by Heptares, at the ASCO virtual meeting.
The data show the adenosine receptor is engaged, and there was clinical benefit, in the study in advanced prostate cancer. "I'm pleased that [AZD-4635] is now progressing into further studies at Astrazeneca," said Weir.