Zymeworks Inc.'s business update – which included a new, potential $891 million deal for multispecific antibody drugs with longtime partner Merck & Co. Inc. – drew mixed reviews from Wall Street, especially with regard to phase I prospect ZW-49.
The pact with Kenilworth, N.J.-based Merck is to develop added multispecifics using Zymeworks' Azymetric and Efect platforms. Terms bring an undisclosed up-front payment for Zymeworks, of Vancouver, British Columbia. If each of the three programs involved yields an approved product, the company could collect as much as $411 million in option exercise fees plus clinical development and regulatory milestone payments from Merck. Another $480 million is in the cards if commercial goals are met, and Merck has pledged tiered royalties on worldwide sales. Merck also gets a worldwide, royalty-bearing license to research, develop and commercialize up to three multispecific antibodies in the animal health field, in exchange for more milestone payments and tiered royalties. Zymeworks and Merck began working together in 2011, and their collaboration was broadened in 2014.
Zymeworks also disclosed revision of the partnership with Bristol Myers Squibb Co. (BMS), lengthening its research term and adding access for New York-based BMS to the Efect platform, which is designed to modulate the antibody-induced immune response. The revised contract means a $12 million fee for Zymeworks; the total potential payout of the agreement remains at $1.7 billion.
But it was the company's pipeline update that drew the most scrutiny. ZW-49, a bispecific antibody-drug conjugate made via the Zymelink technology, seeks to capitalize on the design and antibody framework of another candidate, ZW-25, but pairs it with a cytotoxic payload for applications in low- and intermediate HER2-expressing cancers. A 150-patient trial evaluating ZW-49 in locally advanced or metastatic HER2-expressing cancers began in the first quarter of 2019.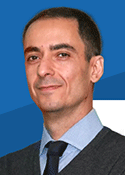 CEO Ali Tehrani, questioned about progress with ZW-49 during a conference call with investors, said that "as far as the data release goes, our standard philosophy has been to release data at the conclusion of the dose escalation, when we have the fulsome benefit of the data to bring out. When we get there, we'll provide the update. At this point, you just have to stay tuned."
Wainwright analyst Debjit Chattopadhyay was not pleased. "While management indicated enrollment into the ZW-49 clinical program was negatively impacted by the pandemic, and four new sites have recently been brought on line along with ex-U.S. expansion, we view the corporate update as a lost opportunity," he wrote in a report. "Evasiveness on ZW-49 is not what the Street was looking for." As of Jan. 13, more than 10 patients had been treated. Dose escalation started at 1 mg/kg and there were no dose-limiting toxicities at the initial doses, though one patient had on-target but off-tumor grade 3 diarrhea. At least one RECIST response was noted.
Chattopadhyay had hoped to find out more. "In a rapidly evolving competitive landscape, the bar for ZW-49 remains high," and it's possible that the diarrhea side effect "prompted a more measured escalation, potentially limiting activity," in his opinion. "However, low-teens activity at lower doses is par for the course. Alternatively, in the glass half-full scenario, management might have been more forthcoming if the preliminary activity was compelling," he said, adding that such was "just speculation on our part."
Raymond James' David Novak took the opposite view, saying that the lack of color on ZW-49 "was entirely in line with both our expectation and management's commentary heading into the event," which included plenty of detail about ZW-25, dubbed zanidatamab going forward. CEO Tehrani said the focus of the conference call was to highlight the transition of zanidatamab from early into late-stage development, with an eye to approval in HER2-positive biliary tract cancer (BTC) in 2022. The first site has opened for the phase II, registration-enabling experiment, Chief Medical Officer Diana Hausman said.
Zanidatamab simultaneously binds two sites on HER2, enabling multiple mechanisms of action, including dual HER2 signal blockade, increased antibody binding, receptor clustering, removal of HER2 from the cell surface and potent effector function, the company said. The compound has been granted two fast track designations, one for previously treated or recurrent HER2-positive BTC and another for first-line gastroesophageal adenocarcinoma (GAE) in combination with standard-of-care chemotherapy, as well as orphan drug designation for the treatment of biliary tract, gastric and ovarian cancers.
Updating results from its phase I monotherapy trial, Zymeworks disclosed new data from the salvage line BTC cohort, which James' Novak found encouraging. Fifteen evaluable BTC patients treated with single-agent zanidatamab demonstrated an objective response rate (ORR) of 47%, while 34 evaluable highly pretreated GAE patients given single-agent zanidatamab had an ORR of 38%. Zanidatamab in combination with chemo produced a response rate of 55% in 20 evaluable GAE patients.
"We're very confident in our data, as we are launching this new study seeking accelerated approval," Hausman said, though findings continue to evolve. "Duration of response is an important endpoint for that ultimate approval. Just to keep in mind, survival right now for second-line BTC is six months," so any candidate "that can achieve anything approaching six months is really providing a lot of benefit to patients," she said.
Tehrani, queried about how the two assets fit into the overall picture, said "the answer to that question will really be data-driven. We have always stated that zanidatamab will be differentiated when HER2 is the driver of the cancer and ZW-49 will be differentiated when HER2 will be utilized as an address to bind to and to then get internalized and destroy the cancers. That thesis remains the same, and we believe as we go forward on a data-driven basis, we'll position the assets as such."
Shares of Zymeworks (NASDAQ:ZYME) closed at $35.09, down $2.19.